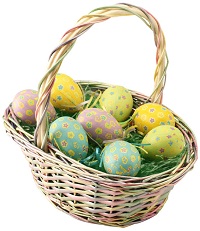 Easter Facts, Fun, Tips, Egg Dyes and More!
There's more to Easter fun that just an egg hunt. Some Easter traditions go back thousands of years, while others are only a few years old.
Whether you are looking for the history of Easter Egg Hunts, the chocolate bunny, how to make your own natural Easter egg dyes or more, see the list below!
For more information, see the menu bar at the top of the page: Resources and Related Websites
Easter Egg Hunt, Parade and Event Listings