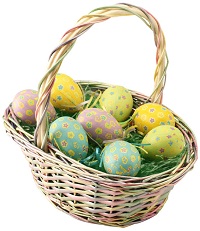 Are you interested in organizing an Easter Egg Hunt or Easter Egg Trail for your school, church, or other group? Below is a simple guideline to follow to have a successful Easter egg hunt with the least difficulty!
---
If you want to organize a community, organization or church Easter Egg Hunt, the page below should help you with step by step information and tips. Most other guides are aimed at hold a small backyard egg hunt; ours is intended for larger Easter egg hunts, either public or private. And please pass on any tips and resources you think we've missed; we constantly update this!
Getting help!
Don't underestimate the amount of work that is involved. Getting volunteers to commit to help from the start is important. You can use SignUpGenius.com to send out a signup form to ask families to RSVP and contribute either labor, supplies or cash. SignUpGenius.com even allows them to leave a comment on the sign up to let everyone know exactly what they will be bring, contributing or what times they will be volunteering.
Organizational meeting - Date, location, events, groups, supplies, volunteers
Get your key volunteers together to decide the details and assign responsibilities and deadlines. Again, signupgenius is great for that. In your organizational meeting, find out if anyone has experience running previous Easter egg hunts. Set a scope: how many participants do you expect? How will you organize age groups? What games and other activities do you want to have? Will vendors participate? If so, free, or will they expect to be paid, or offer their goods, food or activities for a fee directly? Will food be offered? Are there local rules governing this? Check with the local town/city government.
Set the date and time
Easter egg hunts are typically held on the Saturday a week or two before Easter. A small percentage are held on the Saturday the day before Easter Sunday. And even fewer are held on Easter Sunday; those are mostly held at churches, right after Easter services. As for time, the most common choice is for late morning or early afternoon, typically starting around 11 am and ending by 2 pm. Of course that depends upon what other activities you will have and vendor participation.
Location / venue
Make sure the selected venue suits the number and age of participants. Easter egg hunts are usually held outdoors, but you will need to have a backup plan in case the weather does not cooperate. Schools, public parks, churches and large grassy areas attached to shopping malls are often used. Of course, you will need to obtain written permission, along with any conditions of use, from someone in a position of authority at the property. Get that agreed as soon as possible.
If you are hosting a neighborhood egg hunt, you may want to spread the hunt over several adjacent yards, or use a nearby park or common. If your hunt will be indoors, be sure to spread the hunt over several rooms and consider safety.
Age groups
Most Easter egg hunts segregate children in to appropriate age groups to avoid younger, smaller children getting trampled by older children Typically, the groups are:
Children 2 and under, 3 & 4 years old, 5 & 6 years old, 7 & 8 years old, 9 & 10 years old.
If there is sufficient space, the each age group can have it's own roped-off are and be held concurrently. Or the same space may be used, and hunts held sequentially, usually starting with the youngest. Color codes or signage to make it clear who belongs where makes it easier to manage the egg hunt if you have different aged children. Generally, the eggs are spread out in a large grassy area, free of rocks, obstructions and other hazards.
Eggs, prizes, etc.
You'll need to get a large quantity of plastic eggs into which your volunteers will put a piece of wrapped candy. You may be able to get donations, but generally, you'll have to expect to spend the larges portion of your budget on buying the eggs and candy. If you are receiving candy by donation, it would be wise to take only sealed bags. And be sure to specify a deadline for getting the candy and eggs to you, in time to have an egg stuffing event. You'll want about a dozen eggs per child. Most hunts emphasize that each child needs to bring his or her own bucket, pail or bag to collect eggs.
Of course, while much of the fun is collecting the eggs, discovering what's inside is also part of it. Diversity makes it more fun. Fill the eggs with different types of candy, coins, marshmallow chicks, temporary tattoos, stickers, coupons to local businesses, etc. You might even consider hiding more substantial prizes in some of the eggs, or in special eggs (like a larger size or golden color) like dollar coins. You can announce a "hard luck" prize at the end of the hunt for the child who finds the least number of eggs. Easter egg hunts are about having fun; not competition.
Volunteers and help
You'll need volunteers to help stuff the eggs, put up flyers, put out the eggs, and of course run the event. The organizational meeting is the place to make assignments. It's far better to have too many volunteers in case of illness or those who fail to show up. Again, you can use signupgenious to track people, hours, items, etc.
Media - getting the word out
Local newspapers, putting up flyers and of course posting your information on Easter Egg Hunts and Events.org are all important to getting a big turn out. You may be able to get coverage from local tv and radio, especially if you have something unusual, like a helicopter egg drop.
Weather
Unless your hunt will be held in a desert during the dry season, you'll want to have contingency plans in the event of substantial rain - and announce these in advance. Some organizers have access to an indoor area. Others plan to have it the next weekend. Having a website or phone number with a recording to make announcements is good. You can usually get a free temporary number from Google voice.
Day of the hunt - Set up
Allow plenty of time to put out the eggs, set up tables, signs, rope off areas using "police tape from a party store, etc., before everyone arrives. If you will have vendors, be sure they come to set up in plenty of time. Get volunteers in place to watch over the egg fields, so kids aren't tempted to go in early! Most hunts simply spread the eggs out on a large grassy lawn, but if you do decide to hide them, keep these tips in mind:
Keep hidden eggs far from electrical outlets or plugs.
Do not hide eggs in holes in tree trunks or the ground.
Hide eggs at or below the eye level of your children.
Do not hide eggs around fragile, glass or breakable items.
Keep eggs out of thorny plants and other foliage that may be poisonous.
Do not hide eggs in any animals home, food bowl or play area.
The hunt is on!
Families start showing up, the food vendors, inflatables, etc., are set up and you've turned the music on! Using your PA system, make periodic announcements to help inform and guide people. If people are crowding one area or activity and another is empty, point that out.
Clean up
Don't forget a clean up crew. Put a number of large containers around, clearly labeled as either "trash" or "Put your empty plastic eggs here for next year!" You'll probably get 80% of your eggs back! And like the boys scouts say, try to leave the area better than you found it, if you want to be allowed to use it next year!
Easter Egg Hunt Supplies List
Plastic eggs
Candy, coins, stickers, and other items to fill the eggs
Rope or marking tape to rope off areas
Cardboard and markers for signs, or commercially made reusable banners and signs
PA system or megaphone
Announcement flyers or posters
Suggested Games and Activities
Bean bag toss
Plastic duck races
Wheel of fortune
Train rides or tractor hayrides
Balloon animals
face painting
temporary tattoos
Suggested Vendors
Inflatables and Bounce houses
Ice, slushee, shaved ice, etc.
Burger, gyro, hot dog vendors
Pony rides
Local restaurants
Local children-oriented vendors, like pottery shops, mini golf, Monkey Joe's, Chuckie Cheese, etc. (They may want to send in coupons, or set up a table)
For more information, see the menu bar at the top of the page: Resources and Related Websites
Easter Egg Hunt, Parade and Event Listings