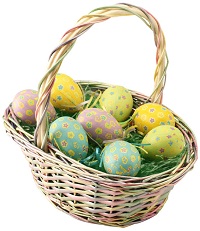 Looking for a local Easter egg hunt for your children? Or an Easter parade, Easter brunch or breakfast or other Easter events in Yukon, Canada? Scroll down this page and you will see all of those in Yukon, Canada, sorted by county. ALWAYS either see their website or call before you go to confirm the info, there are often last minute changes which they do not report to us! If you have missed the Easter egg hunts in your area (or they were canceled), see this page about how to easily have your own backyard or local park Easter egg hunt.
If you know of one we missed and want to add it or correct the information, please let me know! There are affiliate links on this page. Read our disclosure policy to learn more.
Updates for January 2022
It looks like more Easter egg hunts will be returning in 2022! Unfortunately MOST have not post 2022 dates and will wait until days before the event to publish their plans and details. We're updating their information daily as it comes in. The dates below are PROSPECTIVE, NOT YET CONFIRMED, based on past years. We WILL update these as it gets closer to Easter. When we CONFIRM an event for 2022, the date will be highlighted in yellow, like this passage to make them easy to find as you scroll down the page.
If you have missed the Easter egg hunts in your area (or they were canceled), see this page about how to easily have your own backyard or local park Easter egg hunt.
RELATED: You may also want to go to a local farm to Pick Your Own fruit and vegetables; strawberries start very soon in most areas! Farms will be open, and it's quite safe out in a field, where people are not close to each othger!
And if you are looking for local children's consignment sales, also often held by churches in the Spring and Fall, click here!
ALWAYS click the links to check date and time with the event's own website, as there are often last minute cancellations, postponements or changes to locations due to weather (like heavy rains) or logistical problems, just click on the link to the event's website and (in most cases), you want to click on the "events" link or "calendar" link on their website. Or use their site search for "Easter". Do let them know you found them here, so they will update us next year. Since many egg hunts do not publish the current year's dates until the very last minute, or simply never respond to email, we may not get their current information, which is why we have links to their websites, Facebook pages and calendars. Besides egg hunts, there are also Easter breakfasts and brunches and Easter parades to watch!
If you need to add your egg hunt or update your existing information, click on these links.
Easter Egg Hunt, Parade and Event Listings
Click on Resources above, if you need a county map
Yukon
Canada Games Centre Easter Egg Hunt - Easter egg hunt
Canada Games Centre, 200 Hamilton Blvd., Whitehorse, YT Y1A 0A6. Phone: (867) 667-4386. Email: recreation@whitehorse.ca. Event date and time: Easter Saturday, at 11 am - SEE THEIUR WEBSITE - we are waiting for an update.
Yukon Beringia Interpretive Centre - Easter egg hunt
Kilometre 1423 -Mile 886, 1423 Alaska Highway, Whitehorse YT Y1A 2C6. Phone: 867-667-8855. Email: beringia@gov.yk.ca. Event date and time: Easter Saturday from 11 am to 3 pm. Our ever popular Easter Egg Hunt promises to be another hopping one! Recently archaeologists, studying satellite imagery, have discovered what may be the earliest evidence of bunny trails ever found in Yukon, and early analysis suggests that these bunny trails are actually …Easter Bunny trails! What makes this discovery even more mind-blowing and unbelievable is that these fossil trails seem to converge around the Beringia Centre. Say what? Maybe this explains why so much chocolate has been appearing at Beringia Centre over the years. It's obviously a kind of cosmic landing-strip-slash-highway for Easter Bunnies. Clearly, duh!
12 pm The Great Beringia Easter Egg Hunt (where all trails lead to chocolate …unless, of course, you're late).
1 pm Ferdinand (after the hunt, stick around for the Beringian premier of Ferdinand, because, you know, nothing says Easter like a sensitive flower-smelling bull with PR issues…olé).
This event is FREE (come dressed for the weather!)
We will be closed on Easter Sunday, but open 12 to 5 on easter Monday.
Yukon Wildlife Preserve Easter EGG-stravaganza - Easter egg scavenger hunt
Km 8, Takhini Hot Springs Road, Whitehorse, YT Y1A 7A2. Phone: 867-456-7300. Email: info@yukonwildlife.ca. Event date and time: Easter Monday from 10:30 am to 5 pm. The Easter Hare is back and up to his wild antics. Join him and solve this years riddle to get the glory and of course, chocolatey treats! Click here for a link to the Facebook EVENTS page. All ages welcome. Regular admission applies. Members free. Guided bus tours at noon and 2pm will be offered as usual but are not suitable to take part in the activity.

For more information, see the menu bar at the top of the page: Resources and Related Websites
Easter Egg Hunt, Parade and Event Listings