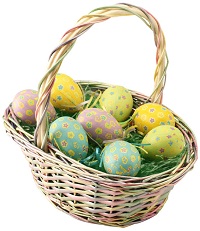 Looking for a local Easter egg hunt for your children? Or an Easter parade, Easter brunch or breakfast or other Easter events in Quebec, Canada? Scroll down this page and you will see all of those in Quebec, Canada, sorted by county. ALWAYS either see their website or call before you go to confirm the info, there are often last minute changes which they do not report to us! If you have missed the Easter egg hunts in your area (or they were canceled), see this page about how to easily have your own backyard or local park Easter egg hunt.
If you know of one we missed and want to add it or correct the information, please let me know! There are affiliate links on this page. Read our disclosure policy to learn more.
Updates for January 2022
It looks like more Easter egg hunts will be returning in 2022! Unfortunately MOST have not post 2022 dates and will wait until days before the event to publish their plans and details. We're updating their information daily as it comes in. The dates below are PROSPECTIVE, NOT YET CONFIRMED, based on past years. We WILL update these as it gets closer to Easter. When we CONFIRM an event for 2022, the date will be highlighted in yellow, like this passage to make them easy to find as you scroll down the page.
If you have missed the Easter egg hunts in your area (or they were canceled), see this page about how to easily have your own backyard or local park Easter egg hunt.
RELATED: You may also want to go to a local farm to Pick Your Own fruit and vegetables; strawberries start very soon in most areas! Farms will be open, and it's quite safe out in a field, where people are not close to each othger!
And if you are looking for local children's consignment sales, also often held by churches in the Spring and Fall, click here!
ALWAYS click the links to check date and time with the event's own website, as there are often last minute cancellations, postponements or changes to locations due to weather (like heavy rains) or logistical problems, just click on the link to the event's website and (in most cases), you want to click on the "events" link or "calendar" link on their website. Or use their site search for "Easter". Do let them know you found them here, so they will update us next year. Since many egg hunts do not publish the current year's dates until the very last minute, or simply never respond to email, we may not get their current information, which is why we have links to their websites, Facebook pages and calendars. Besides egg hunts, there are also Easter breakfasts and brunches and Easter parades to watch!
If you need to add your egg hunt or update your existing information, click on these links.
Easter Egg Hunt, Parade and Event Listings
Click on Resources above, if you need a county map
Montreal
Annual Easter Eco-Egg Hunt at the Ecomuseum zoo - Easter egg hunt
21125, Chemin Ste-Marie, Ste-Anne-de-Bellevue, QC H9X 3Y7. Phone: 514-457-9449. Email: info@ecomuseum.ca. Event date and time: 30 Mar 2013 - 31 Mar 2013 09.00 h - 17.00 h. Join us to celebrate Easter at the Ecomuseum zoo! Discover a brand new Eco-hunt filled with amazing surprises and challenges! A chocolaty Easter treat awaits children who participate in our treasure hunt. Fun activities are also on the program.
Don't miss it! Activity included within the regular admission pricesAnnual Outdoor Easter Eco-Egg Hunt.
Easter Farm at Place Versailles - Easter farm
7275 rue Sherbrooke est, Montreal, QC H1N 1E9. Phone: 514-353-5940. Fax: 514-352-3519. Email: pv_info@placeversailles.com. Event date and time: Easter Farm from March 19, 2015 to April 4, 2015) (multiple dates). Our Easter Farm is filled with tiny animals such as ducks, goats, hens, gooses, peacocks and much more!Also Mini-rides from March 19 to April 4, 2015: Come ride the Christmas train and go around the track in a mini-race car on the second floor… IT'S FREE! Thursday and Friday : 11ham to 4hpm and 5hpm à 8hpm, Saturdayi : 11ham à 4hpm.
Jardins Dorval Easter Farm -
Jardins Dorval, Galeries des Sources, QC. Roughly 100 farm animals on location. Closed Easter Sunday. At Jardins Dorval.
Place Vertu Easter Village -
Place Vertu, QC. "This year, children will have the chance to live beautiful moments with the famous characters Bugs Bunny and Tweety Bird. They will laugh and have fun with Maxou the clown and Stella La Lune. Parents and children will have the chance to cuddle chicks and baby rabbits while learning how to take care of them so they can grow up healthily. There will also be a coloring contest for children ages 3 to 12 years old; 3 winners will have the chance to win a great prize! Makeup artists will be onsite to transform kids into their favorite animal, superhero or character." Closed Easter Sunday.
Easter Farm Carrefour Angrigno -
Carrefour Angrignon, 7077 Newman Blvd, LaSalle, QC, H8N 1X1. Phone: 514-363-9413. All ages. Closed Easter Sunday.
For more information, see the menu bar at the top of the page: Resources and Related Websites
Easter Egg Hunt, Parade and Event Listings