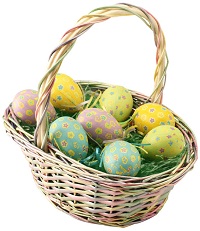 Looking for a local Easter egg hunt for your children? Or an Easter parade, Easter brunch or breakfast or other Easter events in London, Essex, Middlesex, Oxford, Elgin, Norfolk areas of Ontario? Scroll down this page and you will see all of those in London, Essex, Middlesex, Oxford, Elgin, Norfolk areas of Ontario, sorted by county. ALWAYS either see their website or call before you go to confirm the info, there are often last minute changes which they do not report to us! If you have missed the Easter egg hunts in your area (or they were canceled), see this page about how to easily have your own backyard or local park Easter egg hunt.
If you know of one we missed and want to add it or correct the information, please let me know! There are affiliate links on this page. Read our disclosure policy to learn more.
Updates for December 2023
Easter egg hunts are back! I'm updating the info every day. Unfortunately MOST wait until the last minute (often just a few days before) to publish their dates, times and details. I'm updating their information daily as it comes in., but there are thousands yet to check. When we CONFIRM an event for 2023, the date will be highlighted in pink, like this passage to make them easy to find as you scroll down the page. Orange highlights means it was definitely held last year, but we have not yet been able to confirm it for this year.
RELATED: You may also want to go to a local farm to Pick Your Own fruit and vegetables; strawberries start very soon in most areas! Farms will be open, and it's quite safe out in a field, where people are not close to each other!
And if you are looking to save money on children's clothes, toys, books, etc, find a local children's consignment sale, also often held by churches in the Spring and Fall, click here!
ALWAYS click the links to check date and time with the event's own website, as there are often last minute cancellations, postponements or changes to locations due to weather (like heavy rains) or logistical problems, just click on the link to the event's website and (in most cases), you want to click on the "events" link or "calendar" link on their website. Or use their site search for "Easter". Do let them know you found them here, so they will update us next year. Since many egg hunts do not publish the current year's dates until the very last minute, or simply never respond to email, we may not get their current information, which is why we have links to their websites, Facebook pages and calendars. Besides egg hunts, there are also Easter breakfasts and brunches and Easter parades to watch!
If you need to add your egg hunt or update your existing information, click on these links.
Easter Egg Hunt, Parade and Event Listings
Click on Resources above, if you need a county map
Elgin (Aylmer, Dutton, Port Stanley, St. Thomas)
Middlesex (London area, Ailsa Craig, Dorchester, Glencoe, Melbourne, Strathroy, Thorndale)
Apple Land Station - Easter egg hunts, gift shop, concessions or refreshment stand, restrooms, farm animals, school tours
329 Richmond Street, Thames Centre, ON N0M 2P0. Phone: 519-268-7794. Email: appleland@rogers.com. Event date and time: When we checked last, there was no update for 2023 yet on their website - so CHECK IT AGAIN YOURSELF, it may or may not be held in 2023, if they DO hold it, based on past years, it would likely be on a week before Easter, on Saturday, April 1, 2023 Good Friday and Saturday of Easter weekend from 9am to 4pm. 2019 prices Adults $4.43+hst Children $6.20+hst; ​under 2 free - over 100 free. CLOSED EASTER SUNDAY​. Purchase your tickets in the store, grab yourself an Easter bucket and then head on over to the train. The train will depart every hour on the hour to the orchard where eggs will be scattered among the apple trees. The children will disembark to gather the coloured Easter eggs with delight. With buckets full they will get back on the train and complete their ride. Turn in your bucket of eggs to receive an Easter treat! ​BRING YOUR CAMERA!!Click here for current open hours, days and dates. Directions: Just east of London Ontario, only 10 minutes off the 401 highway. Click here for a map and directions. Apple Season typically starts the beginning of September, Pumpkins end of September and Christmas tree in November;. Payment: Cash, Debit cards, Visa or MasterCard. Click here for our Facebook page. Visit our bakery for our famous mile high apple pie or other delicious scratch made baked goods. Play for hours on Sand Mountain, ride the train or visit the animals. They also have (in their seasons) pumpkin patch-pick in the field, pumpkin patch- already gathered from the field, U-pick and already picked apples. At Christmas, come and visit Santa in his cabin in the woods and find the perfect Christmas tree. (UPDATED: February 16, 2019, JBS)
A visitor writes on December 01, 2011: "Kids love it, train ride goes around farm 3 times, kids love the 40ft high sand mound"
Delaware Lioness Easter Egg Hunt - Easter egg hunt
46-48 York Street, Delaware, ON N0L 1E0. Email: delawarelioness@gmail.com. Event date and time: Cancelled for 2020, should be held again in 2021, likely to be on Saturday, April 8, 2023 at 10:00am. The Delaware Lioness Easter Egg Hunt is at 10 a.m sharp! Children 10 and under are invited to participate. Please bring a non perishable donation for the Women's Rural Resource Centre in Strathroy. Please consider a donation of a non-perishable food item for the Woman's Rural Resource Centre in Strathroy-Caradoc. Cash donations also welcome.
German Canadian Club - Easter egg hunt
1 Cove Road, London, ON N6J 1H7. Phone: 519.433.2901. Email: germanclub1@rogers.com. Event date and time: When we checked last, there was no update for 2023 yet on their website - so CHECK IT AGAIN YOURSELF, it may or may not be held in 2023, if they DO hold it, based on past years, it would likely be on Saturday, April 8, 2023,  from 2 pm to 4 pm. Cost: $3. Hop on over for our annual Easter Egg Hunt. We have two time slots for our Easter Egg Hunt: 2pm & 3pm. Free kids crafts. Coffee & cake for sale.
Norfolk (Bookton, Maybee's Corners, Norfolk, Spring Arbour, Waterford, Wilsonville)
Oxford (Blanford-Blemheim, Ingersoll, Tilsonburg, Woodstock, Zorra)
Oxford County consists of eight area municipalities: Blandford-Blenheim, East Zorra-Tavistock, Ingersoll, Norwich, South-West Oxford, Tillsonburg, Woodstock and Zorra
For more information, see the menu bar at the top of the page: Resources and Related Websites
Easter Egg Hunt, Parade and Event Listings