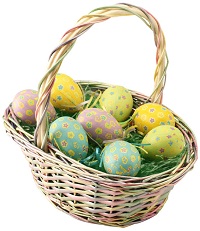 Did you miss Easter egg hunts this year? PLAN B: hold your own, see this page!
Looking for a local Easter egg hunt for your children? Or an Easter parade, Easter brunch or breakfast or other Easter events in Alberta, Canada? Scroll down this page and you will see all of those in Alberta, Canada, sorted by county. ALWAYS either see their website or call before you go to confirm the info, there are often last minute changes which they do not report to us! If you have missed the Easter egg hunts in your area (or they were canceled), see this page about how to easily have your own backyard or local park Easter egg hunt.
If you know of one we missed and want to add it or correct the information, please let me know! There are affiliate links on this page. Read our disclosure policy to learn more.
Updates for October 2022
More Easter egg hunts are returning in 2022! Unfortunately MANY have waited until the last minute to publish their dates, times and details. We're updating their information daily as it comes in. When we CONFIRM an event for 2022, the date will be highlighted in pink, like this passage to make them easy to find as you scroll down the page.
RELATED: You may also want to go to a local farm to Pick Your Own fruit and vegetables; strawberries start very soon in most areas! Farms will be open, and it's quite safe out in a field, where people are not close to each othger!
And if you are looking for local children's consignment sales, also often held by churches in the Spring and Fall, click here!
ALWAYS click the links to check date and time with the event's own website, as there are often last minute cancellations, postponements or changes to locations due to weather (like heavy rains) or logistical problems, just click on the link to the event's website and (in most cases), you want to click on the "events" link or "calendar" link on their website. Or use their site search for "Easter". Do let them know you found them here, so they will update us next year. Since many egg hunts do not publish the current year's dates until the very last minute, or simply never respond to email, we may not get their current information, which is why we have links to their websites, Facebook pages and calendars. Besides egg hunts, there are also Easter breakfasts and brunches and Easter parades to watch!
If you need to add your egg hunt or update your existing information, click on these links.
Easter Egg Hunt, Parade and Event Listings
Click on Resources above, if you need a county map
Calgary Area
Camrose-Drumheller area of Alberta
Edmonton area
City Centre Church Vanguard College Community Easter Egg Hunt - Easter Egg Scavenger Hunt
Vanguard College, 12140 103 St, Edmonton, AB. Phone: 80-423-2489. Email: info@citycentrechurch.com. Event date and time: Event date and time:

Cancelled for 2022, hopefully it will be held again in 2023, most likely on

Easter Sunday, April 9, 2023,

from 2 pm to 4 pm

. There will be an Easter Egg Scavenger Hunt happening following the online service at Vanguard College (12140 103 St) from 12:00-2:00. Everyone is welcome! Expect free chocolate and gift cards/prizes for those who participate in the hunt!
We want to see your wonderful faces (at least half of them) as we will follow Covid regulations. And let's have an eggcellent time together on Easter Sunday! Cost: FREE.(UPDATED: March 21, 2022)
Fort Saskatchewan Easter Egg Hunt Public Swim - Easter egg hunt
Harbour Pool, 10001 94 Avenue, Fort Saskatchewan, AB T8L 3V4. Email: info@fortsask.ca. Event date and time: When we checked last, there was no update for 2022 on their website - so CHECK IT AGAIN YOURSELF, it may or may not be held in 2022, if they DO hold it, based on past years, it would likely be on Easter Saturday, April 16, 2022 (but be sure to check on their website or call them first) from 2:00 pm to 4:00 pm. Children 7 years and younger must be accompanied into the water and be arms length from a responsible adult 14+ years of age or older. The Easter Egg Hunt will be held in the facility, in the pool and around the deck. We will have a bouncy castle and dunk tank as well as many game and prizes! Regular Admission Applies.

University of Alberta Easter Egg Hunt

-
Edmonton, AB T5J 4P6.UPDATE for 2021: Permanently cancelled, not to be held this year or in the future.
Red Deer area
Billyco Junction Gardens - Easter egg hunts for children, Brunch (no bunny), Held indoors in bad weather, There is an admission fee, Bring a basket to collect the eggs, Baskets are provided, U-pick and already picked, restrooms, weddings and wedding parties, school tours, group reservations
40110 Range Road 260, Lacombe, AB T4L 2N4. Phone: 403-782-4263. Fax: 403 782-4202. Email: info@billycojunction.com. Event date and time: UPDATE for 2022: When we checked last, there was no update for 2022 on their website - so CHECK IT AGAIN YOURSELF, it may or may not be held in 2022, if they DO hold it, based on past years, it MIGHT be held on Easter Saturday, April 16, 2022 (but be sure to check on their website or call them first) from 11:00 am to 1:30 pm. Event updates: Click here for updates. Directions: 8 kilometers East of Lacombe, Alberta on Highway 12 and then turn South on Prentiss Road (Range Road 26-0) for 4.4 kilometers, that will bring you right to our driveway. Click here for a map and directions. Pick Your Own - Fruits and Berries picking dates are approximate; Call ahead to confirm crop availability Rhubarb - June and July Honeyberries - July Strawberries - mid July Raspberries - later July to August Saskatoon Berries - later July to mid August Black Currants - mid August to late August Sour Cherries - August to late September Sea Buckthorn - Fall picking. Payment: Cash, Debit cards, Visa or MasterCard. Click here for our Facebook page. As of the time of this listing we do not have a vegetable u pick.
For more information, see the menu bar at the top of the page: Resources and Related Websites
Easter Egg Hunt, Parade and Event Listings