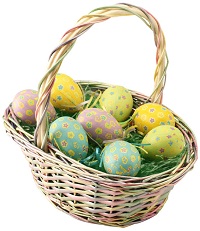 Did you miss Easter egg hunts this year? PLAN B: hold your own, see this page!
Looking for a local Easter egg hunt for your children? Or an Easter parade, Easter brunch or breakfast or other Easter events in NYC and Long Island, New York? Scroll down this page and you will see all of those in NYC and Long Island, New York, sorted by county. ALWAYS either see their website or call before you go to confirm the info, there are often last minute changes which they do not report to us! If you have missed the Easter egg hunts in your area (or they were canceled), see this page about how to easily have your own backyard or local park Easter egg hunt.
If you know of one we missed and want to add it or correct the information, please let me know! There are affiliate links on this page. Read our disclosure policy to learn more.
Updates for July 2022
More Easter egg hunts are returning in 2022! Unfortunately MANY have waited until the last minute to publish their dates, times and details. We're updating their information daily as it comes in. When we CONFIRM an event for 2022, the date will be highlighted in pink, like this passage to make them easy to find as you scroll down the page.
RELATED: You may also want to go to a local farm to Pick Your Own fruit and vegetables; strawberries start very soon in most areas! Farms will be open, and it's quite safe out in a field, where people are not close to each othger!
And if you are looking for local children's consignment sales, also often held by churches in the Spring and Fall, click here!
ALWAYS click the links to check date and time with the event's own website, as there are often last minute cancellations, postponements or changes to locations due to weather (like heavy rains) or logistical problems, just click on the link to the event's website and (in most cases), you want to click on the "events" link or "calendar" link on their website. Or use their site search for "Easter". Do let them know you found them here, so they will update us next year. Since many egg hunts do not publish the current year's dates until the very last minute, or simply never respond to email, we may not get their current information, which is why we have links to their websites, Facebook pages and calendars. Besides egg hunts, there are also Easter breakfasts and brunches and Easter parades to watch!
If you need to add your egg hunt or update your existing information, click on these links.
Easter Egg Hunt, Parade and Event Listings
Click on Resources above, if you need a county map
The following areas have their own pages due to the large number of activities in each, click on the links below:
Remaining Long Island Easter activities:
Things are still locked down here, assume an event is cancelled, unless they put this year's date in YELLOW HIGHLIGHT.
Kings County
See Brooklyn, above
New York County
J Hood Wright Recreation Center - Easter Egg Hunt
351 Fort Washington Avenue at 174th Street, New York, NY 10032. Phone: 212-408-0296. Event date and time: When we checked last, there was no update for 2022 on their website - so CHECK IT AGAIN YOURSELF, it may or may not be held in 2022, if they DO hold it, based on past years, it would likely be on Good Friday, April 15, 2022 (but be sure to check on their website or call them first as we cannot find an update for this year yet), at 3:30pm. At J Hood Wright Park in Washington Heights South. Join us for a day filled with fun activities that will cheer us up and will get us closer to the Easter Holiday. You will be able to engage in a variety of activities like arts & crafts, egg on the spoon race, sack race, and the grand event of an Easter Egg Hunt. Bring your bags and get ready to have fun! We encourage you to bring your kids and grand kids too. Free, no tickets needed.
Easter Kids Party Cruise - Easter cruise
Skyport Marina, 2430 FDR Drive, New York, NY 10010. Phone: 917-344-9258. Event date and time:

Saturday, April 16, 2022 and Easter Sunday, April 17, 2022 from 11 am to 1:30 pm

. A Fun Filled Family Adventure. 3Trips Each Day.
1st trip Boards at 11am Depart at 1130am & Returning at 1:30pm.
2nd Trip board at 2:30pm Depart 3:pm & Returns at 5pm.
3rd Trip Boards at 6pm Depart at 6:30pm Returns at 8:30pm
Aboard HARBOR LIGHTS Boarding From Skyport Marina (2430 FDR Drive Service Rd E. New York NY 10010)
2 Floors Climate-controlled
FREE Professional Pictures with THE EASTER BUNNY.
2022 Tickets; $40per person in Advance / $45 at the door if available
Group Rates & Birthday Packages Available Call us For Details!
FREE FACE PAINTING * FREE BALLOON TWISTING * MUSIC * DANCING * CLOWNS * MAGIC SHOW & So Much More!
FOOD, SNACKS & Beverages AVAILABLE For Purchase. (UPDATED: March 16, 2022, JBS)
Annual Easter Egg Hunt by La'Dreamer Lark - Easter egg hunt
Frederick Johnson Playground West 151st Street New York, NY 10039. Event date and time:

Easter Sunday, April 17, 2022 from 1 pm to 3 pm

.
Richmond County
The Great Egg Hunt & Easter Bonnet Parade at Ocean Breeze - Easter egg hunt
Ocean Breeze Track & Field Athletic Complex Accessible, 625 Father Capodanno Boulevard Staten Island, NY 10305. Phone: 718-351-7923. Email: cynthia.bayiokos@parks.nyc.gov. Event date and time: When we checked last, there was no update for 2022 on their website - so CHECK IT AGAIN YOURSELF, it may or may not be held in 2022, if they DO hold it, based on past years, it would likely be on Saturday, April 9, 2022 from 12 pm to 2 pm. Come join us for our springtime celebration! This is a free, family-friendly event with arts and crafts, an Easter egg hunt, a bonnet parade, a photo opportunity with the Easter Bunny, and much more! Participants are encouraged to create their own bonnets at home and come showcase their creations during the event. Please note that the event will take place directly across the street from the Ocean Breeze Athletic Complex located at 625 Father Capodanno Blvd., Staten Island, NY 10305. All youth participants must bring a basket from home for the egg hunt. The event will be Cancelled in the event of inclement weather. Registration is open for the first 200 families only. To register for the event, please visit www.oceanbreezenyc.org and fill out the registration survey. Cost is Free!
Staten Island
Clay Pit Ponds State Park Preserve - Easter egg hunt
83 Nielsen Avenue, Staten Island, NY 10309. Phone: 718-605-3970 X201. Email: ClayPitPondsSP@parks.ny.gov. Event date and time:

Saturday, April 16, 2022, from 10 am to 11 am

. Hunt for eggs on our trails starting at 10:00 am! After, join us in the Nature Interpretive Center for activities, crafts, and presentations all about EGGS! Eggs will be hidden on two miles of trails, children 10 and under are permitted to hunt for eggs. Each child is limited to collecting a maximum of 20 eggs. Bring your own basket! . All ages. All programs are free! All participants must follow state guidelines for face coverings. Children under 16 must be accompanied by an adult. Outdoor programs are subject to cancellation due to inclement weather, call for updates. Please dress tick-safe by wearing hiking boots or sneakers, tall socks pulled up over pantlegs, and bug spray. (UPDATED: March 16, 2022, JBS)
Gerard Carter Center - Easter egg hunt
230 Broad Street, Staten Island, NY 10304. Event date and time: When we checked last, there was no update for 2022 on their website - so CHECK IT AGAIN YOURSELF, it may or may not be held in 2022, if they DO hold it, based on past years, it would likely be on Saturday, April

16, 2022 from 2 pm to 4 pm

. Sponsored by by Power Center Church, their annual Power Kidz Easter Egg hunt is back! Join us for a time of games, music & prizes and as we celebrate Easter weekend together! Space is limited, RSVP to attend! RSVP for each child attending! Ages 5-12 are welcome! Parents must stay with their children for the duration of the event, no drop-offs! Masks required & Social Distancing enforced!
Historic Richmond Town Easter Egg Hunt - Easter Egg Hunt, for a fee
441 Clarke Avenue, Staten Island, NY 10306. Phone: 718-351-1611. Event date and time. UPDATE for 2022: When we checked last, there was no update for 2022 on their website - so CHECK IT AGAIN YOURSELF, it may or may not be held in 2022, if they DO hold it, Easter Egg Hunt at the Staten Island Historical Society. EASTER EGG HUNT: Children can travel through a seasonally decorated Victorian building and hunt for eggs! Groups are limited. Each child is guaranteed a total of 6(six) eggs during this 15 minute long hunt. Tickets for the Easter Egg Hunt are sold seperately by time slot. Only the child participating in the hunt requires a purchased ticket. Time slots between 12:00-4:00pm can be chosen when purchasing ticket. Please arrive 15 minutes before your allotted time! Click here to buy tickets.
Staten Island Zoo Eggstravaganza - Breakfast or lunch with the bunny
614 Broadway, Staten Island, NY 10310. Phone: 718-442-3101, ext. 33. Event date and time:

Sunday April 10, 2022 from 12 pm to 3 pm

. Hop into Spring with us at the Zoo and participate in our contactless egg hunt! Eggs will be hidden around the Zoo in the form of QR Codes. Scan our hidden eggs to hatch fun activities and animal trivia facts to learn more about our egg laying residents. Keeper talks will be scheduled throughout the event. Free with Zoo admission.Please note: There will be no physical eggs hidden at the zoo.Note: Admission tickets

must be

reserved in advance. Click on the

ticket link

and choose Sunday, April 10th to reserve your tickets! Guests must enter the Zoo at the Clove Rd. entrance. Our Broadway gate is currently closed.

Click here

to see what else the Zoo is doing to keep you and your family safe during your visit!. Note: Admission tickets must be reserved in advance. Click on the ticket link and choose Sunday, March 28th to reserve your tickets! Guests should enter the Zoo at the Clove Rd. entrance. Our Broadway gate is currently closed. (UPDATED: March 16, 2022, JBS)
The Mount - Easter egg hunt
6581 Hylan Boulevard, Staten Island, NY 10309. Event date and time: Saturday, April

16, 2022 from 9 am to 12 pm

. Grab your basket and hop on over for an eggcellent time at our community Easter Egg Hunt! Children 12 and under can participate in a fun Easter Egg Hunt at the Heritage Center to look for eggs filled with both candy and non-edible treats. There will be designated age group areas to accommodate younger and older children. Head inside for light refreshments and coloring activities and don't forget to have your picture taken with the Easter Bunny! Registration is required for this event. Tickets are $10 per child. Reserve your space for either the 9am-10am session or 11am to 12pm session.. (UPDATED: March 16, 2022, JBS)
Suffolk County
For more information, see the menu bar at the top of the page: Resources and Related Websites
Easter Egg Hunt, Parade and Event Listings