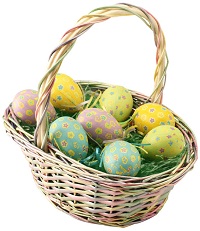 Did you miss Easter egg hunts this year? PLAN B: hold your own, see this page!
Looking for a local Easter egg hunt for your children? Or an Easter parade, Easter brunch or breakfast or other Easter events in Southern Maryland (Anne Arundel, Prince George's, etc.) ? Scroll down this page and you will see all of those in Southern Maryland (Anne Arundel, Prince George's, etc.) , sorted by county. ALWAYS either see their website or call before you go to confirm the info, there are often last minute changes which they do not report to us! If you have missed the Easter egg hunts in your area (or they were canceled), see this page about how to easily have your own backyard or local park Easter egg hunt.
If you know of one we missed and want to add it or correct the information, please let me know! There are affiliate links on this page. Read our disclosure policy to learn more.
Updates for December 2022
More Easter egg hunts are returning in 2022! Unfortunately MANY have waited until the last minute to publish their dates, times and details. We're updating their information daily as it comes in. When we CONFIRM an event for 2022, the date will be highlighted in pink, like this passage to make them easy to find as you scroll down the page.
RELATED: You may also want to go to a local farm to Pick Your Own fruit and vegetables; strawberries start very soon in most areas! Farms will be open, and it's quite safe out in a field, where people are not close to each othger!
And if you are looking for local children's consignment sales, also often held by churches in the Spring and Fall, click here!
ALWAYS click the links to check date and time with the event's own website, as there are often last minute cancellations, postponements or changes to locations due to weather (like heavy rains) or logistical problems, just click on the link to the event's website and (in most cases), you want to click on the "events" link or "calendar" link on their website. Or use their site search for "Easter". Do let them know you found them here, so they will update us next year. Since many egg hunts do not publish the current year's dates until the very last minute, or simply never respond to email, we may not get their current information, which is why we have links to their websites, Facebook pages and calendars. Besides egg hunts, there are also Easter breakfasts and brunches and Easter parades to watch!
If you need to add your egg hunt or update your existing information, click on these links.
Easter Egg Hunt, Parade and Event Listings
Click on Resources above, if you need a county map
Anne Arundel County
Calvert County
Charles County
Benedict Auxiliary & Farm Heritage Conservancy - Easter egg hunt, Scavenger hunt, Online preregistration is required, The Easter bunny will make an appearance, Photos with the Easter Bunny, Easter Festival, Childrens crafts, Children's music and storytelling, Vendors, FREE event, Other activities, porta-potties, concession stand (drinks, snacks and/or food), petting zoo, Hand sanitizer and/or hand washing stations are provided, Make reservations online
6932 Serenity Farm Road, Hughesville, MD 20637. Phone: (240) 216-0809. Email: BenedictAuxEvents@gmail.com. Event date and time: When we checked last, there was no update for 2022 on their website - so CHECK IT AGAIN YOURSELF, it may or may not be held in 2022, if they DO hold it, based on past years, it would likely be on Saturday

March 20, 2021 at 10 AM,

Different 2021 egg hunt times are listed on Eventbrite, see their website. Directions: Click here for a map and directions. Payment: FREE. Over 30 Crafters & Vendors. Easter Egg Hunt Petting Pen And so much more. Wear proper Farm Attire! PLEASE NOTE: SERENITY FARM IS COVID-19 COMPLIANT AND FOLLOWS MARYLAND STATE GUIDELINES, PLEASE BRING YOUR MASK AND SOCIAL DISTANCE WHILE ON THE FARM. WE APPRECIATE YOUR HELP IN KEEPING OUR ANIMALS AND OUR HELPERS HEALTHY AND SAFE. We are thrilled to have partnered again this year with Serenity Farm to bring you the Spring Fling in Benedict, MD. This event is sure to be a fun purpose driven event! Funds raised will benefit the Benedict Fire Department and the Farm Heritage Conservancy. Plus many of our local crafters and small businesses will be onsite and they will benefit from your patronage. We invite you to bring a non perishable food item for donation to our local food bank. Plan to bring family and friends! The Benedict Auxiliary is sponsoring free egg hunts as well as the farm will have so much more including hayrides, food, games/coloring, story times and a fun family day at the farm! Steam Onward will be onsite with FREE seeds and presentations to help educate our Community in gardening and mindfulness. For a small charge there will be crafts including a take home tote bag, decorative eggs, and petting zoo. Grab the Raffles and silent auctions will be available! Cash is recommended on the day of, however credit will be accepted for some vendors. Food & Drink will be available for purchase. Pack a picnic blanket and plan to relax and enjoy the amazing view from the farm in between all the fun. Dress accordingly. This is a rain or shine event. Please register for the Free Easter Egg hunt through Eventbrite so that we can be prepared. We ask for your patience and courtesy as this is likely to be a busy event. Different egg hunt times are listed on Eventbrite, please help your little one be courteous of others. TIA Please share this event and let's make this an incredible weekend having fun and supporting our amazing Community of Benedict! Click here for our Facebook page. (UPDATED: February 28, 2021)
United Way of Charles County Easter Egg-Stravaganza - Easter egg hunts for children, FREE admission,
Charles County Fair, 8440 Fairground Rd, La Plata, Maryland 20646. Event date and time: UPDATE for 2022: When we checked last, there was no update for 2022 on their website - so CHECK IT AGAIN YOURSELF, it may or may not be held in 2022, if they DO hold it, based on past years, it would likely be held on Saturday, April 9, 2022 (but be sure to check on their website or call them first as we cannot find an update for this year yet) from 10 AM from 2 PM. Join us for our first Easter Egg-Stravaganza! Southern Maryland's largest Easter egg hunt. In addition to the egg hunt, other free activities include: Car Show, Craft Fair, Pictures with the Easter Bunny, Live Music, More!
For a small fee, guests can also enjoy: Pony Rides, Petting Zoo, Face Painting/Henna, Inflatables, Balloon Animals, Food Trucks.
Friendly, leashed dogs are welcome. Guests are required to clean up after their four-legged friends. All proceeds support United Way of Charles County and our mission to to provide all citizens of Charles County the means to invest in their community to bring about positive changes in peoples' lives.


Prince George's County
Egg-cellent Adventures Community Easter Egg Hunt by Y-KNOT - Easter egg hunt
Patuxent River Park - Pavilion and Camp Ground, 16000 Croom Airport Road, Upper Marlboro, MD 20772. Event date and time:

Saturday, April 9, 2022 from 11 am to 3 pm

. Join us for a fun filled day with Easter egg hunts, obstacle courses, and so much more. (ADDED: March 19, 2022, JBS)
Fort Washington Forward Easter Egg Hunt - Easter egg hunt
Riverview Community Park, 10601 Riverview Road, Fort Washington, MD 20744. Email: president@fwforward.org. Event date and time:

Saturday, April 16, 2022 from 1 pm to 2 pm

. Registration Required. Admission is FREE. For Ages: 3 & under, 4 through 10 years, Face painting available for a fee, payable to the artist. Rain or shine, so dress accordingly! This is an outdoor event! Riverview Community Park is several acres of lovely grassy fields, boasting a multi-age playground, basketball court, tennis courts, soccer field with bleachers, and baseball diamond, surrounded on 3 sides by large, mature trees. Parking is available for approximately 50 cars. Limited to the first 75 registrations. Must be accompanied by a parent or guardian. This location is a community park with no restroom facilities. A photographer will be present (ADDED: April 12, 2022, JBS)
St. Mary's County
For more information, see the menu bar at the top of the page: Resources and Related Websites
Easter Egg Hunt, Parade and Event Listings