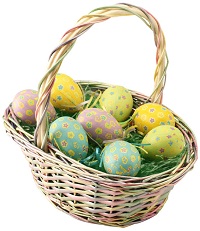 Looking for a local Easter egg hunt for your children? Or an Easter parade, Easter brunch or breakfast or other Easter events in the Santa Cruz County area of California? Scroll down this page and you will see all of those in the Santa Cruz County area of California, sorted by county. ALWAYS either see their website or call before you go to confirm the info, there are often last minute changes which they do not report to us! If you have missed the Easter egg hunts in your area (or they were canceled), see this page about how to easily have your own backyard or local park Easter egg hunt.
If you know of one we missed and want to add it or correct the information, please let me know! There are affiliate links on this page. Read our disclosure policy to learn more.
Updates for December 2021
It looks like egg hunts will be returning in 2021! Unfortunately MANY are waiting until literally the last minute to publish their plans and details. We're updating their information daily as it comes in. Those we KNOW are having an event in 2021 are highlighted in yellow, like this passage to make them easy to find as you scroll down the page.
If you have missed the Easter egg hunts in your area (or they were canceled), see this page about how to easily have your own backyard or local park Easter egg hunt.
RELATED: You may also want to go to a local farm to Pick Your Own fruit and vegetables; strawberries start very soon in most areas! Farms will be open, and it's quite safe out in a field, where people are not close to each othger!
And if you are looking for local children's consignment sales, also often held by churches in the Spring and Fall, click here!
ALWAYS click the links to check date and time with the event's own website, as there are often last minute cancellations, postponements or changes to locations due to weather (like heavy rains) or logistical problems, just click on the link to the event's website and (in most cases), you want to click on the "events" link or "calendar" link on their website. Or use their site search for "Easter". Do let them know you found them here, so they will update us next year. Since many egg hunts do not publish the current year's dates until the very last minute, or simply never respond to email, we may not get their current information, which is why we have links to their websites, Facebook pages and calendars. Besides egg hunts, there are also Easter breakfasts and brunches and Easter parades to watch!
If you need to add your egg hunt or update your existing information, click on these links.
Easter Egg Hunt, Parade and Event Listings
Click on Resources above, if you need a county map
Santa Cruz County
Felton, California: Roaring Camp Railroad's Eggstraordinary Easter Egg Hunt - Easter egg hunt
Mt. Hermon Road, Santa Cruz, CA. Phone: 831-335-4484. Event date and time:

April 3, 2021 and April 4, 2021, Saturday and Easter Sunday, See their website

. Directions: En Español. Click here for Google Maps directions and Click here for MapQuest directions. GPS Coordinates: N 37° 02.441 W 122° 03.765 10S E 583349 N 4099796. The steam train travels to Bear Mountain to hunt for thousands of chocolate candy eggs hidden in a redwood forest. Crafts and games, too. Kids need a train ticket to participate in the Easter egg hunt (which goes under cover, in case of rain.). Hop aboard the Roaring Camp Eggspress for the Eggstraordinary Egg Hunt. Hear the story of Peter Rabbit as the train chugs its way up Bear Mountain. Visit the Easter Egg patch and hunt for colorful chocolate candy eggs hidden by the Easter Bunny. Kiddies receive prizes for specially marked eggs. Easter crafts and games for children riding the train. The Easter Eggspress departs at 11:00 am, 12:30 and 2 pm. DEPARTS FROM ROARING CAMP IN FELTON. Hop on Board! The Easter Bunny makes a stop at Roaring Camp. After riding Roaring Camp's real 1880s Steam Train under the majestic Redwoods, over Indian Creek Trestle and through the Santa Cruz Mountains, your kids are going to have the time of their lives scavenging for chocolate eggs at the top of Bear Mountain. The magic of trains, mixed with the magic of the Easter Bunny. It's... it's… EGGSTRAORDINARY! Egg Hunt available for Easter Steam Train only. There is no Easter Egg Hunt on the Beach Train. Advance reservations recommended. To make reservations, call Roaring Camp a or or click here to purchase advance tickets online.. Children must have a train ticket to participate in the Easter Egg Hunt. In the event of rain, train cars and Easter Egg Hunt will be under cover. EGGSTRAORDINARY EASTER WEEKEND
The Easter Bunny makes a stop at Roaring Camp. After riding either the Redwood Forest Steam Train or the Santa Cruz Beach Train, your kids will have a blast participating in Easter activities in Town.
GateWay Bible Church EGGAPALOOZA! - Easter egg hunt
5000 Granite Creek Road, Scotts Valley, CA 95066. Phone: (831) 438-0646. Email: office@gatewaybible.org. Event date and time: UPDATE for 2021: there is NOTHING about an egg hunt on their website this year, it should have been held on Easter Sunday, April 4, 2021 (but be sure to check on their website or call them first as we cannot find an update for this year yet) at 9:30 and 11:00am. Invite your friends and family! Kids will have egg hunts, bounce houses, crafts, and more!
For more information, see the menu bar at the top of the page: Resources and Related Websites
Easter Egg Hunt, Parade and Event Listings