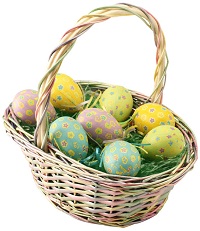 Looking for a local Easter egg hunt for your children? Or an Easter parade, Easter brunch or breakfast or other Easter events in the San Francisco / San Mateo County area of California? Scroll down this page and you will see all of those in the San Francisco / San Mateo County area of California, sorted by county. ALWAYS either see their website or call before you go to confirm the info, there are often last minute changes which they do not report to us! If you have missed the Easter egg hunts in your area (or they were canceled), see this page about how to easily have your own backyard or local park Easter egg hunt.
If you know of one we missed and want to add it or correct the information, please let me know! There are affiliate links on this page. Read our disclosure policy to learn more.
Updates for March 2023
Easter egg hunts are back! We've started updating the info for this year. Unfortunately MOST wait until the last minute (often just a week before) to publish their dates, times and details. We're updating their information daily as it comes in. When we CONFIRM an event for 2023, the date will be highlighted in pink,(currently showing those confirmed for last year) like this passage to make them easy to find as you scroll down the page.
RELATED: You may also want to go to a local farm to Pick Your Own fruit and vegetables; strawberries start very soon in most areas! Farms will be open, and it's quite safe out in a field, where people are not close to each other!
And if you are looking to save money on children's clothes, toys, books, etc, find a local children's consignment sale, also often held by churches in the Spring and Fall, click here!
And there will be St. Patrick's Day parades and events held in many cities - See this page to find a Saint Patrick's Day parade near you!
ALWAYS click the links to check date and time with the event's own website, as there are often last minute cancellations, postponements or changes to locations due to weather (like heavy rains) or logistical problems, just click on the link to the event's website and (in most cases), you want to click on the "events" link or "calendar" link on their website. Or use their site search for "Easter". Do let them know you found them here, so they will update us next year. Since many egg hunts do not publish the current year's dates until the very last minute, or simply never respond to email, we may not get their current information, which is why we have links to their websites, Facebook pages and calendars. Besides egg hunts, there are also Easter breakfasts and brunches and Easter parades to watch!
If you need to add your egg hunt or update your existing information, click on these links.
Easter Egg Hunt, Parade and Event Listings
Click on Resources above, if you need a county map
San Francisco
Crocker Amazon Park Eggstravaganza - Easter egg hunts for children, Easter egg hunts for toddlers, Easter egg hunts for all ages (includes adults), There is an admission fee, Children's crafts, Children's music and storytelling, Vendors, Other activities for children, concessions or refreshment stand, restrooms, picnic area, face painting, carnival rides
799 Moscow Street, San Francisco, CA 94118. Phone: 415-831-2700. Event date and time:

Last year's date was Saturday right before Easter Sunday from 11 am to 4 pm

. Directions: Click here for a map and directions. Payment: Cash, only. Notes: Join us for our annual Eggstravaganza event at Sharon Meadow in Golden Gate Park featuring egg hunts, carnival rides, games, live entertainment, and an annual barbecue rib cook-off between Rec and Park, San Francisco Police and the San Francisco Fire Department. 9am - 6pm
Free spring event for the entire family, featuring egg hunts, live entertainment, city cars and trucks, activities and food trucks.
Our spring Eggstravaganza is making its return to Crocker Amazon Park (799 Moscow Street). Join us for a day of free family fun, including egg hunts for kids, live entertainment, games, activities, City and County of San Francisco cars and trucks for the little ones to explore, and more. Food trucks will be available when you work up an appetite. There will be free bike valet parking courtesy of the San Francisco Bike Coalition.
WANT TO VOLUNTEER? Email

[email protected]

. American Sign Language interpretation will be provided. Please make requests for other accessibility needs or accommodations by contacting Lucas Tobin, ADA Coordination, at

[email protected]

.
San Francisco's Annual Spring Celebration & Easter Parade - Easter egg hunt
Union Street - Gough to Fillmore, San Francisco, CA. Event date and time: UPDATE for 2023: still says TBD, should be on Easter Sunday, the Parade Begins at 2:00 PM, from 10am to 5:00 PM. RAIN OR SHINE! This is a smoke-free event. Union Street Easter Parade & Spring Celebration. One of the local favorite San Francisco festivals in April is the Union Street Spring Celebration and Easter Parade. This has been a community tradition in the Marina neighborhood for many years, providing tasty treats and fun for the whole family. The kids can enjoy the bounce houses, climbing wall, petting zoo, and other hands-on activities while you peruse the selection of restaurants in an outdoor bistro setting. The parade begins at 2pm and highlights the best of SF's eclectic, wacky style.
South San Francisco Annual Easter Egg Hunt - Photos with the Easter Bunny (and in normal years, an egg hunt)
Orange Memorial Park Picnic Shelter, 844 Memorial Dr, South San Francisco, CA 94080. Phone: (650) 829-3800. Event date and time: When we checked last, there was no update for 2023 yet on their website - so CHECK IT AGAIN YOURSELF, it may or may not be held in 2023, if they DO hold it, based on past years, it would likely be on a week before Easter, on Saturday, April 1, 2023 at 9 am. Preschool and elementary school children (8 years of old and younger) are invited to participate in our annual Easter Egg Hunt at Orange Memorial Park Picnic Shelter. Children can search for eggs as well as visiting with the Easter Bunny, so parents don't forget your camera. The hunt takes place rain or shine at the Orange Park Picnic Shelter. There will be two hunts occurring at the same time for children ages 5 years and under and children ages 6 - 8 years. Children should bring a basket to collect their eggs. Participation is free! We will have two (2) hunt areas within the Picnic Area. The egg hunts will begin at 10:00 a.m. One hunt area will be for children ages 5 years and under. The other hunt area will be for children ages 6-8 years. Please arrive 15 minutes early for instructions.
St. Mark's Easter Egg Hunt - Easter egg hunt
St Mark's Lutheran Church, 1111 O'Farrell Street, San Francisco, CA. Phone: 415-928-7770. Phone:

[email protected]

. Event date and time:

Last year's date was Easter Sunday at 10:15 am to 11:00 am

. FREE. We look forward to seeing you in worship at our Easter Sunday morning services at 9 AM and 11 AM. There will be an Easter Egg Hunt for children at 10:15 AM on St. Mark's Square, and special music (Buxtehude's Easter Cantata) at 10:30 AM in the church sanctuary. Please join us!
San Mateo County
Belmont Egg Adventure Hunt - Easter egg hunt, Easter Bunny
Twin Pines Park Meadow, 1 Twin Pines Lane, Belmont, CA 94002. Phone: 650-595-7441. Event date and time:

Last year's date was Saturday right before Easter Sunday from 9:30 am to 11 am

. Directions: Click here for a map and directions. For ages 3-10 yrs. Bring your basket, camera and keep your eyes open for the Bunny! Our annual tradition is back at Twin Pines Park! Help bunny find all 10,000 of its eggs! Make sure to arrive *by 9:30am*, the bunny must begin searching exactly on time!
Burton Park Lions Club Annual Easter Egg Hunt - Easter egg hunt
Burton Park, 1017 Cedar Street, San Carlos, CA 94070. Event date and time: UPDATE for 2023: When we checked last, there was no update for 2023 yet on their website - so CHECK IT AGAIN YOURSELF, it may or may not be held in 2023, if they DO hold it, based on past years, it would likely be held on Saturday a week before Easter Sunday at 12:30 pm. Hosted by San Carlos Lions Club. Bring your own Easter basket. Egg hunt is done by age groups. Please come early.
City of San Mateo Parks and Recreation Department's Spring Eggstravaganza `- drive-thru Easter egg hunt, parade,
Central Park, 50 East 5th Avenue, San Mateo, CA. Event date and time:

Based on last year's date, it might be held on the Saturday right before Easter, April 8, 2023 from 9 am to 1 pm

. For children ages 4-9 years old on the Fitzgerald Field. Due to popularity, advanced reservations are now sold out. Limited wristbands will be available for FREE day-of the event. Please read our Large Egg Hunt FAQ's for more information and to keep everyone safe and happy!
Sunnybrae Park - Easter egg hunt
626 Folkstone Avenue, San Mateo, CA 94402. Phone: 650-576-6666. E-mail.

[email protected]

. Event date and time: We don't yet know if they are holding it in 2023, as it wasn't held the past 2 years, from 9 am to 12 pm. Join us at Sunnybrae Park for an Easter Egg Hunt and photos with the Bunny! Start with a visit to the Bunny, where you'll recieve free professional photos. Then get ready to scour the park for the Egg Hunt with your kids. There will be two hunts: One for ages 3 or 4 and under, the second for ages 4 or 5 and over. Baskets and prizes will be provided. While the kids are having fun, look for the Golden eggs that contain Free Staging, $3K Back at Closing Cost and Free Appraisal Credit at Closing vouchers. This is a free family-friendly event!
9:00 am - Begin
10:00 - 10:30 am - Egg Hunt
10:30 - 12:00 pm - Arts and Crafts & Play at park
10:00 -12:00 pm - Bunny pictures will be ongoing during this time
We hope to see you there! McNally and Associates
For more information, see the menu bar at the top of the page: Resources and Related Websites
Easter Egg Hunt, Parade and Event Listings