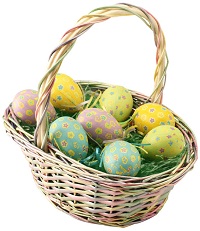 Looking for a local Easter egg hunt for your children? Or an Easter parade, Easter brunch or breakfast or other Easter events in Eastern Central California? Scroll down this page and you will see all of those in Eastern Central California, sorted by county. ALWAYS either see their website or call before you go to confirm the info, there are often last minute changes which they do not report to us! If you have missed the Easter egg hunts in your area (or they were canceled), see this page about how to easily have your own backyard or local park Easter egg hunt.
If you know of one we missed and want to add it or correct the information, please let me know! There are affiliate links on this page. Read our disclosure policy to learn more.
Updates for March 2023
Easter egg hunts are back! We've started updating the info for this year. Unfortunately MOST wait until the last minute (often just a week before) to publish their dates, times and details. We're updating their information daily as it comes in. When we CONFIRM an event for 2023, the date will be highlighted in pink,(currently showing those confirmed for last year) like this passage to make them easy to find as you scroll down the page.
RELATED: You may also want to go to a local farm to Pick Your Own fruit and vegetables; strawberries start very soon in most areas! Farms will be open, and it's quite safe out in a field, where people are not close to each other!
And if you are looking to save money on children's clothes, toys, books, etc, find a local children's consignment sale, also often held by churches in the Spring and Fall, click here!
And there will be St. Patrick's Day parades and events held in many cities - See this page to find a Saint Patrick's Day parade near you!
ALWAYS click the links to check date and time with the event's own website, as there are often last minute cancellations, postponements or changes to locations due to weather (like heavy rains) or logistical problems, just click on the link to the event's website and (in most cases), you want to click on the "events" link or "calendar" link on their website. Or use their site search for "Easter". Do let them know you found them here, so they will update us next year. Since many egg hunts do not publish the current year's dates until the very last minute, or simply never respond to email, we may not get their current information, which is why we have links to their websites, Facebook pages and calendars. Besides egg hunts, there are also Easter breakfasts and brunches and Easter parades to watch!
If you need to add your egg hunt or update your existing information, click on these links.
Easter Egg Hunt, Parade and Event Listings
Click on Resources above, if you need a county map
Amador County
Amador Flower Farm - Easter egg hunts
Amador Flower Farm, 22001 Shenandoah School Road, Plymouth, CA. 95669. Phone: 209-245-6660. Event date and time: There seems to be something wrong with their website. UPDATE for 2023: When we checked last, there was no update for 2023 yet on their website - so CHECK IT AGAIN YOURSELF, it may or may not be held in 2023, , if they do hold it, it SHOULD be held on Easter Sunday, (but be sure to check on their website or call them first as we still cannot confirm this year's date and time. ) at 1 pm. Easter Egg Hunt at the Farm. Join the Easter Bunny for an egg hunt at Amador Flower Farm! She hides her eggs here every year and kids (toddler to 13 yrs old) have a great time hunting for them in the daylilies. Come early then join us at 1pm sharp in the daylily growing grounds. Take your picture with the Easter Bunny and enjoy a picnic. Don't forget your camera and don't be late! This event will take place rain or shine. Free admission, free parking!
Calaveras County
Alpine County
Tuolumne County
Columbia Chamber of Commerce Victorian Easter Celebration - Easter egg hunt, Easter parade
Columbia State Historic Park, Main St. & State St, Columbia, CA 95310. Phone: 209-536-1672. Email:

[email protected]

. Event date and time: UPDATE for 2023: When we checked last, there was no update for 2023 yet on their website - so CHECK IT AGAIN YOURSELF, it may or may not be held in 2023, if they DO hold it, based on past years, it MIGHT be held on Easter Sunday, April 9, 2023, at 12 pm. Dress up in your Easter finery and be a part of Columbia's Victorian Easter Parade, a Victorian Era promenade on Main Street in Columbia State Historic Park on Easter Sunday. Prizes will be awarded for fanciest Victorian hat, and best dressed couple, lasses and lads, groups and pets (pre-register). Children will enjoy Columbia's popular Easter Egg Hunts. Be on the lookout for Thaddeus E Hare (aka the Easter Bunny) walking around town, handing out fresh carrots to the kids.! All events are free. Sponsored by the Columbia Chamber of Commerce. For more information, call 209-536-1672.
Groveland Rotary Easter Egg Hunt - Easter egg hunt
Hwy 120, Downtown Groveland, Groveland, CA. Event date and time:

Last year's date was Saturday right before Easter Sunday from 10 am to 12 pm

. For ages 0 to 8 in Upper Mary Laveroni Park at 10:00am. sharp. Bring your camera and take photos with the Easter Bunny.
Railtown 1897 State Historic Park - Easter Train & Festivities
10501 Reservoir Rd, Jamestown, CA 95327. Email:

[email protected]

. Event date and time:

Last year's date was Multiple dates in 2022, see their website

. Railtown 1897 SHP offers a memorable place to celebrate the holiday with an egg hunt for children (separated by age groups), train rides behind a historic locomotive, and an opportunity to meet the Easter Bunny. 2022 is a special year for Railtown 1897 SHP as it marks 125 years of the Sierra Railway Company of California and the 100th birthday for the historic steam locomotive Sierra No. 28, a Baldwin locomotive built in 1922. To accommodate the various ages of children, and with paid Park admission in 2022, ($5 adults, $3 youth ages 6-17, and free for children 5 and under), there will be an egg hunt for ages 6 and under and one for ages 7-12. With special activities happening all day long, the egg hunt begins at noon and excursion train rides depart at 10:30 a.m., noon, and 1:30 p.m. Operating in compliance with TSA's (Transportation Security Administration) COVID-19 guidelines, masks are currently required on all excursion train rides. Train ride guests enjoy a memorable six-mile, 45-minute round trip ride along the rails of the famous "Movie Railroad." Excursion train ride tickets for Easter Sunday are available online or at the Depot Store, on a first-come, first-served basis if still available. All train ride tickets include Park admission and cost $15 for adults, $10 for youth ages 6-17 and are free for children 5 and under.
Twain Harte Rotary Easter Egg Hunt - Easter egg hunt
Eproson Ball Park, 22901 Meadow Dr, Twain Harte, CA 95383. Event date and time:

Last year's date was Easter Sunday from 1 pm to 5 pm

. Annual Free Easter Egg Hunt for kids up through 6th grade. Egg toss for all ages. To be held at Eproson Ball Field at 1:00pm.
Victorian Easter Celebration in Columbia - Easter parade, Easter egg hunt
Columbia, CA. Phone: (888) 488-1850. Event date and time:

Last year's date was Easter Sunday from 12 pm to 3 pm

. Dress up in your Victoria Easter finery and march in the Victorian Easter Parade. Registration begins at 11am, and the parade is at 12:30pm. Children will enjoy Columbia's popular Easter Egg Hunts. The small Fry Egg Search at noon is for ages 3 to 5, and after the Easter Parade, the Junior Egg Poachers (ages 6 to 8) will try their luck at 1pm, and finally, the Great Egg Scramblers (ages 9 to 12) at 1:30pm. Find the golden egg and win a prize!

Mono County
For more information, see the menu bar at the top of the page: Resources and Related Websites
Easter Egg Hunt, Parade and Event Listings