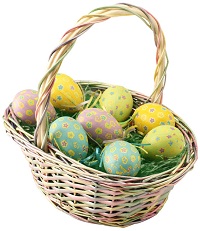 Looking for a local Easter egg hunt for your children? Or an Easter parage, Easter brunch or breakfast or other Easter events in Northern Wisconsin? Scroll down this page and you will see all of thoses in Northern Wisconsin, sorted by county. ALWAYS call before you go to confirm the info, they don't always report changes to me!
If you know of one we missed and want to add it or correct the information, please let me know!
Updates for February 2019
February: Easter Sunday will be April 21, 2019, If you plan to hold an Easter egg hunt, add or update your information as soon as you can. In 2018 most Easter egg hunts were held on either Saturday, March 24, 2018 or Saturday, March 31, 2018. ALWAYS click the links to check date and time with the event's own website, as there are often last minute changes due to weather or logistical problems, just click on the link to the event's website and (in most cases), you want to click on the "events" link or "calendar" link on their website. Or use their site search for "Easter". Do let them know you found them here, so they will update us next year. Since many egg hunts do not publish the current year's dates until the very last minute, we may not get their current information, which is why we have links to their websites, facebook pages and calendars. See their events calendar. There are also Easter breakfasts and brunches and Easter parades to watch!
RELATED:
You may also want to
go to a local farm to
Pick Your Own fruit and vegetables
; strawberries start very soon in most areas!
And if you are looking for local
children's consignment sales, also often held by churches in the Spring and Fall, click here
!
Easter Egg Hunt, Parade and Event Listings
Click on Resources above, if you need a county map
Marinette County
Crivitz Annual Easter Egg Hunt - Easter Egg Hunt
Crivitz High School, Crivitz, WI 54114. Phone: (715) 854-7694.. Event date and time: Call to find out IF they are having it this year; we cannot find any current information about this event, last year it was the Saturday right before Easter at 11:30 AM Sharp. Normally held at Crivitz Community Veteran's Park (Hall Avenue and Louisa Street), in 2013 it will be at CRIVITZ HIGH SCHOOL. Due to the standing water in the park, the location has changed. Children 9 & under are welcome to hunt for eggs, Easter eggs are filled with candy or prizes. Prizes are donate by CBA members, if you get an Easter egg with a prize card, take it to the local business to claim your prize. The Easter bunny will be there!! Lots of fun for everyone (and in inclement weather, the hunt will usually be held at the Crivitz High School). For more information please call - Sally Witt. The Annual Easter Egg hunt is sponsored by the CBA and the Village of Crivitz.
Dunbar / Pembine Community Easter Egg Hunt - Easter Egg Hunt
American Legion Park, Pembine, WI. Phone: None. Email: lydia.hodak@gmail.com. Event date and time: See their website or call for the date (this event was held in 2013, but I have not been able to find any information about this year), from 10am to 12pm. Our Free Easter Egg Hunt is located at the American Legion Park.The free Easter egg hunt begins at 1 pm. Please bring your own basket! Hunting eggs is limited to children 12 years old and under. Prizes and games will be awarded to participants! Hope that you can come!!! Please bring your own basket! Hunting eggs is limited to children 13 years old and under. Prizes will be awarded to participants!!! Egg decorating and snacks will also be available. Hope that you can come! Free
Washburn County
Spooner Golf Club 4th Annual 10,000+ Easter Egg Hunt - Easter egg hunts for children, Easter egg hunts for infant, Easter egg hunts for toddlers, The Easter bunny will make an appearance, Visits and photos with the Easter Rabbit, Brunch (no bunny), FREE admission, Bring a basket to collect the eggs!,
W6120 County Highway H, Spooner, WI 54801. Phone: 715-635-3580. Fax: 715-635-9007. Email: info@spoonergolf.com. Event date and time: Based on last year's date, it should be Based on last year's date, it SHOULD be held on Saturday, March 24, 2018,(but be sure to check on their website or call them first as may have changed) beginning at 11:30 sharp on the Spooner Golf Club practice range. Click here for current open hours, days and dates. Directions: Located 1/2 mile East of Highway 53 on County Highway H just North of Spooner. Click here for a map and directions. Payment: Cash, only. Notes: Click here for our Facebook page. The large practice range will be split up into 4 enormous squares for ages 0-3, 4-6, 7-9 and 10-12 featuring over 10,000 eggs including candy, toys, chamber of commerce dollars, McDonald's certificates, toys and 10 extra special eggs good for new sets of junior golf clubs! As an extra special gift, each child ages 0-12 years will receive an age appropriate book of there choice at the event tent. Completely FREE and the kids can pick up as many eggs as they can get!.
Ashland County
Bayfield County
Burnett County
Douglas County
Florence County
Forest County
Iron County
Langlade County
Lincoln County
Gleason Community Club Easter Egg Hunt - Easter egg hunt
Gleason Community Club, N5335 State Hwy 17, Gleason WI 54435. Event date and time: Saturday, March 24, 2018 from 10:30 am to 12 am. Attention Parents: Our Annual Easter Egg Hunt doors open at 10:30 a.m. Immediately upon entering you will want to sign your children up for their age group. Easter eggs hunt start promptly at 11:00 a.m. You don't want to miss it! Here is a sneak peak of what Saturday has in store. Don't forget to bring your camera so your kids can have a picture with the Easter Bunny.
River Bend, Merrill, WI Glow in the Dark Easter Egg Hunt - Easter egg hunt
River Bendf Trail, S Park St, Merrill, WI 54452. Event date and time: Friday, March 30, 2018 from 7 pm to 9 pm. The Merrill Park and Recreation Department and Merrill Optimist will be hosting the Annual Easter Egg Hunt. Join us as we walk the River Bend Trail and collect "GLOW IN THE DARK EGGS". Each egg will be filled with a prize (only one egg per child) plus the Easter Bunny will be at the River Bend Pavillion handing out some eggs filled with candy. Parking will be in the Weinbrenner Parking lot, the start of the hike will be by the Weinbrenner entrance. You can enjoy a beatiful walk to the Pavillion, enjoy some hot chololate, meet and get your picture taken with the Easter Bunny and when you are ready enjoy a hay ride back to your vehicle.
Menominee County
Oconto County
Oneida County
Price County
Sawyer County
Shawano County
Taylor County