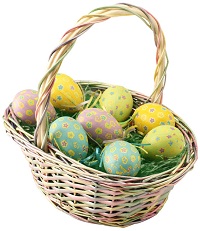 Looking for a local Easter egg hunt for your children? Or an Easter parage, Easter brunch or breakfast or other Easter events in Northwest Michigan? Scroll down this page and you will see all of thoses in Northwest Michigan, sorted by county. ALWAYS call before you go to confirm the info, they don't always report changes to me!
If you know of one we missed and want to add it or correct the information, please let me know!
Updates for February 2019
February: Easter Sunday will be April 21, 2019, If you plan to hold an Easter egg hunt, add or update your information as soon as you can. In 2018 most Easter egg hunts were held on either Saturday, March 24, 2018 or Saturday, March 31, 2018. ALWAYS click the links to check date and time with the event's own website, as there are often last minute changes due to weather or logistical problems, just click on the link to the event's website and (in most cases), you want to click on the "events" link or "calendar" link on their website. Or use their site search for "Easter". Do let them know you found them here, so they will update us next year. Since many egg hunts do not publish the current year's dates until the very last minute, we may not get their current information, which is why we have links to their websites, facebook pages and calendars. See their events calendar. There are also Easter breakfasts and brunches and Easter parades to watch!
RELATED:
You may also want to
go to a local farm to
Pick Your Own fruit and vegetables
; strawberries start very soon in most areas!
And if you are looking for local
children's consignment sales, also often held by churches in the Spring and Fall, click here
!
Easter Egg Hunt, Parade and Event Listings
Click on Resources above, if you need a county map
Antrim County
Benzie County
Charlevoix County
Young State Park Easter Egg Hunt - Easter egg hunt
Young State Park, 02280 Boyne City Road, Boyne City, MI 49712. Phone: 231-582-7523. Event date and time: Based on last year's date, it SHOULD be held on Saturday, March 31, 2018 (but be sure to check on their website or call them first as may have changed) from 11 am to 12 pm. Come to Young State Park for an old fashioned Easter Egg Hunt! Leave no rock unturned as you search to find eggs hidden with in the park. This event is fun for all ages and will begin at 11 a.m. For more information please contact the park. Please Note: The Michigan Department of Natural Resources makes every effort to provide the most up-to-date and accurate information on the web calendar. However, dates occasionally change and events may be canceled for any reason. Please call the unit hosting the event to confirm dates and times prior to your arrival. A Recreation Passport is required for entry into all Michigan state parks and recreation areas. Check "YES" when you renew your license plate. Learn more at www.michigan.gov/recreationpassport.
Emmet County
Grand Traverse County (including Old Mission Peninsula)
First Congregational Church Community Easter Egg Hunt - Easter egg hunt
6105 Center Road Traverse City, Michigan 49686. Phone: (231) 947-6698. Email: info@fcctc.org. Event date and time: Saturday, March 24, 2018 from 10:30am to 11:30am. Organized Egg Hunts by Age Group thru 5th Grade. PLENTY of eggs for all ages!. Donuts, Coffee, Hot Chocolate Crafts, Facepainting, and more! TWO Indoor Bounce Houses, connected to the outdoor patio Easter Bunny will be available to take photos with your child, using parent's smartphone/camera. A completely free day of family fun! We look forward to welcoming you - regardless of the weather. Every child can discover the joy and fun. A great time for adults as well!
Then - a second Egg Hunt for Special Needs Children Only Indoors, Noon to 1pm
Check-in through our main entrance, under the overhang; a convenient circle drive makes for easy access.
Enjoy an indoor egg hunt, along with free face painting, crafts, donuts, and hot chocolate.
The Easter Bunny will be available to take photos with your child, using parent's camera/smartphone
There are two indoor bounce houses to use at parents discretion; parents can accompany their child in the bounce house 2 at a time for ease of use.
West Side Community Church - Easter egg hunt, FREE admission, Bring a basket to collect the eggs!, porta-potties
4975 E Traverse Highway, Traverse City, MI 49684. Phone: (231) 941-9300. Email: info@tcwscc.com. Event date and time: Saturday, March 31, 2018 at 11am; hunt starts 11am SHARP. Directions: Click here for a map and directions. Payment: FREE Join us for the largest Easter Egg Hunt in Northern Michigan. Over 30,000 eggs separated into three fields for each age group (0-3, 4-7, and 8-12 yrs). Every kid walks away with more eggs than they can carry and the parents are gifted with amazing conversations and community with one other. We are meeting at the Softball Field and the hunt starts at 11am SHARP! If you get here at 11:15, you may have missed it all. Make sure you arrive early because of limited parking, however, our Parking Lot Team will provide transportation to the Softball Field. We can't wait to see you there! (ADDED: March 27, 2018)
Kalkaska County
Leelanau County
Manistee County
Missaukee County
Wexford County