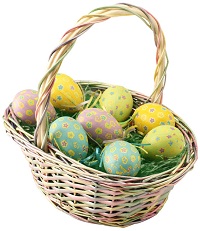 Looking for a local Easter egg hunt for your children? Or an Easter parage, Easter brunch or breakfast or other Easter events in Southwest Michigan? Scroll down this page and you will see all of thoses in Southwest Michigan, sorted by county. ALWAYS call before you go to confirm the info, they don't always report changes to me!
If you know of one we missed and want to add it or correct the information, please let me know!
Updates for February 2019
February: Easter Sunday will be April 21, 2019, If you plan to hold an Easter egg hunt, add or update your information as soon as you can. In 2018 most Easter egg hunts were held on either Saturday, March 24, 2018 or Saturday, March 31, 2018. ALWAYS click the links to check date and time with the event's own website, as there are often last minute changes due to weather or logistical problems, just click on the link to the event's website and (in most cases), you want to click on the "events" link or "calendar" link on their website. Or use their site search for "Easter". Do let them know you found them here, so they will update us next year. Since many egg hunts do not publish the current year's dates until the very last minute, we may not get their current information, which is why we have links to their websites, facebook pages and calendars. See their events calendar. There are also Easter breakfasts and brunches and Easter parades to watch!
RELATED:
You may also want to
go to a local farm to
Pick Your Own fruit and vegetables
; strawberries start very soon in most areas!
And if you are looking for local
children's consignment sales, also often held by churches in the Spring and Fall, click here
!
Easter Egg Hunt, Parade and Event Listings
Click on Resources above, if you need a county map
Allegan County
Allegan Jaycees Annual Easter Eggstravaganza - Easter egg hunt
Allegan High School
1560 M 40 N, Allegan, Michigan 49010. Event date and time: Saturday, March 24, 2018 from 11:00am to 1:00pm.

Bring the family for our Easter Egg Scramble that begins at 12pm, or come early for photographs with the Easter Bunny at 11am before he hops away! The Eggstravaganza features an Easter egg hunt, prize eggs and visits with the Easter Bunny. Easter Egg Scramble Schedule:




Ages 0-2 at 12:00pm




Ages 3-4 at 12:10pm




Ages 5-7 at 12:20pm




Ages 8-12 at 12:30pm

Martin Michigan Community Easter egg hunt - Easter egg hunt
Martin Reformed Church, 1073 W. Allegan St., Martin, MI. Event date and time: Easter Sunday, April 1, 2018 at 9 am. For 3-year-olds up to fourth-graders and will be followed by a continental breakfast for families and Easter celebration at 10 a.m.
Fennville Chamber of Commerce Easter egg hunt - Easter egg hunt
Golden Orchards, 2464 55th St, Fennville, Michigan 49408, Fennville, MI. Event date and time: Saturday, March 31, 2018 from 10 am to 12:30 pm.. Crafts, facepainting, cookie decoration, fire and police vehicles on display. Maps of the egg hunting areas and activities will be provided upon arrival at Golden Orchards. In case of rain, the event will be held inside the facility and youth will be able to gather eggs from the residents. Hunt times are: age groups 18 mo. to 3 years 10:30-10:45 a.m.; 4-6 years 10:50-11:05 a.m.; 7-9 years 11:10-11:25 a.m.; 10-12 years 11:30-11:45 a.m. and at 12 p.m. is the adult raffle and prizes.
Children's Museum of Fennville Color Fest - an Easter egg dyeing event
202 E. Main Street, Fennville, MI. Phone: (269) 561-8494..Event date and time: Saturday, March 31, 2018 from 12 pm to 3 pm. One of our most popular events, the 5th annual Easter egg-stravaganza will feature tons of fun methods for coloring your hard-boiled eggs. Marbling, tie-dying, natural and traditional dyes, paints, glitter, stickers and more will be available at the color stations. We'll provide all the materials and clean up the mess. All you have to bring is the hard-boiled eggs :)
Barry County
Berrien County
Branch County
Calhoun County
Cass County
Lawless Park Annual Spring Egg-stravaganza - Easter egg hunt
T.K. Lawless Park 15122 Monkey Run St, Jones, MI 49061. Phone: (269) 445-4456. Email: scottwy@cassco.org. Event date and time: There is nothing online about - it may have been discontinued - Based on last year's date, it SHOULD be held on Saturday, March 24, 2018 (but be sure to check on their website or call them first as may have changed) from 11 am to 2 pm. The event will take place that morning at the Vandalia park grounds, with two Easter egg hunts: one for children ages 2-4 that will take place around 11:30 am, and a second for children 5-10 around an hour later. Admission to the park that morning will cost $2 per person. In addition to the two hunts, which take place across the 4-acre park field, a number of family-friendly activities are lined up for visitors. These include a petting zoo set up by Mesko Farms, an arts and crafts table, face painting, wagon rides, a 20-foot inflatable slide and a bonfire area. Volunteers with the Friends of the Cass County Parks will also be making and selling refreshments, including hot dogs, popcorn and s'mores.
Eaton County
Kalamazoo County
Olde World Village Easter Egg Hunt - Easter egg hunts for children, Easter egg hunts for infant, Easter egg hunts for toddlers, The Easter bunny will make an appearance, Visits and photos with the Easter Rabbit, FREE admission, Children's crafts, Children's music and storytelling, Vendors, Other activities for children, Bring a basket to collect the eggs!, porta-potties, picnic area (bring your own food), face painting
The Olde World Village 13215 M 96, Augusta, MI 49012. Phone: 269-580-1290. Email: owv@tds.net. Event date and time: Saturday, March 31, 2018 Activities start at 10 am. Click here for current open hours, days and dates. Directions: Conveniently located on M 96 between Kalamazoo and Battle Creek. Click here for a map and directions. Payment: Intended for children 12 and under.
St. Joseph County
Van Buren County