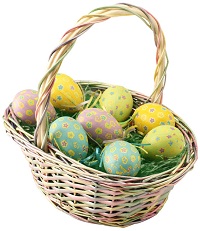 Looking for a local Easter egg hunt for your children? Or an Easter parage, Easter brunch or breakfast or other Easter events in Southeastern West Virginia? Scroll down this page and you will see all of thoses in Southeastern West Virginia, sorted by county. ALWAYS call before you go to confirm the info, they don't always report changes to me!
If you know of one we missed and want to add it or correct the information, please let me know!
Updates for February 2019
February: Easter Sunday will be April 21, 2019, If you plan to hold an Easter egg hunt, add or update your information as soon as you can. In 2018 most Easter egg hunts were held on either Saturday, March 24, 2018 or Saturday, March 31, 2018. ALWAYS click the links to check date and time with the event's own website, as there are often last minute changes due to weather or logistical problems, just click on the link to the event's website and (in most cases), you want to click on the "events" link or "calendar" link on their website. Or use their site search for "Easter". Do let them know you found them here, so they will update us next year. Since many egg hunts do not publish the current year's dates until the very last minute, we may not get their current information, which is why we have links to their websites, facebook pages and calendars. See their events calendar. There are also Easter breakfasts and brunches and Easter parades to watch!
RELATED:
You may also want to
go to a local farm to
Pick Your Own fruit and vegetables
; strawberries start very soon in most areas!
And if you are looking for local
children's consignment sales, also often held by churches in the Spring and Fall, click here
!
Easter Egg Hunt, Parade and Event Listings
Click on Resources above, if you need a county map
Fayette County
Greenbrier County
McDowell County
Mercer County
Monroe County
Nicholas County
Pocahontas County
Cass Annual Easter Egg Hunt - Easter egg hunt
Cass Scenic Railroad State Park, 242 Main Street, Cass, WV 24927. Phone: (304) 456-4300. Email: cassrailroadsp@wv.gov. Event date and time: Based on last year's date, it SHOULD be held on Saturday, March 24, 2018 (but be sure to check on their website or call them first as we haven't received an update from them; Starts at 1pm. It's a hoppin' good time at Cass Scenic Railroad State Park for the annual Easter Egg Hunt. Egg hunting is by age grounds, with two special prize eggs per age group: 0-2 years; 3-4 years; 5-7 years; 8-10 years; 11-14 years. Hunters should bring their own basket. Start at 1:00 p.m.at the Picnic Area by the parking lot. Event information: Monica Fleming, 304-456-4300, ext.111.
Raleigh County
Summers County
Pipestem Resort State Park - Easter egg hunt
Pipestem Resort State Park, 3405 Pipestem Drive, Pipestem WV, 25979. Phone: (304) 466-1800. Email: pipestemsp@wv.gov. Event date and time: Based on last year's date, it SHOULD be held on Saturday, March 31, 2018- but be sure to check on their website or call them first as we haven't received an update from them; ; lots happening,read on. Easter Crafting at 10:00 a.m. Easter craft for all ages is hosted in the Cardinal Room of McKeever Lodge. Come craft. Egg Hunt: Now where are those eggs hiding? Join us at Park Headquarters at 2:00 pm for the annual Easter Egg Hunt for children. Bring your own basket. Little hunters will have their own small Easter patch.It's the Easter Beagle: Join the gang in the Cardinal Room of McKeever Lodge for this classic movie and some popcorn. 7:00 p.m. Extra fun! Stop at the front desk to guess how many Jelly Beans are in the jar! Winner is announced at the Egg Hunt. And on Based on last year's date, it SHOULD be held on Easter Sunday, April 1, 2018 (but be sure to check on their website or call them first as may have changed); , the Sunrise Service. Join us at the gazebo behind Park Headquarters for this outdoor worship service. In the event of rain, we will move to the shelter at Park Headquarters. 7:00 a.m. AFter that, an Easter Buffet, is available from 11:30 a.m. until 7:00 p.m. Be on the look out for the Easter Bunny making his rounds throughout the lodge when visiting this weekend. -->
Webster County
Wyoming County
Easter Egg Hunt at Twin Falls State Park - Easter egg hunt
Rte. 97, Mullens, WV 25882. Phone: 304-294-4000. ALternate Phone: 800-225-5982. Event date and time: Based on last year's date, it SHOULD be held on Saturday, March 31, 2018- but be sure to check on their website or call them first as we haven't received an update from them; , but call to check the time, it was 1 pm, last year. Hop on up to Twin Falls State Park for a 1pm Easter Egg Hunt. The hunt is located at the Amphitheater/ballfield for a fun Easter Egg hunt of more than 1,000 eggs. Cost is $1 per child. Bring your Easter baskets. Directions: Latitude: 37.584921, Longitude: -81.380843. More than 1,000 eggs will be hidden. Please come early and bring your Easter baskets. The hunt will be at the ball field/amphitheater area. --> -->