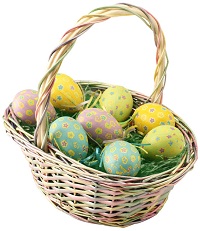 Looking for a local Easter egg hunt for your children? Or an Easter parage, Easter brunch or breakfast or other Easter events in Western Wisconsin? Scroll down this page and you will see all of thoses in Western Wisconsin, sorted by county. ALWAYS call before you go to confirm the info, they don't always report changes to me!
If you know of one we missed and want to add it or correct the information, please let me know!
Updates for February 2019
February: Easter Sunday will be April 21, 2019, If you plan to hold an Easter egg hunt, add or update your information as soon as you can. In 2018 most Easter egg hunts were held on either Saturday, March 24, 2018 or Saturday, March 31, 2018. ALWAYS click the links to check date and time with the event's own website, as there are often last minute changes due to weather or logistical problems, just click on the link to the event's website and (in most cases), you want to click on the "events" link or "calendar" link on their website. Or use their site search for "Easter". Do let them know you found them here, so they will update us next year. Since many egg hunts do not publish the current year's dates until the very last minute, we may not get their current information, which is why we have links to their websites, facebook pages and calendars. See their events calendar. There are also Easter breakfasts and brunches and Easter parades to watch!
RELATED:
You may also want to
go to a local farm to
Pick Your Own fruit and vegetables
; strawberries start very soon in most areas!
And if you are looking for local
children's consignment sales, also often held by churches in the Spring and Fall, click here
!
Easter Egg Hunt, Parade and Event Listings
Click on Resources above, if you need a county map
Barron County
Buffalo County
Chippewa County
Dunn County
Menomonie Lions Club Easter Egg Hunt - Easter egg hunt, Pancake breakfast
Wakanda Park, 909 Pine Ave E, Menomonie, WI 54751. Event date and time: Saturday, March 31, 2018 at 10:00 AM ;The Easter Egg Hunt is typically held on the Saturday before Easter, but is subject to change on a yearly basis.Come out and watch the the hidden eggs be swept up in minutes by the hundreds of kids when the signal is given. Prizes are won, including basketballs, frisbees, and bikes. The Menomonie Optimist Club will be hosting a breakfast at the Wakanda Elementary School before the Easter Egg Hunt. Breakfast will be served from 8:00 AM until 9:30 AM. The cost is $2.00 per plate. Pictures with the Easter Bunny will be available at the breakfast as well.
Eau Claire County
Metroplis Resort Eau Claire Easter Egg Hunt & Activities - Easter egg hunt
5150 Fairview Drive, Eau Claire, WI 54701. Phone: (855) 871-8085. Event date and time: Easter Sunday, April 1, 2018 from 12 pm to 4 pm Check-in starts at 11:30AM. Admission is $3/child and includes your choice of one Easter Egg Hunt time, themed activities and one Bingo session. **Easter Egg Hunt and themed activities are included in hotel reservations staying overnight on Saturday, March 31st and/or Sunday, April 1st for each registered child (please make sure to check your email for details on how to sign up for the Egg Hunt of your choice). **There will be a max of 200 kids per egg hunt so that there are enough eggs for everyone. Pre-registration online is highly suggested (closes March 31st at 4:00 PM). Walk-ins will be welcome if space is still available. Play Bingo for a chance to win prizes. Easter themed crafts, activities, cookie decorating and treats start at Noon and are available until 4:00 PM in the Metropolis Room. The Easter bunny will also be hopping around at our event and available for photos.
Easter Bingo - Choose one time: 2:00 - 2:45 PM & 3:00- 3:45 PM
Admission includes ONE Easter Egg Hunt, choose from the following times:
12:30 PM - 1:30 PM: Teeny Weeny Easter Egg Hunt available to kids ages 4 and under.
1:00 PM - 1:45 PM: Easter Egg Hunt available to kids 5 and over.
2:00 PM - 2:45 PM: Easter Egg Hunt available to kids 5 and over.
Register Online For Your Easter Egg Hunt Time HERE
Registration closes on March 31st at 4:00 PM
*There will be a total of 8,000 candy filled Easter eggs which will be split among the designated times above. Some eggs will also include special prize slips that you can redeem in the Metropolis Room for larger prizes such as free fun center/trampoline park play passes, free video game play and ice cream treats. One special egg will be hidden at each of the above locations/times which will include a slip for a FREE Birthday party of your choice (redeem certificate in the Metropolis Room).
*We know that some kids are faster at finding eggs than others so there will be a limit of 12 eggs per child. During the egg hunt, any child who find 2 of every colored egg available will win an additional prize for successfully completing the Egg Hunt game. (Game details will be given to you at the start of your Egg Hunt).
**There will be a max of 200 kids per egg hunt so that there are enough eggs for everyone. Pre-registration online is highly suggested. Walk-ins will be welcome if space is still available. Check-in located in Metropolis Room (across from go-kart track in Action City).
Easter Egg Float at Chaos:
Easter Egg float starts at 11:00 AM in the lazy river. (Available to all hotel guests. Water Park admission required to participate). *Win Prizes!

Pepin County
Pierce County
Polk County
Rusk County
St. Croix County
River Falls Easter Egg Hunt - Easter egg hunt
River Falls High School, River Falls, WI. Event date and time: See their website or call for the date (this event was held in 2013, but I have not been able to find any information about this year), Starting 11:30 am in the commons area. Usually on a Saturday before Easter, See their website for the 2019 date, egg hunt goes from 11:30 am to 1 pm...The hunt is recommended for kids ages 1-7. Carnival games and the concession stand will get started right away. Free raffle prizes will be given out to kids present. Each child gets one raffle ticket. The Easter Bunny is expected to hop in. There will be photo ops with the big rabbit and kids. Face painting for a $1 will also be available. The first group of 50 egg hunters will be released around 11:45 am Other groups will follow in succession every 10-15 minutes until all kids have a chance find eggs. There's a limit of three eggs picked up per child. Candy and treats will be placed inside the Easter Eggs. This will be done ahead of time by residents at The Lutheran Home. Seeking donations that are suitable to use as raffle prizes and more plastic eggs and candy to put inside them. Potential donors should send an e-mail to Rude at rose.rude@uwrf.edu.
Trempealeau County