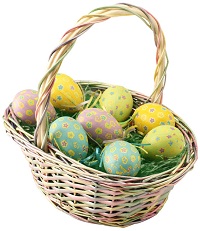 Looking for a local Easter egg hunt for your children? Or an Easter parage, Easter brunch or breakfast or other Easter events in Green Bay to Fond du Lac areas of Wisconsin? Scroll down this page and you will see all of thoses in Green Bay to Fond du Lac areas of Wisconsin, sorted by county. ALWAYS either see their website or call before you go to confirm the info, there are often last minute changes which they do not report to us!
If you know of one we missed and want to add it or correct the information, please let me know!
Updates for May 2019
May: Easter Sunday will be April 21, 2019. Most Easter egg hunts are being held on the Saturday a week before Easter, or the day before Easter Sunday. ALWAYS click the links to check date and time with the event's own website, as there are often last minute cancellations, postponements or changes to locations due to weather (like heavy rains in the northeast) or logistical problems, just click on the link to the event's website and (in most cases), you want to click on the "events" link or "calendar" link on their website. Or use their site search for "Easter". Do let them know you found them here, so they will update us next year. Since many egg hunts do not publish the current year's dates until the very last minute, or simply never respond to email, we may not get their current information, which is why we have links to their websites, facebook pages and calendars. Besides egg hunts, there are also Easter breakfasts and brunches and Easter parades to watch!
If you need to add your egg hunt or update your existing information, click on these links.
RELATED:
You may also want to
go to a local farm to
Pick Your Own fruit and vegetables
; strawberries start very soon in most areas!
And if you are looking for local
children's consignment sales, also often held by churches in the Spring and Fall, click here
!
Easter Egg Hunt, Parade and Event Listings
Click on Resources above, if you need a county map
Brown County
Bay Beach Wildlife Sanctuary - Easter egg hunt
Bay Beach Wildlife Sanctuary, 1660 East Shore Drive, Green Bay, WI 54302. Phone: 920-391-3671. Event date and time: usually the Saturday before Easter Sunday; (but to check with them to confirm) at 9:30am or at 11 am . Fee: $2.50 Friends members and City Residents or $3.75 Non-Residents. Pre-registration is required. (Ages 3-8 + parents) The Friends of the Wildlife Sanctuary will again be holding their annual Easter Event at the Sanctuary for kids ages 3-8 and their parents. Activities will include making an Easter bag, working on simple craft projects, enjoying cookies and punch, and hunting for eggs. Two events will be held, one at 9:30am and the other at 11:am. Location: Nature Center lower level. Space is limited.
NEW Zoo & Adventure Park Easter EggStravaganzoo - Easter event
4378 Reforestation Rd., Green Bay, WI. Phone: 920-434-7841. Event date and time: Saturday, April 20, 2019, from 8:00 AM to 4:00 PM. Easter egg hunt from 9am to 2pm.EggStravaganZoo will include a family-friendly scavenger hunt to find treat stations for kids (and even some stations for adults, too)! Every family or group that enters the zoo will receive a Scavenger Hunt Card to help guide you around the facility to find candy and game stations. Before leaving the zoo, turn your Scavenger Hunt Card in at the Visitor Center, where each child will receive a special prize before leaving. During the event, from 9:00 a.m. to 2:00 p.m., visitors can meet the Easter Bunny, enjoy kids' games, animal encounters, ride the carousel, and (weather permitting) play on two large inflatables. We will also have spray tattoos – PLUS The Dog House will be here to serve up their fantastic fresh, deep-fried cheese curds! New this year, all guests can receive free Bunny Ears while supplies last! Also, bring decorated Easter egg(s)* to get in on the Easter Egg Decorating Contest. Prizes will be awarded in four different age groups (newborn – 5 years, ages 6 – 10, ages 11 – 15, and ages 16 and above). Eggs or egg displays must stand on their own and be made of either blown-out or plastic eggs (no hard-boiled eggs, please!). Be creative – or just a little crazy – and have some fun getting into the springtime spirit. Visitors will be the judges, with prizes awarded at noon. Name, age and contact info must be attached to each display. Winners do not need to be present. You can bring your submission to the event before noon or drop it off at the zoo whenever we're open.
Calumet County
Door County
Sister Bay Easter Egg Hunt - Easter egg hunt
Sister Bay Waterfront Park, 648 N Bay Shore Drive, Sister Bay, Wisconsin 54234. Event date and time: Saturday, April 20, 2019, from 10:30 AM to 11:30 AM CDT. Parents are invited to bring their children to the annual Sister Bay Egg Hunt. Eggs will be hidden around Waterfront Park in downtown Sister Bay. Children will hunt for colored eggs, according to age group. As in years past, there will be an appearance from the Easter Bunny! The library will have a table set up as well. They will have a craft for the kids to do after the Hunt. The Easter Bunny may even come check out those crafts!
Fond du Lac County
Kewaunee County
Manitowoc County
Outagamie County
Sheboygan County
Vilas County
Winnebago County
Roscoe Lions Club - Easter egg hunts for children, Easter egg hunts for toddlers, FREE admission,
Leland Park, Roscoe, IL 61073. Phone: 815-509-9026. Alternate Phone: 815-986-3917. Email:

[email protected]

. Event date and time: Easter Sunday, April 21, 2019, at 1pm, starts at 1:00 P.M.
St. Mary Catholic Schools Clubhouse (St. Mary campus) - Easter egg hunts for children, FREE admission, Bring a basket to collect the eggs,
540 Second St, Menasha, WI 54952. Phone: 920-570-0407. Email:

[email protected]

. Event date and time: There is nothing on their calendar for this year; Call or email them; from 6pm to 7pm. Directions: Click here for a map and directions. Payment: Cash, only. Notes: Click here for our Facebook page. Egg-stravaganza This fun-filled event is open to all children entering Pre-3, Pre-Kindergarten or Kindergarten for the 2015-16 school year. Come and see what we have to offer in our Early Childhood programs! This fun-filled event is open to all children entering Pre-3, Pre-Kindergarten or Kindergarten for the 2015-16 school year. Join us from 6:00-7:00 p.m. at any of our three SMCS campuses for an exciting Easter Egg Hunt!
St. Gabriel Campus, 900 Geiger St., Neenah; 725-4161
St. Margaret Mary Campus, 610 Division St., Neenah; 729-4565
St. Mary Campus, 540 Second St., Menasha; 725-5351.
For more information, see the menu bar at the top of the page: Resources and Related Websites