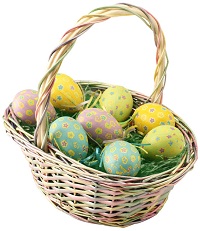 Looking for a local Easter egg hunt for your children? Or an Easter parage, Easter brunch or breakfast or other Easter events in San Antonio area of Texas? Scroll down this page and you will see all of thoses in San Antonio area of Texas, sorted by county. ALWAYS either see their website or call before you go to confirm the info, there are often last minute changes which they do not report to us!
If you know of one we missed and want to add it or correct the information, please let me know!
Updates for July 2019
July: Easter Sunday will be April 21, 2019. Most Easter egg hunts are being held on the Saturday a week before Easter, or the day before Easter Sunday. ALWAYS click the links to check date and time with the event's own website, as there are often last minute cancellations, postponements or changes to locations due to weather (like heavy rains in the northeast) or logistical problems, just click on the link to the event's website and (in most cases), you want to click on the "events" link or "calendar" link on their website. Or use their site search for "Easter". Do let them know you found them here, so they will update us next year. Since many egg hunts do not publish the current year's dates until the very last minute, or simply never respond to email, we may not get their current information, which is why we have links to their websites, facebook pages and calendars. Besides egg hunts, there are also Easter breakfasts and brunches and Easter parades to watch!
If you need to add your egg hunt or update your existing information, click on these links.
RELATED:
You may also want to
go to a local farm to
Pick Your Own fruit and vegetables
; strawberries start very soon in most areas!
And if you are looking for local
children's consignment sales, also often held by churches in the Spring and Fall, click here
!
Easter Egg Hunt, Parade and Event Listings
Click on Resources above, if you need a county map
Atascosa County
Bandera County
Bexar County
River City Community Church Easter Eggstravaganza - Easter egg hunt
16765 Lookout Rd., Selma, TX 78154. Phone: 210-490-5262. Event date and time: Saturday, April 20, 2019, from 10 am to 1 pm. FREE Family Fun Event. Kite Flying - 40,000 eggs - Multiple Hunt Times - Raffle - Games - Food - Live Bunny Pics - Face Painting - Special Needs Hunt. There is no cost for admission, everyone is welcome! Bring the entire family for an exciting, outdoor, picture-worthy, memory-making, kite flying experience. Our amazing, 40,000 egg-dash has multiple age divisions so big kids can run fast and loud while the "littles" waddle casually and safely. There is also kite-flying, live bunny photos, games for all ages, prizes, raffles, food booths, and face painting. The "Easter Egg Dash" is divided into multiple age divisions. Each age group has two chances to participate. The first round is from 10:30am to 11:30am. The second round is from 11:30am to 12:30pm. The toddler zone (24 months and under) and special needs area is open from 10:30am to 1:00pm to allow safe, self-paced hunting.
Summit Christian Center 2104 Eggnormous Easter - Easter egg hunts for children, Easter egg hunts for toddlers, The Easter bunny will make an appearance, Visits and photos with the Easter Rabbit, Held indoors in bad weather, Tents or other provisions are made for bad weather, FREE admission, Children's crafts, Vendors, Other activities for children, Bring a basket to collect the eggs, Farm animals are present, gift shop, concessions or refreshment stand, restrooms, face painting, inflatables or bounce house, petting zoo
2575 Marshall Road, San Antonio, TX 78259. Phone: 210-402-0565 . Event date and time: Easter weekend, Saturday and Sunday, with hunts to follow services. Directions: Click here for a map and directions. Payment: Cash, only. Notes: Click here for our Facebook page. Come join us for an EGGNORMOUS Easter at Summit! We will be having four services and many activities for the whole family! We can't wait to see you! Service Times: Saturday April 20 at 5PM and Sunday April 21 at 8:30AM, 10:30AM, & 12:30PM. Join us for Egg Hunts, Petting Zoo, Bouncies, Food Trucks, & Pictures with the Easter Bunny after all services!
Trader's Village Salem Media Group - Easter egg hunt, The Easter bunny will make an appearance, Photos with the Easter Bunny, Inflatablies, bounce houses, etc., Childrens crafts, Vendors, Bring a basket to collect the eggs, restrooms, Food or concessions, petting zoo
9601 Mcallister Freeway, Suite 1200, San Antonio, Tx 78216. Phone: 210-842-5824. Event date and time: Saturday April 13th 10:30am - 1:00pm hunts start promptly at 10:30am for ages 0-3, 11:00am for 4-6, 11:30am for 7-9 and 12 noon for 10-12 $4.00 parking at traders village. Directions: Click here for a map and directions. Payment: FREE. Come to Traders Village for the am630 the word Easter eggstravaganza over 20,000 eggs vendor and prizes pictures with the bunny and super heroes and princesses special needs accommodations at each hun $4.00 to park but egg hunts are free. Come join us! (UPDATED: February 12, 2019)
Comal County
Frio County
Gillespie County
Guadalupe County
Kendall County
Boerne City Lake Park Annual Easter Egg Hunt - Easter egg hunt
1 City Lake Rd, Boerne, TX 78006. Event date and time: Saturday, April 13, 2019, at 11:30 am. All parking fees at the lake will be waived until 1pm. Pictures with the Easter Bunny, Inflatables, Face painting, Free hot dogs (first come first serve), Obstacle course, Easter Egg Hunt 12:15 SHARP!!! 4 different age groups (ages 3 & under, 4-6, 7-9 and 10+) . So many Easter Eggs!! Over 15000 stuffed eggs!!! Easteregg Hunt need to trim up. Mobil food vendors will not be available at this event.
Kerr County
Medina County
Real County
Uvalde County
Wilson County
Zavala County
For more information, see the menu bar at the top of the page: Resources and Related Websites