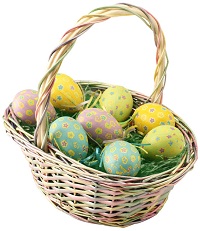 Looking for a local Easter egg hunt for your children? Or an Easter parage, Easter brunch or breakfast or other Easter events in Chattanooga and Southeastern Tennessee? Scroll down this page and you will see all of thoses in Chattanooga and Southeastern Tennessee, sorted by county. ALWAYS either see their website or call before you go to confirm the info, there are often last minute changes which they do not report to us!
If you know of one we missed and want to add it or correct the information, please let me know!
Updates for June 2019
June: Easter Sunday will be April 21, 2019. Most Easter egg hunts are being held on the Saturday a week before Easter, or the day before Easter Sunday. ALWAYS click the links to check date and time with the event's own website, as there are often last minute cancellations, postponements or changes to locations due to weather (like heavy rains in the northeast) or logistical problems, just click on the link to the event's website and (in most cases), you want to click on the "events" link or "calendar" link on their website. Or use their site search for "Easter". Do let them know you found them here, so they will update us next year. Since many egg hunts do not publish the current year's dates until the very last minute, or simply never respond to email, we may not get their current information, which is why we have links to their websites, facebook pages and calendars. Besides egg hunts, there are also Easter breakfasts and brunches and Easter parades to watch!
If you need to add your egg hunt or update your existing information, click on these links.
RELATED:
You may also want to
go to a local farm to
Pick Your Own fruit and vegetables
; strawberries start very soon in most areas!
And if you are looking for local
children's consignment sales, also often held by churches in the Spring and Fall, click here
!
Easter Egg Hunt, Parade and Event Listings
Click on Resources above, if you need a county map
Bledsoe County
Bradley County
Hamilton County
Chattanooga Zoo Hug-a-Bunny Day- Hug-a-Bunny Day
301 North Holtzclaw Avenue, Chattanooga, TN 37404. Phone: 423-697-1322 . Email:

[email protected]

. Event date and time: Saturday, April 20, 2019 from 10:00am to 3:00pm. A spring celebration for all ages! Visit the Easter Bunny and see the Zoo's live rabbits. Collect eggs at different education and craft stations, get your picture made with the Easter bunny, pet real bunnies, and so much more. This is a great day filled with fun for the whole family. All activities are FREE with regular Zoo admission. Activities are from 9am to 4pm and Zoo hours are 9am to 5pm.
Collegedale, PD Annual Easter Eggstravaganza - Easter egg hunt
4750 Swinyar Dr., Collegedale, TN 37315. Event date and time: Based on last year's date, it SHOULD be held on Sunday, April 14, 2019 (but be sure to check on their website or call them first as we still (as of April 8, 2019) cannot confirm this year's date and time) at 1:30 PM. Join us for FREE snacks and activities at 1:30 PM and let your kids enjoy the Easter egg hunt at 2:00 PM. Come meet our officers and have your picture taken with the Easter Bunny! Annual Easter Egg Hunt is at The Commons behind City Hall. Meet the Easter Bunny, play on inflatables, enjoy snacks & activities. Sponsored by Collegedale Police Reserve Unit.
Jones Memorial United Methodist Church Easter Eggstravaganza - Easter egg hunt
East Ridge High School Football Field, 4320 Bennett Rd, Chattanooga, TN 3741. Phone: 423-624-6073. Event date and time: Saturday, April 20, 2019, from 10 am. Registration and Age Schedule: 10 am - Babies to Pre-K, 10:45 am - K to 6th Grade. Get Registered Now here. This Free Event for kids between the ages of Babies - 6th grade will have door prizes, snacks, and tons fun!! In case of rain this event will be canceled!!
North Cleveland Baptist Church Easter Fest - Easter festival
2815 Ocoee St N, Cleveland, TN. Phone: 423-476-8524. Event date and time: Wednesday, April 17, 2019 from 6 pm to 7:30 pm, and there will be a couple of minor changes with Easterfest this year. First, it will be held in the south parking lot where Trunk or Treat takes place to allow more space for those in attendance. Secondly, due to the lack of grassy area in relation to the number of children who attend, there will not be an egg hunt. However, there will be hot dogs, popcorn, snow cones, and LOTS of carnival style games for the children to enjoy!
Marion County
McMinn County
Athens Parks and Recreation Easter egg hunt - Easter egg hunt
The Athens Regional Park, 2405 Decatur Pike, Athens, TN. Phone: 744-2704. Email:

[email protected]

. Event date and time: Saturday, April 13, 2019, at 11:30am. Easter egg hunt with over 10,000 eggs for Children 12 and under. Noon (Parks & Rec officials recommend arriving at 11:30am due to traffic.) The Parks & Recreation Department will fill other eggs with great prizes including coupons, candy and toys. For more information, call Parks & Recreation or email the department or visit the website.
Etowah Chamber of Commerce Easter Egg Hunt - Easter egg hunt
Etowah L&N Depot Museum. 727 South Tennessee Ave, Etowah, Tennessee 37331. Phone: 423-263-2228. Email:

[email protected]

. Event date and time: Saturday, April 20, 2019, at 11 am. Etowah Easter Egg Hunt Registration begins at 10:00am.
Meigs County
Monroe County
Polk County
Rhea County
Graysville Easter Egg Hunt - Easter egg hunt, Easter Bunny
Kristophers Kingdom, 475 Blacktrack Road, Graysville, TN 37338. Phone: (423) 775-9242. Email:

[email protected]

. Event date and time: Saturday, April 20, 2019 at 2 PM. Ages birth to three will hunt at 2 p.m. followed by ages four to seven at 2:15 p.m. and ages eight to 12 at 2:30 p.m. The Easter Bunny will be available for pictures. Donations of plastic eggs or individually wrapped candy are sought. Call for more information.

Sequatchie County
For more information, see the menu bar at the top of the page: Resources and Related Websites