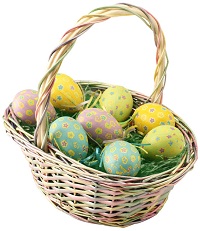 Looking for a local Easter egg hunt for your children? Or an Easter parage, Easter brunch or breakfast or other Easter events in Camden County, New Jersey? Scroll down this page and you will see all of thoses in Camden County, New Jersey, sorted by county. ALWAYS call before you go to confirm the info, they don't always report changes to me!
If you know of one we missed and want to add it or correct the information, please let me know!
Updates for January 2019
January: Easter Sunday will be April 21, 2019, If you plan to hold an Easter egg hunt, add or update your information as soon as you can. In 2018 most Easter egg hunts were held on either Saturday, March 24, 2018 or Saturday, March 31, 2018. ALWAYS click the links to check date and time with the event's own website, as there are often last minute changes due to weather or logistical problems, just click on the link to the event's website and (in most cases), you want to click on the "events" link or "calendar" link on their website. Or use their site search for "Easter". Do let them know you found them here, so they will update us next year. Since many egg hunts do not publish the current year's dates until the very last minute, we may not get their current information, which is why we have links to their websites, facebook pages and calendars. See their events calendar. There are also Easter breakfasts and brunches and Easter parades to watch!
RELATED:
You may also want to
go to a local farm to
Pick Your Own fruit and vegetables
; strawberries start very soon in most areas!
And if you are looking for local
children's consignment sales, also often held by churches in the Spring and Fall, click here
!
Easter Egg Hunt, Parade and Event Listings
Click on Resources above, if you need a county map
Camden County
Camden Children's Garden Easter Bunny Brunch - Easter egg hunt, Brunch with the Bunny
3 Riverside Drive, Camden, NJ 0810. Phone: 856-365-8733. Event date and time: Saturday, March 31, 2018 seating's available at 10am and 12:30pm; Reservations must be made in advance; Brunch with the Easter Bunny. Hop on over to the Camden Children's Garden for brunch with the Easter Bunny! The brunch is served buffet style and catered by Tortilla Press. Children's tickets include: catered brunch, Garden admission, Easter Egg Hunt, Printed Picture with the Easter Bunny, Crafts and (1) Amusement Ride. Reservations must be made in advance. For further information or to make a reservation, please call Guest Services. 2016 prices: Garden Members: Adult Ticket: $20/ Child Ticket: $25; Non-Members: Adult Ticket: $25 / Child Ticket: $30; All Children Under 2: $5. 2016 Bunny Brunch Buffet Menu: Fresh Fruit Salad, Assorted Bagels & Muffins, Scrambled Eggs, French Toast, Pancakes, Vegetable & Cheddar Quiche, Breakfast Potatoes, Bacon, and Sausage.
Kingsway Church Easter Egg Hunt at Cherry Hill West High School Football Stadium - Easter egg hunt
Cherry Hill West High School Football Stadium, Cherry Hill, NJ 08002. Phone: 856-667-9098. Email: info@kingswaychurch.tv. Event date and time: Saturday, March 31, 2018 at 10:00AM. Directions: Cherry Hill West High School Football Stadium. The football field is located 2 blocks south of the school. Cherry Hill West's football field, Glassboro's New Street Park covered with 100,000 little plastic eggs. Each egg filled with candy or a golden ticket. Now picture hundreds and hundreds of children running to fill their bags full of eggs! Exciting, chaotic and super-duper fun! Our hunt will consist of 4 separate age groups, so all the kids will get plenty of eggs, candy and prizes! The ages groups are (0-2, 3-5, 6-9 and 10-12). Parents and teenagers are not allowed to gather eggs, only children 12 and under. The football field is located 2 blocks south of the school. Glassboro's New Street Park. Burlington Township's High School Football Field. COST: This event is FREE and open to the general public. Children ages 0-12 may participate. Parents, grandparents, etc. get to watch, eat donuts and drink hot coffee. Eggs and prizes are for CHILDREN only! ADDITIONAL INFO You may want to arrive early. We will have hot coffee and donuts for the event. After grabbing a cup of Joe and a donut, you will be asked to take a seat in the bleachers. (Only 1,500 seats are available. Did I mention arrive EARLY?) Once we have had a minute to explain the hunt, everyone will line up around the field on the track and wait for the siren to blast, signifying the start of the hunt. The majority of eggs are filled with candy but a few have a special golden ticket, which could mean a new bike, games or a basket of crafts, etc. Join us on Easter Weekend!
Haddonfield Y's Men's Easter Egg Hunt- Easter egg hunt
Crow's Woods, Haddonfield, NJ Also see this news page. Event date and time: See their website for the 2019 date (this event was held in 2015, but I have not been able to find any information about this year),. The children will be assigned an area to collect their eggs according to age groups, and there will be prize eggs in each area. It is suggested that children taking part in the egg hunt bring their own baskets. The Easter Bunny will arrive at Crows Woods on a fire truck at 10 am and will be available for picture taking with him after the egg hunt. Parking is available at Crows Woods as well as the swim club parking area on Upland Way. Participants are urged to arrive early, since parking is sometimes a problem.