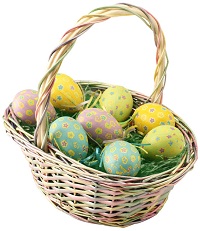 Looking for a local Easter egg hunt for your children? Or an Easter parage, Easter brunch or breakfast or other Easter events in Somerset County, New Jersey? Scroll down this page and you will see all of thoses in Somerset County, New Jersey, sorted by county. ALWAYS either see their website or call before you go to confirm the info, there are often last minute changes which they do not report to us!
If you know of one we missed and want to add it or correct the information, please let me know!
Updates for June 2019
June: Easter Sunday will be April 21, 2019. Most Easter egg hunts are being held on the Saturday a week before Easter, or the day before Easter Sunday. ALWAYS click the links to check date and time with the event's own website, as there are often last minute cancellations, postponements or changes to locations due to weather (like heavy rains in the northeast) or logistical problems, just click on the link to the event's website and (in most cases), you want to click on the "events" link or "calendar" link on their website. Or use their site search for "Easter". Do let them know you found them here, so they will update us next year. Since many egg hunts do not publish the current year's dates until the very last minute, or simply never respond to email, we may not get their current information, which is why we have links to their websites, facebook pages and calendars. Besides egg hunts, there are also Easter breakfasts and brunches and Easter parades to watch!
If you need to add your egg hunt or update your existing information, click on these links.
RELATED:
You may also want to
go to a local farm to
Pick Your Own fruit and vegetables
; strawberries start very soon in most areas!
And if you are looking for local
children's consignment sales, also often held by churches in the Spring and Fall, click here
!
Easter Egg Hunt, Parade and Event Listings
Click on Resources above, if you need a county map
Somerset County
Basking Ridge Easter Egg Hunt - Easter Egg Hunt
Millington Baptist Church, 520 King George Rd., Basking Ridge, NJ.Event date and time: Saturday, April 20, 2019, at 10 am. Brightly colored Easter eggs have long been a traditional reminder of renewal, rebirth and resurrection. Bring the young ones and their baskets to share in the delight of a traditional Easter egg hunt. Separate areas will be provided for preschool and elementary age children. After the search, we'll also have old-fashioned games, fun crafts and healthy snacks. Invite your friends and family to this free event. In case of inclement weather, we will move the fun indoors.
Frelinghuysen Park Easter Egg Hunt & Visit by Easter Bunny - Easter Egg Hunt
Frelinghuysen Park (Steve Del Rocco Field), 216 Sherman Ave., Raritan, NJ. Phone: 908-231-1300 ext 31. Email:

[email protected]

. Event date and time: Saturday, April 13, 2019, at 11 am to 1 pm. Ages: 1 - 12. Hunts start times are as follows: Ages 9-12 hunt starts at 11 am, 1-4 hunt starts at 11:20 am, 5-8 hunt starts at 11:45 a.m..Please bring your own Easter Basket! *If it rains or field is wet, the event will be held at the Municipal Building.
Hillsborough Rotary Easter Egg Hunt - Easter Egg Hunt
Youth Athletic Complex, Triangle Road, Hillsborough, NJ.Event date and time: Saturday, April 20, 2019, at 10 am The Annual Rotary Club of Hillsborough Easter Egg Hunt, a Hillsborough tradition for the past 18 years, will be held this year beginning at 10:30 AM at the Youth Athletic Complex on Triangle Road (Between Auten and South Triangle Roads). The event activities and snacks are open to Hillsborough residents only. The Easter Bunny will once again be on hand to meet children and pose for pictures. The Woods Road Fire Company will be on hand with their fire truck and equipment. Hot dogs and drinks will be available. Responding to resident feedback, this year's Hunt will be held in the fence-enclosed area in the rear of the Youth Complex, permitting better crowd control. Children will be divided into three age groups (3 and 4 year -olds, 5 and 6 year-olds and 7 and 8 year-olds), and will be admitted to their specific Hunt area at 11 AM sharp.
Manville Easter Egg Hunt - Easter Egg Hunt
Manville High School Turf Field, 410 Brooks Blvd., Manville, NJ 08835. Phone: 908-725-9478 ext 121. Event date and time: Saturday, April 6, 2019, at 12:30 pm. Ages: Preschool through 4th Grade. Cost: FREE. see poster at right
Montgomery Evangelical Free Church - Easter Egg Hunt, parade
246 Bellemead-Griggstown Rd., Montgomery, NJ. Phone: 908-874-4634. Event date and time: Saturday, April 13, 2019,from 9 am to 12 pm . Ages: All 'walkers' to age 9. Special needs children MORE than welcome! All "walkers" to age 9, including those with special needs, are invited to roam the church property searching for eggs filled with treats. There will also be games, prizes, face painting, a craft to make and a presentation of The Greatest Story Ever Told. And; it's all free!.
North Branch Reformed Church Easter Egg Hunt - Easter Egg Hunt
203 Route 28, Bridgewater, NJ 08807. Phone: 908-725-2313. Event date and time: Saturday, April 13, 2019, at 10 am. NBRC would like to invite all children of our church, preschool, and community to a special Easter Egg Hunt. Meet in Fellowship Hall of the church before going outside. Children are encouraged to bring their own baskets or bags
Stonecrest Community Church - Easter egg hunt, Inflatablies, bounce houses, etc., Childrens crafts, Children's music and storytelling, Held indoors in bad weather, FREE admission, Bring a basket to collect the eggs, Other, restrooms
11 Technology Drive North, Warren, NJ 07059. Phone: 908-821-9700. Email:

[email protected]

. Event date and time: Saturday, April 13, 2019 from 10 am to 1:30 pm. Directions: Click here for a map and directions. Payment: FREE Come join us for a free community Easter egg hunt designed for kids ages 0 to 11. There will be songs, games, crafts, a bounce house, and hot dog lunch. There will be 3 different age groups for the hunt so that all will have a fun time! Please register so that we can make sure we have enough lunch for everyone! Click here for our Facebook page. (ADDED: March 04, 2019)
Vermeule Easter Egg Hunt - Easter Egg Hunt
Vermeule Center Park, 614 Greenbrook Rd., North Plainfield, NJ 07063. Phone:(908) 756-0247. Event date and time: Saturday, April 13, 2019, at 2 pm (Rain date one week later). Meet the Easter Bunny and hunt for easter candy (remember to bring your camera and a basket to carry your eggs). All North Plainfield youth that are 9 years old or younger.
Watchung Recreation's Easter Egg Hunt - Easter Egg Hunt
Phillip's Field, 65 Brookdale Rd .,Watchung, NJ. Phone: 908-756-0080, extension 210. Event date and time: Saturday, April 13, 2019, at 11 am. Decorate your wagons and strollers, wear your Easter Bonnet or Easter Hat .
For more information, see the menu bar at the top of the page: Resources and Related Websites