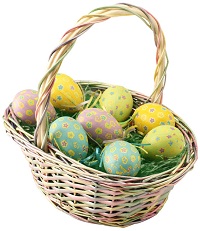 Looking for a local Easter egg hunt for your children? Or an Easter parage, Easter brunch or breakfast or other Easter events in Southeastern New Hampshire? Scroll down this page and you will see all of thoses in Southeastern New Hampshire, sorted by county. ALWAYS either see their website or call before you go to confirm the info, there are often last minute changes which they do not report to us!
If you know of one we missed and want to add it or correct the information, please let me know!
Updates for June 2019
June: Easter Sunday will be April 21, 2019. Most Easter egg hunts are being held on the Saturday a week before Easter, or the day before Easter Sunday. ALWAYS click the links to check date and time with the event's own website, as there are often last minute cancellations, postponements or changes to locations due to weather (like heavy rains in the northeast) or logistical problems, just click on the link to the event's website and (in most cases), you want to click on the "events" link or "calendar" link on their website. Or use their site search for "Easter". Do let them know you found them here, so they will update us next year. Since many egg hunts do not publish the current year's dates until the very last minute, or simply never respond to email, we may not get their current information, which is why we have links to their websites, facebook pages and calendars. Besides egg hunts, there are also Easter breakfasts and brunches and Easter parades to watch!
If you need to add your egg hunt or update your existing information, click on these links.
RELATED:
You may also want to
go to a local farm to
Pick Your Own fruit and vegetables
; strawberries start very soon in most areas!
And if you are looking for local
children's consignment sales, also often held by churches in the Spring and Fall, click here
!
Easter Egg Hunt, Parade and Event Listings
Click on Resources above, if you need a county map
Rockingham County
BrentwoodEgg Hunt and Bunny Breakfast - Easter egg hunt and breakfast with the Bunny
Brentwood Community Center, 190 Route 125, Brentwood, NH 03833. Event date and time: Saturday, April 20, 2019, The Egg Hunt will start promptly at 8:45am and the Bunny Breakfast will run 9:00 to 10 am. The Recreation Department will be hosting our Annual Bunny Breakfast and Town Egg Hunt at the Brentwood Community Center on Route 125. Breakfast Cost: $5 for Adults and $3 for Kids. The Easter Bunny will be there to visit with kids and parents are welcome to bring their cameras and take pictures. The Egg Hunt is free to town residents.
Charmingfarm Farm Egg-Citing Egg Hunt - Easter egg hunt
774 High Street, Candia, NH 03034. Phone: 603-483-5623. Email:

[email protected]

. Event date and time: multiple weekends Various Check-In Times 10am to 1pm; Plan on 2 hours or more; Plan on 2 hours or more; Reservations Required. The Easter Bunny has hopped over to the farm to spend some time with your kids. He will crack them up providing you with lots of Egg-Cellent photo opportunities. Bring your camera! Horse-Drawn Ride, Our Eggs-Pert Teamsters will take your family on a horse-drawn wagon ride to our new Egg Hunting location. Egg Carton PictureEgg Hunt Barn; Children ages 2 to 10 can scramble safely for their 12 colorful candy and/or prize filled eggs. Each child will have plenty of time to select and fill their egg carton. Each child should bring an empty egg cartons to fill with 12 eggs. Kids can have fun decorating their egg carton at home. Tractor Train Ride: All aboard the Tractor Train because Farmer Ray knows the way to the Eggs-Tra Special location where the Golden Eggs can be found. Each child will receive one Golden Prize Egg that can be redeemed for a prize from a very special barnyard favorite. Visit with the Animals: Parents we know our spring baby animals will be enjoyed by your kids but you don't need an Eggs-Cuse to enjoy them too. Baby chicks, ducks, goat kids and lambs should be arriving daily and their Moms will be Egg-Cited to let you meet them. The Golden Egg: Every child is a winner at Charmingfare Farm. Redeem the Golden Egg for your child's special prize.
Exeter Easter Egg Hunt - Easter egg hunt
Swazey Pky, Exeter, NH 03833. Phone: 603-773-6151. Event date and time: Saturday, April 20, 2019, at 10 am. The Easter bunny will be in Exeter again this spring. Swasey Parkway will be filled with brightly colored Easter eggs with a few (6) lucky youngsters finding the special eggs! Join us rain, snow, or shine for this fun event. Light refreshments will be served at the end of the event with a chance to get pictures with the bunny! There will be three hunts (pre-school, grade K-2, and grades 3-5) with baskets for, "special eggs" found. Please bring your own bag or basket for eggs too.
Newmarket Community Center Easter Egg Hunt - Easter egg hunt
Leo Landroche Field & Community Center, Terrace Dr, Newmarket, NH 03857. Phone: (603) 659-8581. Event date and time: Saturday, April 20, 2019, from 8:30 AM to 10:30 AM. Don't miss out on all the Easter fun with us at the Annual Easter "Eggs"cellant Hunt! Lots of eggs, lots of community spirit as we watch the children gathering their eggs, lots of prizes and candy, and for those children who find those special eggs or those with special prize tickets inside, lots of bigger prizes to be won! As always we will have a staggered start giving children of various ages a chance to collect our colorful filled eggs. Please be sure to give yourself plenty of time to park, purchase your hunt wrist band, (bags will also be provided if needed) and walk to the different hunt locations as our start times are right on the nose! Toddlers: 9:00am, 4-5 Years: 9:10am, 6-12 Years: 9:30am. We strongly suggest that you allow for additional time to park and walk to the specific location for your child's hunt location. The eggs go quickly and start times are right on the nose.
Next Level Church Epping - Helicopter egg drop, Inflatablies, bounce houses, etc., Childrens crafts, FREE admission, Baskets are provided, restrooms, Food or concessions
24 Calef Highway, Epping, NH.. Phone: 603-924-6438. Email:

[email protected]

. Event date and time: Easter Sunday, April 21, 2019, at 9:00am and 10:30am . Directions: Click here for a map and directions. Payment: FREE Next Level Church hosting free Helicopter Easter Egg Drop! On Easter Sunday, Next Level Church invites everyone to come collect thousands of eggs dropped from a helicopter! Easter Sunday tens of thousands of plastic Easter eggs containing candy will be dropped from a helicopter onto a grass field near Next Level Church's locations. If you have kids, you won't want to miss out on an unforgettable Easter and free family fun! You can attend any of the experiences at 9:00AM, 1045AM, or 12:15PM to get a wristband (required for entrance) and access to the secret location. Best of all, it's free! This family-friendly event is safe, fun, and memorable with bounce houses, face painting, and many other fun activities happening before and after the egg drop. Registration is required for entry, so head to nextlevel.church/2019eggdrop now to register! Next Level Church also invites you to join them this Easter weekend for a fantastic family experience at NLC Peterborough on Easter Sunday. Whether you consider yourself a churchgoer or not, we know that you will love the family experience NLC provides on Easter Weekend! Come and enjoy a great time of relevant worship, a message celebrating the resurrection of Jesus, and an exciting environment for your kids. Next Level Church is a rapidly growing move of God named among the top 10 fastest growing churches in America by Outreach Magazine each of the last four years. What they have seen God accomplish in just ten years is incredible, with over 2,000 people choosing to follow Jesus at one of its 10 locations. NLC exists to be a loving, relevant, and life-giving church. To sign up and learn more about Next Level Church, visit nlc.tv. (ADDED: March 17, 2018)
Portsmouth Easter Egg Hunt - Easter egg hunt
Langdon Park, Junkins Avenue, Portsmouth, NH. Phone: 603-427-1547. Event date and time: Saturday, April 13, 2019, at 10:30 am to 12:30 pm. Come join the Recreation Department in an old fashioned Easter Egg Hunt. The hunt will be held at Langdon Park, located across from City Hall on Junkins Avenue. In addition to the Easter Bunny's appearance there will be face painting and other special activities for the children. Note: Makeup date TBA in case of poor field conditions or inclement weather. Portsmouth Residents only and dogs please.
Salem Community / Rockingham Christian Church Easter Egg Hunt - Easter egg hunt
Soule Elementary School, 173 South Policy Street, Salem, NH . Phone: 603-894-5228. Event date and time: Saturday, April 13, 2019, from 11:30 am to 2 pm. FREE ADMISSION. Egg Hunt for under 5 years old @ 11:30 AM. Egg Hunt for ages 6-10 @ 1pm. Jump Houses! Face Painting! Live Music! Balloon Animals! Please use the bags that are provided at registration to collect your eggs. Do not use your own bag.
Stratham Annual Easter Egg Hunt - Eastere egg hunt
Stratham Hill Park, Stratham, NH.Event date and time: Saturday, April 13, 2019, at 9 am. Photos with the bunny before your hunt begins. Find a special egg and turn it in during the week of March 26th at the Parks and Recreation office for a 'special' prize. Please limit the special eggs to one per family. Thank you. For ages: Preschool through 5th grade. Hunt Locations: Preschool - playground next to Scamman Pavillion; Kindergarten - 2nd grade - Large open filed; 4th & 5th grade - Upper fencned in baseball field. Cost:~ FREE.
Windham Annual Easter Egg Hunt - Easter egg hunt
Windham High School, 64 London Bridge Rd, Windham, NH 03087. Event date and time: Saturday, April 13, 2019, at 9:30am. Egg Hunt is for boys and girls up to age 9. Children are divided into age groups to 'hunt' at different times. It is strongly recommended to arrive 5-10 minutes before your hunt time. The Easter Bunny will be hopping around for you to take pictures with between 9:30-10:30 am. (Please bring your own camera.) Event happens rain, snow, sleet, or shine. The Town Hall parking lot will be closed to cars, so please park behind the Bartley House or at the Windham Presbyterian Church. Please note the hunting times below, and be reminded the hunts happen really quickly! It is suggested to arrive a few minutes early so you don't miss out. Dont forget your basket or bag! There will be face painting in the lobby. 9:45 am - Hunt for ages 3-5. 10 am - Hunt for ages 0-2. 10:30 am - Hunt for ages 6-9.
Strafford County
For more information, see the menu bar at the top of the page: Resources and Related Websites