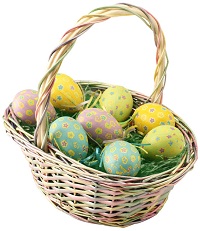 Looking for a local Easter egg hunt for your children? Or an Easter parage, Easter brunch or breakfast or other Easter events in Hillsborough County, New Hampshire? Scroll down this page and you will see all of thoses in Hillsborough County, New Hampshire, sorted by county. ALWAYS either see their website or call before you go to confirm the info, there are often last minute changes which they do not report to us!
If you know of one we missed and want to add it or correct the information, please let me know!
Updates for June 2019
June: Easter Sunday will be April 21, 2019. Most Easter egg hunts are being held on the Saturday a week before Easter, or the day before Easter Sunday. ALWAYS click the links to check date and time with the event's own website, as there are often last minute cancellations, postponements or changes to locations due to weather (like heavy rains in the northeast) or logistical problems, just click on the link to the event's website and (in most cases), you want to click on the "events" link or "calendar" link on their website. Or use their site search for "Easter". Do let them know you found them here, so they will update us next year. Since many egg hunts do not publish the current year's dates until the very last minute, or simply never respond to email, we may not get their current information, which is why we have links to their websites, facebook pages and calendars. Besides egg hunts, there are also Easter breakfasts and brunches and Easter parades to watch!
If you need to add your egg hunt or update your existing information, click on these links.
RELATED:
You may also want to
go to a local farm to
Pick Your Own fruit and vegetables
; strawberries start very soon in most areas!
And if you are looking for local
children's consignment sales, also often held by churches in the Spring and Fall, click here
!
Easter Egg Hunt, Parade and Event Listings
Click on Resources above, if you need a county map
Hillsborough County
Next Level Church Peterborough - Helicopter egg drop, Inflatablies, bounce houses, etc., FREE event, Baskets are provided, restrooms, concession stand (drinks, snacks and/or food)
700 Dublin Road, Peterborough, NH 03458. Phone: 603-924-6438. Email:

[email protected]

. Event date and time: Easter Sunday, April 21, 2019, from 2PM to 3PM. Directions: Click here for a map and directions. Payment: FREE. Next Level Church hosting a FREE Helicopter Easter Egg Drop! On Easter Sunday, Next Level Church invites everyone to come collect thousands of eggs dropped from a helicopter! On April 21st, 2019, tens of thousands of plastic Easter eggs containing candy will once again be dropped from a helicopter onto a grass field near Next Level Church's locations. Last year, over 8,000 people participated across 8 different locations! If you have kids, you won't want to miss out on an unforgettable Easter and free family fun! You can attend any of the experiences at 9AM, 10:45AM and 12:30PM to get a wristband (required for entrance) and access to the secret location. Best of all, it's FREE! This family-friendly event is safe, fun, and memorable with bounce houses, face painting, and many other fun activities happening before and after the egg drop. Registration is required for entry, so head to www.2019eggdrop.com now to register! Next Level Church also invites you to join them this Easter weekend for a fantastic family experience at 700 Dublin Road, Peterborough, NH 03458 on Sunday, April 21st at 9AM, 10:45AM, or 12:30PM. Whether you consider yourself a churchgoer or not, we know that you will love the family experience NLC provides on Easter Weekend! Come and enjoy a great time of relevant worship, a message celebrating the resurrection of Jesus, and an exciting environment for your kids. Next Level Church is a rapidly growing move of God named among the top 100 fastest growing churches in America by Outreach Magazine each of the last five years. What they have seen God accomplish in just ten years is incredible, with thousands of people choosing to follow Jesus at one of its 9 locations. NLC exists to be a loving, relevant, and life-giving church. To sign up and learn more about Next Level Church, visit www.nextlevel.church today. Click here for our Facebook page. . (UPDATED: March 28, 2019)
Pelham Easter Egg Hunt - Easter egg hunt.
24 Village Green, Pelham, NH 03076. Event date and time: Saturday, April 13, 2019, from 11 am to 1 pm, weather permitting (rain/snow date 4/4). Pelham Parks and Recreation will be hosting our annual Easter Egg Hunt on Saturday, (rain date a week later) weather permitting. Please join us on the Village Green in front of the Town Hall and the Pelham Town Library. Have children dress for weather and ground conditions. Open to boys and girls, up to age 8! Egg hunt will include thousands of candy and/or toy filled eggs. Areas on the green will be sectioned off by ages. Parents are expected to stay with their child. The hunt starts promptly at 12 pm and typically is done in a very short order. If you arrive at 12:05 pm, you may miss it! Friends of the Library in Pelham (F.L.I.P.) will hold a book and bakery sale from 10 am to 2 pm at the Pelham Public Library. Please join them to gather some great children's reads and eats! Crossroads Baptist Church will provide a sound system and free children's bicycle raffles. First Congregational Church will offer hotdogs and cotton candy for all to enjoy. Troop 25 will be setting up a table for popcorn sales & hot chocolate. The Girl Scouts are also participating with a craft and they will also be selling their famous cookies! Pelham Medical Center will be present and offering face painting. Easter Festival - April 13 (rain date April 20)
Saint Anselm Campus Easter Egg Hunt - Easter egg hunt
St. Anselm College, 100 St Anselm Dr, Manchester, NH 03102. Phone: (603) 656-6025. Email:

[email protected]

. Event date and time: Sunday, April 14, 2019, from 10 am to 2 pm.
Mark your calendars! The 23rd Annual Easter Egg Hunt will be held on Palm Sunday, more info at (603) 641-7220.
The Well Church - Easter egg hunt
Lyons Field, 50 Allds St, Nashua, NH 03060. Event date and time: Saturday, April 13, 2019, from 10 am to 12 pm. Register now for this free event! Only children need to register. There are multiple time slots to choose from. Please note the following information: Children 2 years & older are welcome to participate. Children between 2-5 years must be accompanied by an adult during the hunt. Bring your own basket! We will also have a bounce house, face painting and more - all free of charge!
For more information, see the menu bar at the top of the page: Resources and Related Websites