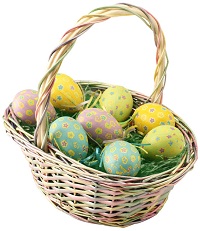 Looking for a local Easter egg hunt for your children? Or an Easter parage, Easter brunch or breakfast or other Easter events in Far Western North Carolina? Scroll down this page and you will see all of thoses in Far Western North Carolina, sorted by county. ALWAYS either see their website or call before you go to confirm the info, there are often last minute changes which they do not report to us!
If you know of one we missed and want to add it or correct the information, please let me know!
Updates for July 2019
July: Easter Sunday will be April 21, 2019. Most Easter egg hunts are being held on the Saturday a week before Easter, or the day before Easter Sunday. ALWAYS click the links to check date and time with the event's own website, as there are often last minute cancellations, postponements or changes to locations due to weather (like heavy rains in the northeast) or logistical problems, just click on the link to the event's website and (in most cases), you want to click on the "events" link or "calendar" link on their website. Or use their site search for "Easter". Do let them know you found them here, so they will update us next year. Since many egg hunts do not publish the current year's dates until the very last minute, or simply never respond to email, we may not get their current information, which is why we have links to their websites, facebook pages and calendars. Besides egg hunts, there are also Easter breakfasts and brunches and Easter parades to watch!
If you need to add your egg hunt or update your existing information, click on these links.
RELATED:
You may also want to
go to a local farm to
Pick Your Own fruit and vegetables
; strawberries start very soon in most areas!
And if you are looking for local
children's consignment sales, also often held by churches in the Spring and Fall, click here
!
Easter Egg Hunt, Parade and Event Listings
Click on Resources above, if you need a county map
Buncombe County
Easter at Biltmore - Easter egg hunt
1 Approach Road, Asheville, NC 28803. Phone: 800-411-3812. Phone: 828-225-1333.Email:

[email protected]

". Event date and time: Easter Sunday, April 21, 2019, at 11am, 1pm, 3pm;Egg Hunt
Egg Hunts are for children 2-9 years old.
First Egg Hunt: Registration: 9:00 am to 10:45 am; Children's Music and Stories: 9:45 am to 10:15 am; Magic Show: 10:30 am; Egg Hunt: 11:00 am.
Second Hunt: Registration: 11:00 am to 12:45 pm; Children's Music and Stories: 11:45 am to 12:15 pm; Magic Show: 12:30 pm; Egg Hunt: 1pm.
Third Hunt: Registration: 1pm to 2:45 pm; Children's Music and Stories: 1:45 pm to 2:15 pm; Magic Show: 2:30 pm; Egg Hunt: 3:00 pm.
On the Front Lawn: Photos with the Easter Rabbit: 9:30 am to 3:30 pm; Coloring Pages, word finds, craft: 9:30 am to 2:30 pm.
Easter Dining Options: Easter Brunch at Deerpark: 10am to 3:00 pm; Easter Brunch at the Dining Room: 7:00 am to 11:00 am (reservations recommended)
Bring your own basket or bag to collect eggs.
Cherokee County
John C Campbell Folk School - Easter egg hunt
1 Folk School Rd, Brasstown, NC 28902. Event date and time: Saturday, April 20, 2019,from 1 pm to 3 pm. Join us for a fun afternoon of games, crafts, entertainment, and refreshments. Keep a look out for the Easter Bunny who will be making an appearance. The fun takes place at Open House, located next to the gardens. Please park in the gravel lot on the corner of Brasstown Road and Harshaw Road, across from the Keith House. This event is free and open to the public. . There will be three areas for egg hunting, divided by age: 1-4, 5-8, and 9 & older. This event is free and held at the Open House. We ask that you please park in the gravel lot across from the Keith House to allow plenty of space for egg hunting and for the safety of the participants. Please arrive early - the hunt begins promptly at 1:00 pm and doesn't last very long!
Clay County
Graham County
Haywood County
Lake Junaluska Conference & Retreat Center - Easter egg hunt
91 North Lakeshore Drive Lake Junaluska, NC 28745. Phone: 800-222-4930. Event date and time: Saturday, April 20, 2019,); . All events are open to the public. GChildren ages 12 and under are invited to join us for our annual Easter Egg Hunt located near Stuart Auditorium. The Easter Bunny will be in attendance for photos! Free and open to the public.

11:30 a.m. - Ages 1-3
11:35 a.m. - Ages 4-7
11:40 a.m. - Ages 8-12
11:45 a.m. - Children, ages 4-12 with special needs related to autism, vision impairment, or limited mobility. Pre-registration is required and space is limited.

Click here to register.

Food and drink items will be available for purchase near the information tent.

Waynesville Rec Center

- Easter egg hunt, The Easter bunny will make an appearance, Photos with the Easter Bunny, Childrens crafts, Held indoors in bad weather, FREE admission, Bring a basket to collect the eggs, Other, restrooms
550 Vance Street, Waynesville, NC 28786. Phone: 828-456-5363. Event date and time: Based on last year's date, it SHOULD be held on Saturday, April 20, 2019 (but be sure to check on their website or call them first as we still (as of April 1, 2019) cannot confirm this year's date and time) from 9am to 130pm first hunt starts at 1115am. Directions: Click here for a map and directions. . Payment: FREE Come out and join us for kids activities. We will have a police canine demonstration, photo opportunities with the Easter Bunny, and door prizes. Followed by an Easter egg hunt. We will be having a free hot dog lunch for everyone that attends the event. While supplies last. So come out and join us from 9 a.m. to 1:30 p.m. the Easter egg hunt will be for ages 3 to 12 years old. The location of the event will be held at the Waynesville Rec Center. (ADDED: March 20, 2018)
Henderson County
Macon County
Madison County
McDowell County
Mitchell County
Polk County
Rutherford County
Swain County
Transylvania County
Yancey County
For more information, see the menu bar at the top of the page: Resources and Related Websites