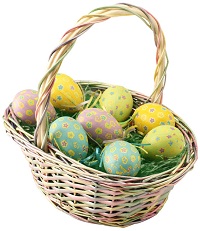 Looking for a local Easter egg hunt for your children? Or an Easter parage, Easter brunch or breakfast or other Easter events in Southeast Massachusetts? Scroll down this page and you will see all of thoses in Southeast Massachusetts, sorted by county. ALWAYS either see their website or call before you go to confirm the info, there are often last minute changes which they do not report to us!
If you know of one we missed and want to add it or correct the information, please let me know!
Updates for June 2019
June: Easter Sunday will be April 21, 2019. Most Easter egg hunts are being held on the Saturday a week before Easter, or the day before Easter Sunday. ALWAYS click the links to check date and time with the event's own website, as there are often last minute cancellations, postponements or changes to locations due to weather (like heavy rains in the northeast) or logistical problems, just click on the link to the event's website and (in most cases), you want to click on the "events" link or "calendar" link on their website. Or use their site search for "Easter". Do let them know you found them here, so they will update us next year. Since many egg hunts do not publish the current year's dates until the very last minute, or simply never respond to email, we may not get their current information, which is why we have links to their websites, facebook pages and calendars. Besides egg hunts, there are also Easter breakfasts and brunches and Easter parades to watch!
If you need to add your egg hunt or update your existing information, click on these links.
RELATED:
You may also want to
go to a local farm to
Pick Your Own fruit and vegetables
; strawberries start very soon in most areas!
And if you are looking for local
children's consignment sales, also often held by churches in the Spring and Fall, click here
!
Easter Egg Hunt, Parade and Event Listings
Click on Resources above, if you need a county map
Barnstable County
Bristol County
Buttonwood Park Zoo Easter EggZOOberance - Easter egg hunt
425 Hawthorn Street, New Bedford, MA 02740. Phone: 508-991-4556. Alternate Phone: 508-991-6178. Email:

[email protected]

. Event date and time: Multiple dates, see their website. . Children under one are free. Back by popular demand! Hop over to the Buttonwood Park Zoo to meet the Easter Bunny! Enjoy an egg-cellent breakfast buffet, meet and greet with some of our animal residents, head out into the Zoo for an egg hunt, and even watch some of the Zoo animals receive their Easter eggs! Don't forget to bring a camera to capture your Easter Bunny visit. Zoo admission and free rides, weather permitting, are included in the program price. Register now - this event always fills up! Questions? Contact the North Woods Gift Store at (508) 991-4556 ext. 14.
Saint Vincent's Adult Easter Egg Hunt - Adult Easter egg hunt
Bristol Community College Building G, 777 Elsbree St, Fall River, MA 02720. Phone: 508-679-8511. Email:

[email protected]

. Event date and time: Saturday, April 13, 2019 from 4 pm to 9 pm. Bristol Community College is hosting the Saint Vincent's Adult Easter Egg Hunt. Anyone 21 and older is welcome. Tickets are $40 each and can be purchased online at stvincentshome.org under the event section. More than 3,000 eggs will be hidden and will be filled with prizes, candy adult beverages and much more! Every egg will have a prize and everyone is guaranteed to walk away having had a great time!! The Hunt is followed by pub style appetizers, a cash bar and Live Entertainment.
Winslow Farm Animal Sanctuary Easter Egg Hunt - Easter egg hunt
37 Eddy Street, Norton, MA. Phone: 508-285-6451. Email:

[email protected]

. Event date and time: Most weekends up to and including Easter weekend - see their website, from 12 noon to 3 pm. Our annual hunts are a favorite with children and parents. We offer a relaxed, non-competitive hunt, for ages 1-8, where each child can find colorful eggs at their own pace in our Playground Area*. (Please, only 10 eggs per child.) Then bring the eggs to our volunteers to get your candy surprise!. The Easter Egg hunt is held every weekend a few weeks before Easter, See their website for details. The sanctuary offers a relaxed, non-competitive hunt that allows children to explore the beautiful Nature Trail to find treat-filled eggs. Fun is to be had by all. The Winslow Nature Trail holds hidden Easter treasures just waiting to be found. Be sure to look for the Easter Bunny along the path (or a kitty or two!). *Please be aware this is an outdoor event and is subject to changing weather conditions. Admission to this is event is $10.00 for adults, $5.00 for children [All admission fees go directly to the care and feeding of our animals]. Please bring your favorite basket!
Dukes County
Nantucket County
Plymouth County
Halifax Annual Holiday Egg Hunt - Easter egg hunt
Halifax Elementary School Gymnasium, 464 Plymouth St, Halifax, MA 02338. Phone: 781-294-1215. Event date and time: Based on last year's date, it SHOULD be held on Saturday, April 13, 2019 (but be sure to check on their website or call them first as we still (as of April 1, 2019) cannot confirm this year's date and time) from 10 am to 1PM. There will be Activity Time Table, Face Painting 11am to 1pm, Moon Walks 11am to 1pm, Jelly Bean Guess Jar 11am to 1pm, Balloonists 11am to 1pm. Photo Op with "The Bunny" and Anna and Elsa from Arendelle (Frozen) 11-1pm (additional cost). The Egg Hunts are at:
12 noon to 12:10 Pre School egg hunt
12:15 p.m. to 12:20 p.m. Kindergarten to Grade 1
12:30 p.m. to 12:40 p.m. Grade 2 and 3
12:45 p.m. to 12:50p.m. Grades 4 and 5
**Coffee & Snacks supplied by Dunkin Donuts.
Hingham Newcomers Club Easter Egg Hunt - Easter egg hunt
Plymouth River Elementary School, Hingham, MA. Email:

[email protected]

. Event date and time: I cannot find anything online for this year; So email them - it was last held on Easter Sunday, from 10:00am to 12:00pm. Come join us for the annual Easter Egg Hunt at Foster Elementary School. This family event includes: * An Easter Egg Hunt starting promptly at 1:30 pm Please bring baskets for eggs (10 egg maximum please). Click here for our Facebook page. ATTENTION ALL BUNNIES! Tickets are going fast - this event does sell out! Purchase your tickets today for The Annual Hingham Newcomers Club Easter Egg Hunt. Enjoy fun crafts, treats and of course PICTURES with the bunny from 10-11:30am. The event will be topped off with a giant field sized hunt at 11:30am sharp! This is a PUBLIC event, you do NOT need to be a member to attend. There will be a 2 and under hunt area for the little ones and a 3 and up area. *All treats in eggs are nut free and nut free snacks are available at the event as well. Buy your tickets today

.

There is an attendee limit at this event. HNC Members get priority access to registration until registration will be open to the public if space permits. Ticket purchase prior to the event is required as no tickets will be sold at the door. The event will be held rain or shine and advance tickets will not be mailed.
Paragon Carousel Amusement Park Easter Egg Scramble - Photos with the Easter Bunny!
205 Nantasket Ave, Hull, MA 02045. Phone:(781) 925-0472.. Event date and time: Saturday, April 20, 2019, (opens 11:30 am - 3 pm). Call them about the Annual Easter Egg Dash - there's zippo on their website about it this year. , and the beachfront carousel offers nostalgic merry-go-round rides.
South Shore Sports Center Easter Eggstravaganza - Easter egg hunt, There is an admission fee, Baskets are provided,
South Shore Sports Center 55 Recreation Park Drive, Hingham, MA 02043. Phone: 781-696-9455. Email:

[email protected]

. Event date and time: Friday, April 19, 2019, from 1 pm to 3 pm. Directions: Click here for a map and directions. Payment: Cash, Check. Notes: Click here for our Facebook page. This event is indoors. Join us for Easter Egg hunts with thousands of eggs, photos with the Easter Bunny, bouncy houses, face painting, crafts, soccer games, and huge raffle prizes! Children 6 and under Egg Hunt to begin promptly at 1:30. Children 7 and up Egg Hunt begins at 2:00pm. Tons of extra "Golden Ticket" prizes including gift cards, stuffed animals, and toys will be hidden in the eggs. High resolution digital photos with the Easter Bunny will be available for download after the event and are including with admission. Tickets are $10 per child with a $25 family maximum. Advanced tickets are highly recommended as a limited amount are being sold. To pay via paypal, please visit our website.
For more information, see the menu bar at the top of the page: Resources and Related Websites