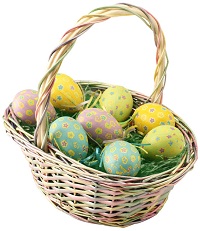 Looking for a local Easter egg hunt for your children? Or an Easter parage, Easter brunch or breakfast or other Easter events in Louisville and West-central Kentucky? Scroll down this page and you will see all of thoses in Louisville and West-central Kentucky, sorted by county. ALWAYS either see their website or call before you go to confirm the info, there are often last minute changes which they do not report to us!
If you know of one we missed and want to add it or correct the information, please let me know!
Updates for July 2019
July: Easter Sunday will be April 21, 2019. Most Easter egg hunts are being held on the Saturday a week before Easter, or the day before Easter Sunday. ALWAYS click the links to check date and time with the event's own website, as there are often last minute cancellations, postponements or changes to locations due to weather (like heavy rains in the northeast) or logistical problems, just click on the link to the event's website and (in most cases), you want to click on the "events" link or "calendar" link on their website. Or use their site search for "Easter". Do let them know you found them here, so they will update us next year. Since many egg hunts do not publish the current year's dates until the very last minute, or simply never respond to email, we may not get their current information, which is why we have links to their websites, facebook pages and calendars. Besides egg hunts, there are also Easter breakfasts and brunches and Easter parades to watch!
If you need to add your egg hunt or update your existing information, click on these links.
RELATED:
You may also want to
go to a local farm to
Pick Your Own fruit and vegetables
; strawberries start very soon in most areas!
And if you are looking for local
children's consignment sales, also often held by churches in the Spring and Fall, click here
!
Easter Egg Hunt, Parade and Event Listings
Click on Resources above, if you need a county map
Breckinridge County
Bullitt County
Carroll County
Hardin County
Henry County
Jefferson County
Christ Church Cathedral Annual Easter Egg Hunt - East - Easter egg hunt
421 S. Second Street, Louisville, KY 40202. Phone: (502) 587-1354. Email:

[email protected]

. Event date and time: Saturday, April 13, 2019, from 10 to 12 pm. Join us for an Egg Hunt & more at Christ Church. We'll start gathered in the Sanctuary and hear about the fun things we've got coming up throughout the day. Then, kids and their parents will enjoy games, crafts, snacks, the Easter bunny and the egg hunt! We use a check-in system to make sure that we have emergency contact information for each child that participates at Christ Church events. Please sign up by clicking the photo on their webpage.
City of Lyndon Easter Egg Hunt - Easter egg hunt
501 Romara Place, Lyndon, KY 40222. Event date and time: Check with them for this year's date; - 11am to 1:30pm Calendar. Events include: Easter Bunny, Egg Hunt, Music by Keltricity, Train Rides, Petting Zoo, Face Painting, Refreshments.
Crescent Hill Community Council's Easter Egg Hunt - Easter egg Hunt
301 S. Peterson Ave, Louisville, KY 40206. Event date and time: Saturday, April 20, 2019, from 9:30 am to 10:30 am. Mark your calendar for Saturday for our annual Easter Egg Hunt on the grounds of the Peterson-Dumesnil House at 301 S. Peterson Avenue. At 10:00 a.m. exactly the hunt begins so don't be late! There will be separate areas set up for 3 years & under, 4 to 6 year olds, and 7 to 11 year olds. Before the hunt begins there is time for little ones to enjoy a good story or two from the Crescent Hill Library Children's Librarian inside the Peterson-Dumesnil House beginning about 9:30 a.m. Prizes will be given out to those children who find the special eggs.
Frankfort Avenue Easter Parade - Easter parade
Frankfort Ave., Louisville, KY. Event date and time: Saturday, April 20, 2019, at11:30 am. The parade includes antique cars, the Wagner High School Marching Band, dance teams, horse drawn carriages, neighborhood groups and businesses, Shriner buggies, the Talking Police Car, costumed-families, dogs with rabbit ears, children with Easter bonnets and baskets and plenty of candy. The parade begins rolling around 11:30 a.m. in front of St. Mark's Episcopal Church, 2822 Frankfort Avenue. Hundreds will travel down the historic thoroughfare all the way to Pope Street bringing free candy and Easter cheer to thousands of children lining the route. Kids' hat making table in front of the library before the parade from 10-11am, the kids can walk in the parade and be in the contest at the end of it.
Green Acres Baptist Church - Easter egg hunt
5189 Poplar Level Road, Louisville, KY 40219. Event date and time: Saturday, April 20, 2019, from 1 pm to 2pm. A family friendly easter egg hunt for the kids! Please not that you will need only one ticket for your whole family! When filling out the registration information you will be asked how many kids and adults will be with you. Hot dogs and chips will be provided free of charge for all who come.
Hartstern Elementary School Parkland Baptist Church Easter Eggstravaganza - Easter egg hunt
5200 Morningside Way, Louisville, Kentucky 40219. Event date and time: Saturday, April 13, 2019, from 11 am to 1 PM. Celebrate the coming of Easter with ! Join us on March 19 at Hartstern Elementary school for games, crafts, an inflatable slide, snacks, and lots of Easter eggs. All children from preschool to 6th grade are invited to join in the fun. This will be a community Event. Bring your family to Hartstern for a time of crafts, snacks, and an egg hunt for ALL the children. If there is rain the event will be cancelled.
Louisville Zoo EGGstravaganza - Easter egg hunt
Louisville Zoo, 1100 Trevilian Way, Louisville, KY 40213. Event date and time: Saturday, April 20, 2019, from 10 am to 2 pm. Free with Zoo admission or membership. Hop on over for a special day filled with EGGciting fun. Meet and greet the Easter bunny, enjoy some EGGcellent games and watch as our Zoo animals take part in some EGGstraordinary fun. Be sure to bring your basket and join us for egg hunts for children 11 and under on the hill near the MetaZoo. There is a separate area for "eggcellent" photo opportunities for families. This area is open from 10 a.m. - 2 p.m. and families can come and go as they please. Though there will be eggs at the photo spot, no prizes are awarded in this area. As part of the Zoo's conservation mission, families must bring their own egg hunt basket or reusable bag. For the health and well-being of zoo animals, candy will not be placed inside the eggs. The first 2,000 participants who turn in the collected eggs will receive a treat bag from the prize booth. Every treat bag is equal no matter the quantity of eggs collected. Each egg hunt features a hidden golden egg. A special treat will be awarded to the participants who find these gilded eggs. Don't miss a meet and greet opportunity with the Easter Bunny. Have your photo taken with the bunny from 10 a.m. - 2 p.m. (Bunny will take breaks throughout the day.) Be sure to bring your camera!\
Northeast Family YMCA Easter Event - Easter egg hunt
9400 Mill Brook Road, Louisville, KY 40223. Phone: 502-425-1271. Event date and time: Sunday, April 14, 2019, from 1 pm to 3 pm. For Children up to age 11. Come join us at the Northeast Y for our Easter event! Kids up to age 11 are welcome to make their own eggs, decorate Easter cookies and meet the Easter Bunny! Rates: Facility Members: FREE. Program Members: $3 per child. (they sometimes put the current date and time on their Facebook page, not their website)
Shepherdsville Egg Drop - helicopter easter egg drop
Bullitt County Fair & Convention, 964 Clermont Road, Shepherdsville, KY 40165. Event date and time: There is NOTHING for 2019 online about it - my guess is it has been discontinued. Yes, we actually drop plastic eggs from a real helicopter. This is a free family event put together by local churches who love our community. There will be inflatables, games, and thousands of eggs. You must pre-register to come. The grand prize this year will be a helicopter ride! You will need to check in at the gate so please arrive early. Concessions: The event is free but we will have food and drinks on sale. Weather Plan: If weather is bad we will still have a smaller event inside with games and inflatables. Check the website if the weather looks bad. We will have updates.
Larue County
Meade County
Nelson County
Kentucky Railway Museum Easter Eggspress - Easter train rides
136 S. MAIN ST., NEW HAVEN, KY 40051. Phone: 800-272-0152. Event date and time: Saturday, April 20, 2019, at 1 pm. Order your tickets today for the Easter Eggspress. Train excursion departs with an Easter Eggstravaganza of activities before the train ride beginning at 1pm. Reservations suggested!
Oldham County
Crestwood Animal Hospital - Easter egg hunts for children, Easter egg hunts for toddlers, Canceled in bad weather, FREE admission, Bring a basket to collect the eggs, restrooms
6321 W highway 146, Crestwood, KY 40014. Phone: 502-241-4117. Alternate Phone: 502-241-4117. Email:

[email protected]

. Event date and time: Sunday, April 14, 2019, from 2 pm to 5 pm.. Open: Click here for current open hours, days and dates. Directions: Click here for a map and directions. Payment: Free - no payments needed for anything. Click here for our Facebook page. We are having our annual Open House and Easter Egg Hunt! Easter Egg Hunt will start at 2:30 PM. Kids 12 and under are welcome to participate. We will have a separate area for children under the age of five to hunt for Easter Eggs. We will have a bouncy castle for the kids, games, prizes, Gilbert Adams will be creating amazing balloon animals you can take home and we will even have a cotton candy station! There will be reptile and rabbit exhibits for all to enjoy. We'll have the grill going with snacks and drinks for everyone. We will be opening up our hospital for you to take a look around and at the end, the kids can participate in a Teddy Bear surgery, if they like and we'll even be giving out Teddy Bears to take home! It's completely free, it's going to be lots of fun and we hope to see you there!
Shelby County
Spencer County
Trimble County
For more information, see the menu bar at the top of the page: Resources and Related Websites