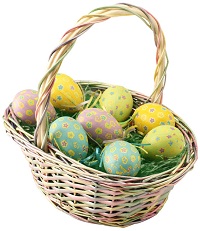 Looking for a local Easter egg hunt for your children? Or an Easter parage, Easter brunch or breakfast or other Easter events in Northern Indiana? Scroll down this page and you will see all of thoses in Northern Indiana, sorted by county. ALWAYS call before you go to confirm the info, they don't always report changes to me!
If you know of one we missed and want to add it or correct the information, please let me know!
Updates for February 2019
February: Easter Sunday will be April 21, 2019, If you plan to hold an Easter egg hunt, add or update your information as soon as you can. In 2018 most Easter egg hunts were held on either Saturday, March 24, 2018 or Saturday, March 31, 2018. ALWAYS click the links to check date and time with the event's own website, as there are often last minute changes due to weather or logistical problems, just click on the link to the event's website and (in most cases), you want to click on the "events" link or "calendar" link on their website. Or use their site search for "Easter". Do let them know you found them here, so they will update us next year. Since many egg hunts do not publish the current year's dates until the very last minute, we may not get their current information, which is why we have links to their websites, facebook pages and calendars. See their events calendar. There are also Easter breakfasts and brunches and Easter parades to watch!
RELATED:
You may also want to
go to a local farm to
Pick Your Own fruit and vegetables
; strawberries start very soon in most areas!
And if you are looking for local
children's consignment sales, also often held by churches in the Spring and Fall, click here
!
Easter Egg Hunt, Parade and Event Listings
Click on Resources above, if you need a county map
Adams County
Allen County
Cedar Creek Church - Easter egg hunt
12606 Leo Road, Fort Wayne, IN US 46845. Phone: 260-627-3653. Email: info@cedarcreekchurch.com. Event date and time: Saturday, March 31, 2018 at 10 am. Invite your family and friends to our very first Easter Egg Hunt. We will gather on the fresh spring lawn - pray for sunshine! - with church and childcare families and go hunting! Festivities will begin at 10:00, with events beginning at the times listed below. Egg hunts will start promptly at the times listed. Be sure to bring your Easter baskets, bags, or buckets to collect eggs!
10:00 a.m. - Coffee, juice, donuts, photos with bunnies, coloring contest NOTE:You must hand it in by 10:20, and you must be present to claim your prize.)
10:20 a.m. - Egg hunt on field #1, for 0-3 year olds
10:40 a.m. - Egg hunt on field #2, for 4-7 year olds
11:00 a.m. - Egg hunt on field #3, for 8 and older
11:20 a.m. - Prizes for coloring contest
Coloring Contest Information:
Print the coloring contest sheet here or the Children's Ministry Facebook; color the picture; and hand in to the volunteers at the coloring station.
Foellinger-Freimann Botanical Conservatory Easter in the Garden - Easter egg hunt
1100 South Calhoun Street Fort Wayne, IN 46802. Phone: 260-427-6440. Event date and time: Friday, March 30, 2018 from 10 am to 3 pm. Admission: Included in Regular $5/adults; $3/children 3-17; free for children 2&under. Hop on down to the Botanical Conservatory with your camera and your children to meet the Easter Bunny. Play games for prizes, make crafts, pot a plant and enjoy light refreshments. Look for Easter eggs in our annual Easter Hunt, designed for toddlers through elementary ages. Enter our drawing for a chance to win a "sweet" Easter basket. We'll also have live animals to meet such as baby chicks, ducks, bunnies, sheep and goats. All children must be accompanied by an adult. Regular Conservatory admission fees apply
Pathway Community Church - Easter egg hunt
11910 Shearwater Run, Fort Wayne, IN 46845. Phone: 260/469-4444. Email: cward@pccfw.org Event date and time: Saturday, March 31, 2018 from 2:00 pm to 2:45 pm. Cost: Free. If you've got little ones at home, we'd love your family to join the fun at this first-ever Pathway Easter event. We'll have two separate hunts—one for the 2-5 year-olds and one for the 6-10 year-olds. Be sure to bring your own baskets or bags, and dress your little ones appropriately for the weather. (If inclement weather, the egg hunt will be cancelled.) Bring a few extra dollars if you'd like to grab a Kona Ice from one of our friendly food trucks, and feel free to stay for the 3PM Easter worship service! Bring an Easter basket or bag for collecting your eggs.
Benton County
Carroll County
Cass County
De Kalb County
Elkhart County
Fountain County
Fulton County
Huntington County
Faith Chapel United Methodist Church - Easter Egg Hunt
2978 W 1100 N, Huntington, Indiana 46750. Phone: (260) 344-1466. Emaol: Email: info@faithchapelumc.org. Event date and time: Saturday, March 31, 2018 from 1 PM to 2 PM. Faith Chapel is hosting an Easter egg hunt for children 5th grade and under at 1 pm. The event will include a story, craft, egg hunt, and refreshments. Open to everyone in the community!
Jasper County
Kosciusko County
La Porte County
Jaycees Annual Easter Egg Hunt - Easter egg hunt
LaPorte County Fairgrounds, 2581 W St Rd 2, LaPorte, IN. Phone: 219.413.0644. Email: laportejaycees@gmail.com. Event date and time: Saturday, March 31, 2018 from 9:00am to 10:00AM. Free Easter Egg Hunt at the LaPorte County Fairgrounds for all children of LaPorte County, 12 and under. The hunt is at 9 am sharp- rain, snow or shine! Come early to get your photo taken with the Easter Bunny! Photos can be found on the LaPorte Jaycees Facebook Page. Free Admission. Free Parking.
Lagrange County
Lake County
Marshall County
Miami County
Newton County
Noble County
Porter County
Pulaski County
St. Joseph County
Starke County
Steuben County
Pokagon State Park, Indiana - Easter Egg Hunt
Pokagon State Park, 450 Lane 100 Lake James , Angola, IN 46703. Phone: (260) 833-2012. Phone: 260-833-2012. Email: niball@dnr.in.gov. Event date and time: Saturday, March 31, 2018 . Mark your calendars for the 2018 Easter Egg Hunt at Pokagon State Park.
Sullivan County
Tippecanoe County
Wabash County
LaFontaine Community Building: Lions Breakfast and Easter Egg Hunt - Easter Bunny Breakfast and Easter Egg Hunt
LaFontaine Community Building, 103 W Branson Street, Wabash, IN 46990. Phone: 765-981-4054. Event date and time: Saturday, March 31, 2018 from 7:30 am to 10:00 am. Join us for the Lions Breakfast, featuring pancakes, sausage and sausage gravy! Bring the kids for an Easter Egg Hunt on the school grounds at 10:00 am. Freewill Donation Proceeds go toward replacement of community building flooring.
North Manchester Chamber of Commerce Easter Egg Hunt - Easter egg hunt
Warvel Park, North Manchester, IN. Phone: 260-982-4919. Event date and time: Saturday, March 24, 2018 will begin at 10:30 am,. Annual Bunny Hop as well as the Easter Egg Hunt. The Bunny Hop will take place at the Scout Hall and the Easter Egg Hunt will take place in Warvel Park. The Egg Hunt will be broken into five different age groups. Those age groups will be toddlers; preschool/kindergarten; grades one and two; grades three and four; and grades five and six. The Bunny Hop will take place at the Scout Hall directly after the egg hunt and will end at 11:30, and will feature face painting, games, egg coloring, and a small animal petting zoo courtesy of Animal Grams. Admission to the event is free as always and it should be a great event for families to enjoy. The event is made possible by generous sponsorships from Wetzel Insurance Agency, Tri Kappa, Kiwanis, and the North Manchester Parks Department. Please contact the Chamber of Commerce with any questions.
Warren County
Wells County
White County
Whitley County