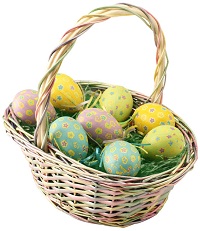 Looking for a local Easter egg hunt for your children? Or an Easter parage, Easter brunch or breakfast or other Easter events in the panhandle of Florida? Scroll down this page and you will see all of thoses in the panhandle of Florida, sorted by county. ALWAYS either see their website or call before you go to confirm the info, there are often last minute changes which they do not report to us!
If you know of one we missed and want to add it or correct the information, please let me know!
Updates for April 2019
April: Easter Sunday will be April 21, 2019. Most Easter egg hunts are being held on the Saturday a week before Easter, or the day before Easter Sunday. ALWAYS click the links to check date and time with the event's own website, as there are often last minute cancellations, postponements or changes to locations due to weather (like heavy rains in the northeast) or logistical problems, just click on the link to the event's website and (in most cases), you want to click on the "events" link or "calendar" link on their website. Or use their site search for "Easter". Do let them know you found them here, so they will update us next year. Since many egg hunts do not publish the current year's dates until the very last minute, or simply never respond to email, we may not get their current information, which is why we have links to their websites, facebook pages and calendars. Besides egg hunts, there are also Easter breakfasts and brunches and Easter parades to watch!
If you need to add your egg hunt or update your existing information, click on these links.
RELATED:
You may also want to
go to a local farm to
Pick Your Own fruit and vegetables
; strawberries start very soon in most areas!
And if you are looking for local
children's consignment sales, also often held by churches in the Spring and Fall, click here
!
Easter Egg Hunt, Parade and Event Listings
Click on Resources above, if you need a county map
Bay County
Calhoun County
Escambia County
Franklin County
Gadsden County
Gulf County
Holmes County
Jackson County
Jefferson County
Leon County
Fun Station - Easter egg hunt, Held indoors in bad weather, FREE event, Bring a basket to collect the eggs, Other activities, restrooms, concession stand (drinks, snacks and/or food)
2821 Sharer Rd, Tallahassee, FL 32312. Phone: (850) 383-0788. Email:

[email protected]

. Event date and time: Easter Sunday, April 21, 2019, from 10 am to 3 pm, hunts at 10 am, 2:15 pm & 2:30 pm. Directions: Click here for a map and directions. Payment: FREE. Get ready for our second annual Easter FUNday! Starting from 10 am to 3 pm on Sunday, April 21st. Show up early for the first Easter Egg Hunt inside our arcade, and keep your eyes out for Easter Eggs hidden around the entire facility til 2 pm! Free arcade games, activities and more exciting gifts are hidden inside of the eggs. Additional Easter Egg Hunts at 2:15 pm (7 & under) and 2:30 pm (8 & older). Also, we will have raffle contests (with egg hunt admission) for a total of 6 Easter Baskets filled with fun toys, games, candy and Fun Cards. (each ranging in value from $50-$200!) We will be running CHEAP Fun Card deals, and extended our $2 ACTIVITIES special 'til 2pm. Bring your own Easter Egg Basket and look for GOLDEN eggs with special prizes ranging from 5 free arcade games to an entire family outing for FREE! Show up early to sign up for our raffle contest! Our Family FUNday Basket is valued at over $200. Click here for our Facebook page. . (ADDED: April 16, 2019)
Tallahassee City Egg-straordinary - Special Needs Easter Egg Hunt
Messer Park, 2830 Jackson Bluff Raod, Tallahassee, FL. Phone: 891-3885. Email:

[email protected]

. Event date and time: Based on last year's date, it SHOULD be held on Saturday, April 20, 2019 (but be sure to check on their website or call them first as we still (as of April 1, 2019) cannot confirm this year's date and time) from 1 pm to 4 pm.the Eggstraordinary Easter Egg Hunt, which is designed for children with special needs, will take place from 1-4 p.m. at Messer Park North, 2830 Jackson Bluff Road. Sessions for children with differing abilities will be held throughout the afternoon. The first egg hunt of the day officially starts at 1:30 p.m. and is designed for children with varying abilities. This is a fun time for children with a range of abilities and their siblings to enjoy the hunt together. The next session will begin at 2 p.m. for children with visual impairments. They will be able to find eggs using their ears. The 2:30 p.m. session is designed for children who use wheelchairs or walkers. They will be able to find magnetic eggs. The last session at 3 p.m. will be for children who have sensory issues and prefer to hunt Easter eggs in a quiet, calm environment. At the egg hunt on Saturday, children will also enjoy bounce houses, crafts tables and refreshments. To volunteer or pre-register your child for the third annual Eggstraordinary Easter Egg Hunt, please contact Allison Behrman at 891-3885 or [email protected]
Tallahhassee City Annual Easter Egg Hunt - Easter egg huint
Meyers Park, 913 Myers Park Drive. Tallahassee, FL. Phone: 891-3866. Event date and time: Easter Sunday, at 1 pm to 3 pm. Children should bring their own basket or bag. There also will be games, crafts, music and an opportunity to take a picture with the Easter Bunny. the City will host the 59th annual Easter Egg Hunt in Myers Park and families will enjoy an eggciting afternoon complete with games, crafts and music. The egg hunt begins promptly at 2:30 p.m. Children participating in the Easter Egg Hunt should bring their own baskets, bags, etc. Both egg hunts are free and open to the public. Pictures with the Easter Bunny will be available beginning at 1 p.m. at both events.
Liberty County
Madison County
Okaloosa County
Destin Annual Easter Egg Hunt - Easter egg hunt
Morgan Sports Center Softball Fields, 4200 Indian Bayou Trail, Destin, FL 32541. Phone: 850-650-1241. Email:

[email protected]

. Event date and time: Saturday, April 20, 2019, from 9 am. The Easter Egg Hunt is for youth ages 12 and under, with a special egg hunting zone for crawlers & toddlers. JOIN US FOR THIS SPECIAL FAMILY EVENT! FUN GAMES AND ACTIVITIES FOR ALL! Cost: FREE
Lulu's Gulf Shores Easter Egg Dash - Easter egg hunt
4607 Legendary Marina Drive Destin, FL 32541. Phone: 850-710-5858.Event date and time: Easter Sunday, April 21, 2019, at 1 pm. Hop on over to LuLu's for the Easter Egg Dash! Easter Sunday we will have the mad Dash for the golden eggs! The Dash will start promptly at 2pm, so make sure to arrive a little early for a good spot. We will be dividing into age groups for safe dashing for all! The Easter Bunny will also be on hand from 12:30pm-3pm for photo opportunites!
Santa Rosa County
Taylor County
Wakulla County
Walton County
Washington County
For more information, see the menu bar at the top of the page: Resources and Related Websites