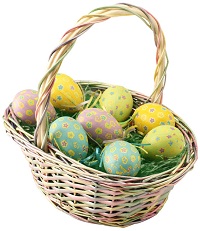 Looking for a local Easter egg hunt for your children? Or an Easter parage, Easter brunch or breakfast or other Easter events in East-Central Florida, including Orlando? Scroll down this page and you will see all of thoses in East-Central Florida, including Orlando, sorted by county. ALWAYS call before you go to confirm the info, they don't always report changes to me!
If you know of one we missed and want to add it or correct the information, please let me know!
Updates for February 2019
February: Easter Sunday will be April 21, 2019, If you plan to hold an Easter egg hunt, add or update your information as soon as you can. In 2018 most Easter egg hunts were held on either Saturday, March 24, 2018 or Saturday, March 31, 2018. ALWAYS click the links to check date and time with the event's own website, as there are often last minute changes due to weather or logistical problems, just click on the link to the event's website and (in most cases), you want to click on the "events" link or "calendar" link on their website. Or use their site search for "Easter". Do let them know you found them here, so they will update us next year. Since many egg hunts do not publish the current year's dates until the very last minute, we may not get their current information, which is why we have links to their websites, facebook pages and calendars. See their events calendar. There are also Easter breakfasts and brunches and Easter parades to watch!
RELATED:
You may also want to
go to a local farm to
Pick Your Own fruit and vegetables
; strawberries start very soon in most areas!
And if you are looking for local
children's consignment sales, also often held by churches in the Spring and Fall, click here
!
Easter Egg Hunt, Parade and Event Listings
Click on Resources above, if you need a county map
Orange County
Epcot Eggstravaganza - Easter events
Epcot at Walt Disney World, 1515 N Buena Vista Drive, Lake Buena Vista, FL. (407) 934-7639. 9 am to 9:30 pm. daily March 16 through April 1.The Flower and Garden Festiva. guests visiting the Epcot International Flower & Garden Festival can participate in our Egg-stravaganza scavenger hunt - hunting high and low in World Showcase for "eggs" that portray favorite Disney characters. As you find the hidden Disney Character-themed "eggs" in the park, you record your discoveries by placing a corresponding sticker on a specially themed Egg-stravaganza map. Maps and stickers can be purchased for $5.99, plus tax. When you find all of the "eggs" and complete your scavenger hunt map, you then return it to Disney Traders for a sp-egg-tacular surprise.e. $5.99 (plus park admission) which is $102-$122, $96-$116 ages 3-9, 2 and younger free.
Glad Tidings Church Egg Ocoee - Helicopter egg drop
2009 E Fullers Cross Rd, Ocoee, FL 34761. Event date and time: Saturday, March 31, 2018 from 9 am to 12 pm. Glad Tidings Church to host Annual Egg Ocoee Drop at Glad Tidings Central Campus. Thousands of eggs will fall from the sky once again as Glad Tidings Church hosts the annual Egg Ocoee. As in years past, a helicopter will drop eggs onto the fields and children will have the opportunity to hunt 15,000 plastic Easter eggs that day. We will have 2 Egg Drops to choose from and children will be split by age into four zones. Once the eggs are on the field children will be able to hunt for eggs in their designated age area. There will also be pictures with the Bunny, games, inflatable bouncy houses, and more for free all donated by Glad Tidings Church. Free food for the first 500 people. The church is planning for hundreds of children to be in attendance for this year's egg drop. We're working very hard to make this year's event the best one yet. We'll have over 100 volunteers on site serving the families of Ocoee.
Golden Easter Egg Hunt at Highland Manor - Easter egg hunt,
604 East Main St., Apopka, FL 32703. Phone: 407 886-6226. Email: melissa_blasio@highlandmanorapopka.com. Event date and time: Last year was on Easter Sunday; but there's nothing on their website, call or email them for the 2019 date, Brunch 11am to 6pm 2 - Golden Easter Egg Hunts - 1pm and 3pm. To participate in the Golden Egg Hunt, you must be a guest of the Highland Manor's Easter Brunch. Adults $30.00, Children 4-12 are $15.00, and children under 4 are free. There are 2 Golden Easter Egg Hunts 1pm and 3pm. Prizes will be awarded by age group. 3 - age groups: Under 4, 5-8, 9 and up. The Easter Bunny will be at Brunch from 11am to 4pm Families are welcome to bring their cameras to take photos. Highland Manor is an 11 acres Estate with a Victorian Manor where the restaurant serves award winning culinary delights. The wonderful green lawns and old Oak trees make a great place for the traditional egg hunt.
My Life Song Church's Easter Egg Hunt - Easter egg hunts for infant, Easter egg hunts for toddlers, Easter egg hunts for children, FREE admission, Other activities for children, Bring a basket to collect the eggs!, face painting, Inflatables/bounce house
Eastwood Central Park, 13950 Golfway Blvd, Orlando, FL 32828. Phone: 407-273-8368. Email: lyndol@mylifesongchurch.com. Event date and time: There is nothing on their website for this year, so call them to ask. Directions: Just off Golfway Blvd.
St. Luke's UMC Easterfest - Easter egg hunt
4851 S. Apopka-Vineland Road, Orlando, FL 32819. Phone: 407-876-4991. Event date and time: Sunday, March 25, 2018 at 3:00 pm. St. Luke's Family ministries wants to Celebrate the risen Christ with Easterfest! Join us on Palm Sunday from 3:00 pm. to 5:30 pm. for a FREE evening of fun-filled games and excitement for all St. Luke's families. There will be a rock climbing wall, blow-up activities, art projects, crafts for sale at the children's Hope Market, and more. For the smaller children, there will be pony rides, arts and crafts and other traditional outdoor games. We will have Easter egg hunts broken up into different divisions for the children starting at 3:15 pm. and ending at 4:45 pm.
3:15pm 0-2 year olds
3:45pm 3-5 year olds
4:15pm K-3rd graders
4:45pm 4th-5th graders
Carnival style snacks will be available to purchase. RSVP for Easterfest .
Walt Disney World Sawn Dolphin Hotel PEEPtastic Week - Easter egg hunts, Easter Bunny, Peeps
Walt Disney World Swan

, 1200 Epcot Resorts

Boulevard, Lake Buena Vista, Florida 32830. Phone: 407-934-3000. Event date and time: The information on their website is from 2014 so be sure to call them. Easter Games and Fun. Enjoy glow in the dark Easter egg hunts, make s'mores out of PEEPS® by the camp fire and enjoy Easter crafts and games throughout the week. Meet and Greet the Easter Bunny. The Easter Bunny will be available to meet you, sign autographs and pose for a picture with you in a special PEEPS® Easter setting. Larger-than-life PEEPS® will be found across the property, as the familiar chick-shaped marshmallows will be the inspiration for several 3-ft., 50 pound white chocolate sculptures. PEEPS® Treats at Select Restaurants. Our chefs are going all-out to create some specialty items featuring PEEPS® brand marshmallow. And don't forget to make reservations for our special holiday dinner buffet with visits from the lovable Disney characters.
Winter Park Annual Easter Egg Hunt - Easter Egg Hunt
Central Park West Meadow in Downtown Winter Park, New York Avenue & Morse Boulevard, Winter Park, FL 32789. Phone: 407-599-3463. ALternate phone: (407) 599-3334. Event date and time: Saturday, March 31, 2018 at 9:30 am. Free. 63rd Annual Easter Egg Hunt. The City of Winter Park is proud to announce its 64th Annual Easter Egg Hunt will be held Saturday, March 31, 2018, in downtown Winter Park's beautiful Central Park West Meadow. This fun-filled event will provide as much excitement and laughs for the adults as it will for the kids, just don't forget to bring your own Easter basket! The hunt will begin promptly at 10 a.m. with an official starting signal. Children with special needs are also encouraged to join in the fun. Over 14,000 stuffed eggs will be placed throughout the Central Park West Meadow, and as always, every child will leave with an Easter egg. New this year, we are thrilled to announce the addition of an "Easter Kids Zone" that will open when the egg hunt concludes. Winter Park's Annual Easter Egg Hunt is the city's longest running community event. Grandparents are now carrying on the tradition by bringing their grandchildren to hunt for eggs.