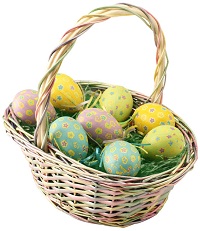 Looking for a local Easter egg hunt for your children? Or an Easter parage, Easter brunch or breakfast or other Easter events in Delaware? Scroll down this page and you will see all of thoses in Delaware, sorted by county. ALWAYS either see their website or call before you go to confirm the info, there are often last minute changes which they do not report to us!
If you know of one we missed and want to add it or correct the information, please let me know! There are affiliate links on this page. Read our disclosure policy to learn more. There are affiliate links on this page. Read our disclosure policy to learn more.
Updates for January 2020
January: Easter Sunday will be April 21, 2019. Most Easter egg hunts are being held on the Saturday a week before Easter, or the day before Easter Sunday. ALWAYS click the links to check date and time with the event's own website, as there are often last minute cancellations, postponements or changes to locations due to weather (like heavy rains in the northeast) or logistical problems, just click on the link to the event's website and (in most cases), you want to click on the "events" link or "calendar" link on their website. Or use their site search for "Easter". Do let them know you found them here, so they will update us next year. Since many egg hunts do not publish the current year's dates until the very last minute, or simply never respond to email, we may not get their current information, which is why we have links to their websites, facebook pages and calendars. Besides egg hunts, there are also Easter breakfasts and brunches and Easter parades to watch!
If you need to add your egg hunt or update your existing information, click on these links.
RELATED:
You may also want to
go to a local farm to
Pick Your Own fruit and vegetables
; strawberries start very soon in most areas!
And if you are looking for local
children's consignment sales, also often held by churches in the Spring and Fall, click here
!
Easter Egg Hunt, Parade and Event Listings
Click on Resources above, if you need a county map
New Castle County
Auburn Heights Preserve / Marshall Steam Museum Easter Egg Hunt - Easter egg hunt
Auburn Heights Preserve, 3000 Creek Road, Yorklyn, DE 19736. Phone: 302-239-2385. Alternate Phone: 302-239-5687. Email:

[email protected]

. Event date and time: Note It is usually held on the Friday and Saturday a week before Easter, but they only have space for 200 children and it sells out weeks in advance. Please note: Tickets are nonrefundable and event is rain or shine. Join us for the Annual Auburn Heights Easter Egg Hunt for two days only in March. Visitors are encouraged to bring an Easter basket and join the hunt for thousands of eggs scattered around the Auburn Heights mansion. The hunt is limited to 100 kids on Friday and 200 kids on Saturday - to ensure plenty of fun (and eggs) for all. Participants are divided into age-appropriate groups so everyone has a great time. **Special Members Only Pre-Registration. Members are free but must pre-register to reserve their member passes. (all attendees must have a ticket) Learn more about membership here. Tickets go on sale to the general public March 7. Remember to purchase your tickets early; last year this event sold out quickly! all attendees must have a ticket)
Bellevue Bunny Egg Hunt at Bellevue State Park - Easter egg hunt
Bellevue State Park, 800 Carr Road, Wilmington, DE 19809. Phone: 302-761-6963. Event date and time: Saturday, April 13, 2019 at 1 pm. Rabbits don't REALLY have eggs. . . but our special Bellevue Bunnies do!!! Come search them out! Bring a basket and meet on the patio behind the Arts Center. Ages 2-8, $6 per child. Must call to pre-register, no walk-ins accepted. Call 302-761-6963. Begins promptly at 1:00.
Newark Department of Parks and Recreation White Clay Creek Easter Egg Hunt - Easter egg hunt
Carpenter Recreation Area, White Clay Creek State Park, 425 Wedgewood Rd, Newark, DE 19711. Phone: (302) 368-6900. Alternate Phone: 302-366-7060. Event date and time: Saturday, April 13, 2019, at 1o am. Ages: Toddlers - 9 years. Hunts are held according to participant age levels. Meet at the Carpenter Recreation Area. Newark's annual egg hunt is held at White Clay Creek State Park's Carpenter Recreation Area the weekend before Easter. This event is best for children ages walking to nine years old. All children should bring a basket or bag to collect their goodies. State park fees are in effect. Please call the leisure time hotline at (302) 366-7147 if weather is questionable the day of the hunt after 9 a.m.
PAWS for People - Easter egg hunts for all ages (includes adults), Visits and photos with the Easter Rabbit, Held indoors in bad weather, There is an admission fee, Children's crafts, Vendors, Other activities for children, Bring a basket to collect the eggs, concessions or refreshment stand, restrooms, face painting
Hockessin Memorial Hall, Hockessin, DE. Phone: 302-351-5622. Fax: 302-351-8116. Email:

[email protected]

. Event date and time: Sunday, April 7, 2019, from 1 am to 3:00 pm. . Payment: Cash, Check, Debit cards, Visa or MasterCard, AmEx. Click here for our Facebook page. This is an Easter Egg Hunt for DOGS. Doggie games and contests are held throughout the afternoon in addition to the children's games and activities. Cost is $10 for adults ($8 if you pre-register), $5 for children, dogs are free.
Sussex County
Cape Henlopen State Park Annual Great Delaware Kite Festival - Easter egg hunt
Cape Henlopen State Park, 15099 Cape Henlopen Dr, Lewes, DE 19958. Phone: 302-645-8983. Event date and time: Friday, April 19, 2019,10 am to 3 pm. Registration is on-site and begins at 10 am. Egg Hunt at 11 am. Kite Competition begins at 11:30 am. The Great Delaware Kite Festival, co-sponsored by the Lewes Chamber of Commerce and the Delaware Division of Parks and Recreation, annually takes place at Cape Henlopen State Park on Good Friday. This year, the festival is celebrating its 51st Anniversary. The Easter Bunny's appearance is a longtime feature of the event that will continue again this year. An Easter Egg Hunt was added to the festivities five years ago and it will continue to kick off the event at 11 a.m. This year the hunt is sponsored by County Bank and includes 5,000 eggs filled with candy and toys. The kite competitions for children and teens are scheduled to begin at 11:30. The highest kite competition follows at approximately 1 p.m. and is open to all ages. The awards ceremony for those competitions includes medallion awards sponsored by Lewes Chamber members. The popular two-member team Egg Toss competition continues again this year immediately after the highest kite contest. The adult competitions will begin at approximately 2 p.m., interspersed with professional stunt kite flying demonstrations. The event concludes with the awards ceremony for the adult competitions. Note that the times may vary according to weather conditions and the number of competitors. Kite competition registrations begin at 10 a.m. with ample opportunity for kite competitors to practice in the fields adjacent to the competition area. All of the activities are free including the Easter Egg Hunt and the Egg Toss. The Easter Egg Hunt will be limited to children up to the age of 12 and the Egg Toss teams can be multigenerational. Pre-registration for the Easter Egg Hunt is not necessary but participants are encouraged to arrive at the park much earlier than 11 a.m. when it is scheduled to start. Parking for the event is at the park's Beach Parking lot and time is required to be transported back to the event location within the park. The kite competitions are in three age categories: Children-Up to age 12; Teens-13-17 and Adults-18 & older.
Inland Bays Garden Center - Easter egg hunt, The Easter bunny will make an appearance, Childrens crafts, FREE admission, Other, restrooms
38320 Muddy Neck Road, Frankford, DE 19945. Phone: 302-539-1839. Email:

[email protected]

. Event date and time: Saturday, April 20, 2019, from 1 - 3 pm. Directions: Click here for a map and directions. Payment: Fun for the whole family! And there will be prizes! Click here for our Facebook page. (ADDED: March 19, 2018)
Lewes Canal Egg Hunt - Easter egg hunt
Lewes Canalfront Park, 211 Front St , Lewes, DE 19958. Phone: 645-2795. Event date and time: Saturday, April 20, 2019, 10 am to 12 pm. Join us in the Park. Kids age 10 and under are welcome to find eggs filled with goodies, take pictures with the Easter bunny, plus face painting, balloon artists. Cost is $5 per single child, $10 for two or more children in family. 100% of proceeds from tickets purchased support Lewes Canalfront Park.
Mulligan's Pointe Annual Easter Egg Hunt - Easter egg hunt
Mulligan's Pointe (formerly known as Sussex Pines Country Club), 22426 Sussex Pines Road, Georgetown,DE. Phone: 302-856-2318. Email:

[email protected]

. Event date and time: Saturday, April 20, 2019, from 10 am to 1 pm. The family friendly event will be held at Mulligan's Pointe located at 22426 Sussex Pines Road, Georgetown, and feature games, face painting, a moon bounce, and more than 5,000 eggs filled with candy & special prizes. The cost for entry to all games, face painting, moon bounce and more will be $5 per child and run from 10AM-1PM. The FREE Easter Egg Hunt will have 3 age divisions – ages 3-5; ages 6-9; ages 10-12 – and will begin promptly at 12PM. Don't forget to bring your own basket! This year's event will see the return of our popular "Breakfast with the Bunny" – a buffet breakfast from 9AM – 11AM with the Easter Bunny available for pictures. The breakfast will cost $9.99 for adults, $4.99 for children 3-10, and children 2 & under will be free. Reservations are highly encouraged and can be made by calling 302-856-2318 or emailing [email protected]
Ross Mansion Seaford Easter Egg Hunt - Easter egg hunt
Ross Mansion, 203 High St, Seaford, DE 19973. Phone: 302-629-6809. Event date and time: Saturday, April 13, 2019, at 10 am (call to confirm the time - they did not put the time on their announcement this year - 10 am is last year's time). The annual Parks & Recreation Easter Egg Hunt will be held at the Ross Mansion. The hunt will begin at 10am. A very special guest will be there to see all the kids. Make sure you bring a basket to collect eggs in. Ages are toddler to 9 years old. While you're there, be sure to register to win a special prize. See you there!
For more information, see the menu bar at the top of the page: Resources and Related Websites