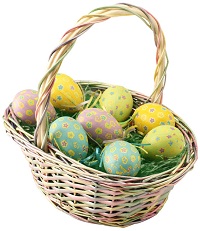 Looking for a local Easter egg hunt for your children? Or an Easter parage, Easter brunch or breakfast or other Easter events in Litchfield County, Connecticut? Scroll down this page and you will see all of thoses in Litchfield County, Connecticut, sorted by county. ALWAYS either see their website or call before you go to confirm the info, there are often last minute changes which they do not report to us!
If you know of one we missed and want to add it or correct the information, please let me know!
Updates for May 2019
May: Easter Sunday will be April 21, 2019. Most Easter egg hunts are being held on the Saturday a week before Easter, or the day before Easter Sunday. ALWAYS click the links to check date and time with the event's own website, as there are often last minute cancellations, postponements or changes to locations due to weather (like heavy rains in the northeast) or logistical problems, just click on the link to the event's website and (in most cases), you want to click on the "events" link or "calendar" link on their website. Or use their site search for "Easter". Do let them know you found them here, so they will update us next year. Since many egg hunts do not publish the current year's dates until the very last minute, or simply never respond to email, we may not get their current information, which is why we have links to their websites, facebook pages and calendars. Besides egg hunts, there are also Easter breakfasts and brunches and Easter parades to watch!
If you need to add your egg hunt or update your existing information, click on these links.
RELATED:
You may also want to
go to a local farm to
Pick Your Own fruit and vegetables
; strawberries start very soon in most areas!
And if you are looking for local
children's consignment sales, also often held by churches in the Spring and Fall, click here
!
Easter Egg Hunt, Parade and Event Listings
Litchfield County
Barkhamsted, CT - Easter Egg Hunt
Barkhamsted Recreation Department, 1 Riverton Rd, Riverton, CT 06065. Phone: 860-379-2895. Event date and time: Saturday, April 13, 2019,at 2:00 PM. The Easter Bunny will be hopping into Barkhamsted in front of Rose's Kitchen in Riverton. The Egg Hunt will be on the lawn next to Peter Greenwood Glass Blowing Studio and Rose's Kitchen. Bring your Easter Basket to join in on the Easter Egg Hunt and a camera! The children will be broken up into two separate age groups for a candy and toy filled Easter Egg Hunt ssponsored by the Recreation Commission. The event will be held rain or shine.
Kent Easter Egg Hunt - Easter Egg Hunt
Kent Town Hall, 41 Kent Green Boulevard. Phone: 860-927-1003. Event date and time: Saturday, April 13, 2019,at 10 am. Kent Park and Recreation sponsors the annual hunt on the lawn outside Kent Town Hall. The event is open to Kent youngsters, ages 10 and under, and features two separate hunts: ages 5 and under and ages 6 to 10. The inclement weather date is March 26 Bring your own bag or basket. For more information, call.
KidsPlay Children's Museum EggStravaganza - Easter egg hunt, Childrens crafts, Children's music and storytelling, Held indoors in bad weather, There is an admission fee, Baskets are provided, Other, restrooms, Food or concessions
61 Main St , Torrington, CT 06790. Phone: 860-618-7700. Email:

[email protected]

. Event date and time: Friday, April 19, 2019, from 4 pm to 7 pm. Directions: Click here for a map and directions. Payment: Cash, Check, Debit cards, Visa or MasterCard, Discover, AmEx, WIC Vouchers Join us for a festive evening of "eggs-cellent" fun KidsPlay Children's Museum! Scavenger hunt: Search high and low to find the egg clues throughout the museum. When you have completed your search , collect your prize. Games on Stage, crafts, bunny hop dance party and more! All our exhibits will be open for "eggs-tra" fun time with your family and friends. Preregistration suggested - by email

[email protected]

Admission - $8 per person Children under 1 & museum members - Free Click here for our Facebook page. (ADDED: March 21, 2018)
Litchfield Easter Egg Hunt - Easter Egg Hunt
Litchfield Community Field, 58 North Lake Street, Litchfield, CT 06759. Phone: 860-567-7569. Event date and time: unknown - this year, they mention on their website, but provide NO details at all. CALL THEM. Litchfield's Community Field will again be the site of the annual Easter Egg Hunt. This is a BYOB affair! Bring Your Own Basket!!! The Easter Bunny is hoping (or is that hopping?) to be here for the event! You can just feel the egg-citement. The town's annual Easter Egg Hunt is put on by Litchfield Parks and Recreation and held at Litchfield's Community Field. Litchfield children aged nine and under are invited to participate in the Easter Egg Hunt which will take place at Community Field in the Playscape and the Ripley and Porter Baseball Fields. The event is free to the public. Don't forget your Basket!!!! . For more information please contact Litchfield Parks and Recreation.
Railroad Museum of New England - Easter train rides
1881 Thomaston Station, Thomaston, CT. Phone: 860-283-7245. Event date and time: Multiple dates; see their website. There is no better way to celebrate the coming of spring than with the Easter Bunny Express! This is an 1 1/4 hour scenic train ride, running south from Thomaston Station along the river, allowing for great views as nature comes back to life with the warming weather of spring. During this ride, kids will have the opportunity to meet the Easter Bunny himself, along with take a trip to his private Easter egg patch and hunt for Easter eggs! The Easter Bunny Express is one of several seasonally offered train rides that the Railroad Museum of New England operates.
Event date and time: In 2018, this trip is operated on March 24th, 25th, and 31st. Reservations recommended as trains sell out early. Board your train at historicurchase tickets online or phone anytime (24/7) to purchase tickets.
Terryville Lions Easter Egg Hunt - Easter Egg Hunt
Terryville High School, 33 N Harwinton Ave, Terryville, CT 06786. Email:

[email protected]

. Event date and time: Saturday, April 6, 2019, at 1pm. Location: l (Rear). he annual Terryville Lions Club Easter Egg Hunt will be April 6, 2019 with a rain/snow date of April 13, 2019. The event starts at 1:00pm in the rear of Terryville High School. This event is for children 0 to 10 years old or through 5th grade. Be sure to bring your camera - the Easter Bunny will be there! This event is open to Plymouth/Terryville/Pequabuck residents..
Torrington CT Annual Easter Egg Hunt - Easter egg hunt
Torrington High School Turf Field, 50 Major Besse Dr, Torrington, CT 06790. Phone: 860-489-2274. Phone: 860-489-2270. Event date and time: Saturday, April 13, 2019, at 11:00 AM ~ SHARP. Participants should arrive at 10:45 AM. Torrington High School Turf Field. Grades: Pre-School - Grade 3. Bring your own basket and join in the search! Listen to WZBG or call 860-489-2270 for any changes or updates the morning of the event.. Don't be late! The eggs go fast! Torrington Parks and Recreation,
Watertown CT Easter Bunny - Visits with the Bunny, Egg decorating, no egg hunt
CafeteriaT, John Trumbull School, 779 Buckingham St, Oakville, CT 06779. Event date and time: Saturday, April 20, 2019, at 10:00 am - 12:00 pm. The Easter Bunny Comes To Town!. Come along to hop with the Easter Bunny we all love the most! Create arts & crafts projects, enjoy playful activities, and bring your own hard-boiled eggs that you can decorate. We will have snacks and then join the Easter Bunny in a parade around the school. Watch for more information in a flyer to go out through the school system.
Woodbury CT Egg Hunt - Easter Egg Hunt
Hollow Park, Woodbury, CT. Phone: 203-263-3113. Email:

[email protected]

. Event date and time: Saturday, April 13, 2019, from 9:30 am to 10:30 am, The Easter Bunny will arrive at 9:30am. Egg Hunt starts - Exactly at 10:00am. The event will happen rain or shine. Wear your prettiest or funniest spring bonnet and come join the Easter Bunny at The Hollow! Take your child's photo before or after they race to fill their basket with chocolate eggs hidden in the park! This is lots of fun for children up to 10 years old.

For more information, see the menu bar at the top of the page: Resources and Related Websites