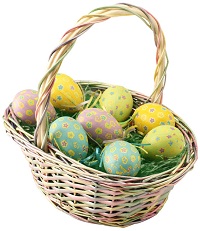 Looking for a local Easter egg hunt for your children? Or an Easter parage, Easter brunch or breakfast or other Easter events in the Napa Valley, Sacramento area of California? Scroll down this page and you will see all of thoses in the Napa Valley, Sacramento area of California, sorted by county. ALWAYS call before you go to confirm the info, they don't always report changes to me!
If you know of one we missed and want to add it or correct the information, please let me know!
Updates for January 2019
January: Easter Sunday will be April 21, 2019, If you plan to hold an Easter egg hunt, add or update your information as soon as you can. In 2018 most Easter egg hunts were held on either Saturday, March 24, 2018 or Saturday, March 31, 2018. ALWAYS click the links to check date and time with the event's own website, as there are often last minute changes due to weather or logistical problems, just click on the link to the event's website and (in most cases), you want to click on the "events" link or "calendar" link on their website. Or use their site search for "Easter". Do let them know you found them here, so they will update us next year. Since many egg hunts do not publish the current year's dates until the very last minute, we may not get their current information, which is why we have links to their websites, facebook pages and calendars. See their events calendar. There are also Easter breakfasts and brunches and Easter parades to watch!
RELATED:
You may also want to
go to a local farm to
Pick Your Own fruit and vegetables
; strawberries start very soon in most areas!
And if you are looking for local
children's consignment sales, also often held by churches in the Spring and Fall, click here
!
Easter Egg Hunt, Parade and Event Listings
Click on Resources above, if you need a county map
Colusa County
Lake County
Napa County
Annual CIA at Copia Egg Hunt - Easter egg hunt
CIA at Copia, 500 1st Street, Napa, CA 94559. Phone: (707) 967-2530. Email: copiaevents@culinary.edu. Event date and time: Sunday, March 25, 2018 from 10:00 am to 11:00 am. Cost: Free. Hop on over to the CIA at Copia for our second annual Easter Egg Hunt! It will be fun for all ages, so bring the whole family and make a day of it. Registration for the Egg Hunt is free but required as space is limited. Check-in begins at 9 a.m. and will be on the terrace outside The Store at CIA Copia. Don't forget to bring your favorite Easter basket to carry all your eggs! Age: Kids 12 and under.
Meritage Resort and Spa - Easter egg hunt and Easter Sunday Brunch
875 Bordeaux Way, Napa, CA. Phone: (855) 969-2870. Event date and time: Easter Sunday, April 1, 2018 from 9:30 am to 3:30 pm. 2018 Price: $85 adults / $33 children ages 4 to 12 / complimentary ages 0-3. Bring your family and loved ones to The Meritage Resort and Spa this Easter. Our special Easter Brunch begins with a glass of sparkling wine as you sit down to enjoy a bountiful buffet featuring made-to-order omelets, assorted seafood, lox station, hand-carved meats, lavish hot and cold displays, decadent desserts, and special children's buffet, all prepared by Executive Chef Ryan Rupp and his culinary team. Enjoy brunch outside overlooking our hillside vineyards on the Vineyard Terrace* or inside The Meritage Grand Salon where we'll have live music from a jazz trio. Children's Activities Include: Easter Egg Hunts, Photos with the Easter Bunny, Cooking Decorating, Puppet Show, Face Painting, Games, and a Bounce House.
Sacramento County
FairyTale Town - Easter egg hunt
3901 Land Park Drive, Sacramento, CA 95822. Phone: 916-808-7462. Alternate phone: 916-808-5233. Email: mail@fairytaletown.org. Event date and time: Saturday, March 31, 2018 from 11AM to 4 PM. Join Fairytale Town for an egg-citing Weather Permitting. Join Fairytale Town for an egg-citing weekend featuring egg hunts, prizes, spring themed arts and crafts and more! Daily egg hunts will be held at 12, 1 and 2 PM, promptly. After each hunt, redeem your eggs for a prize in Mr. McGregor's Garden. No matter how few or how many eggs they collect, each child receives a prize when they return their eggs! Hunt areas are separated by age groups as follows: ages 0 - 3 on the Mother Goose Stage Lawn, ages 4 - 6 in Pooh Corner, and ages 7 - 12 on the lawn behind King Arthur's Castle. Puppet Theater Art will also be on hand performing Bunny Bootcamp in the Children's Theater. Tickets are $1 for members and $2 for nonmembers. Show times are at 12:30, 1:30 & 2:30 PM. Plus, visit with Peter Cottontail on the Mother Goose Stage. Get a printed photo for $5, or take your own photo. And make spring-themed crafts, including bunny ears. Spring Eggstravaganza is free with paid park admission.
Galt Eggstravaganza - Easter egg hunt, Easter parade, Pancake breakfast, photos with the Bunny
Old Town Galt, 4th Street, Galt, CA. Event date and time: Saturday, March 24, 2018 from 9 AM to 2 PM. Games, food, car show, vendors, bounce houses, crafts, egg drop,
Tahoe Park First Church of God Community Easter Egg Hunt - Easter egg hunt
Tahoe Park, 3501 59th St, Sacramento, CA 95817. Event date and time: Saturday, March 24, 2018 from 10:30 am to 12 pm. Come bring the family for a morning of fun for the kids gathering Easter eggs. Join us at the softball fields of Tahoe Park. Easter Egg Hunts + Games + Bounce Houses + Photos with the Easter Bunny. Our first hunt will begin at 10:45 a.m. and age + grade designated hunts will start every 15 minutes to everyone a chance to get eggs and be safe. This event is coordinated by our church working with the Tahoe Park Community. The free event will be a gift to our neighborhood. Be watching here for more details or on our Sacramento Church of God facebook page.
Solano County
Brunch with the Easter Bunny at the Fairfield Visitor Center California - Visit with the Easter Bunny
Jelly Belly Visitor Center, One Jelly Belly Lane, Fairfield CA. Phone: 866-868-7522. Email: jbdcalendar@gmail.com. Event date and time: Saturday, March 21, 2018 from 9:45 AM TO 11:30 AM.Brunch with the Easter Bunny at the Fairfield Visitor Center! *THIS EVENT SELLS OUT IN ADVANCE* Join Mr. Jelly Belly and Friends for a delicious brunch and lots of fun with the Easter Bunnies! Brunch at 10:00am; seating at 9:45am Activities 10:00am to 11:30am. By reservation only. Spaces are limited. Click here for ticket purchase: https://www.brownpapertickets.com/event/3333876 .
They also have Photos with the bunny daily for a couple of weeks until Easter Saturday.
Re:church FREE Community Easter Egg Hunt - Easter egg hunts for children, Easter egg hunts for infant, Easter egg hunts for toddlers, The Easter bunny will make an appearance, Visits and photos with the Easter Rabbit, FREE admission, inflatables/bounce house
1110 highway 12, Rio Vista, CA 94571. Phone: 707-374-5442. Email: info@rechurchriovista.com. Event date and time: Based on last year's date, it SHOULD be held on Saturday, March 31, 2018 (but be sure to check on their website or call them first as may have changed) at 6 pm AND Easter Sunday, after each service. Free for all families after each service; Times approx 10:10am and 12pm. Directions: Click here for a map and directions. Payment: Click here for our Facebook page. Bounce house for kids 5th grade and under.
Sutter County
First United Methodist Church YC - Easter egg hunt, Held indoors in bad weather, FREE admission, Baskets are provided, Other, restrooms
3101 Colusa Hwy, Yuba City, CA 95993. Phone: (530) 673-5858. Email: info@fumcyubacity.com. Event date and time: Saturday, March 31, 2018 at 11am. Directions: Click here for a map and directions. Payment: FREE Easter games and fun for the whole family. There will be a separate area for those under 5. LUNCH is provided for FREE! Click here for our Facebook page. (ADDED: March 07, 2018)
Yolo County
Yuba County
Beale Community Center - Easter egg hunt
17700 Robert Nicoletti Way, Beale AFB, CA 95903. Event date and time: Saturday, March 31, 2018 from 9:30 am. Easter Egg Hunt at the Community Center. It's time for our annual Easter Egg Hunt! Not only will we be hunting eggs, but we will also have bounce houses, music, crafts, giveaways, and awesome prizes! This event is open to all children up to 12 years of age. Arrive at the Community Center at 9:00 am for games and crafts in the ballroom! At 10:00 am sharp the first age group of the egg hunt will start. Directions: click here for a map and directions. Times for ages are as follows:
​0-2 years: 10:00 am
3-5 years: 10:05 am
6-8 years: 10:10 am
9-12 years: 10:15 am