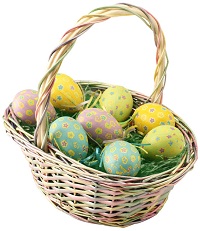 Looking for a local Easter egg hunt for your children? Or an Easter parage, Easter brunch or breakfast or other Easter events in Montgomery and southeastern Alabama area? Scroll down this page and you will see all of thoses in Montgomery and southeastern Alabama area, sorted by county. ALWAYS call before you go to confirm the info, they don't always report changes to me!
If you know of one we missed and want to add it or correct the information, please let me know!
Updates for January 2019
January: Easter Sunday will be April 21, 2019, If you plan to hold an Easter egg hunt, add or update your information as soon as you can. In 2018 most Easter egg hunts were held on either Saturday, March 24, 2018 or Saturday, March 31, 2018. ALWAYS click the links to check date and time with the event's own website, as there are often last minute changes due to weather or logistical problems, just click on the link to the event's website and (in most cases), you want to click on the "events" link or "calendar" link on their website. Or use their site search for "Easter". Do let them know you found them here, so they will update us next year. Since many egg hunts do not publish the current year's dates until the very last minute, we may not get their current information, which is why we have links to their websites, facebook pages and calendars. See their events calendar. There are also Easter breakfasts and brunches and Easter parades to watch!
RELATED:
You may also want to
go to a local farm to
Pick Your Own fruit and vegetables
; strawberries start very soon in most areas!
And if you are looking for local
children's consignment sales, also often held by churches in the Spring and Fall, click here
!
Easter Egg Hunt, Parade and Event Listings
Click one of these areas (or click on the map further down this page)
Autauga County
Barbour County
Bullock County
Butler County
Cherokee County
Chilton County
Coffee County
Church With U - helicopter easter egg drop
Bates Memorial Stadium, Enterprise, AL 36330. Event date and time: Saturday, March 31, 2018 9:00 am to 11:30 am. For ages 2 to 12. Free! Families throughout the Wiregrass are invited to join us for our 4th Annual Church With U EGG DROP! We're dropping THIRTY THOUSAND plastic candy-filled Easter eggs from a HELICOPTER… yup, you read that right – a HELICOPTER all over Bates Memorial Stadium. This is a FREE event for children ages 2-12 years old. You can PRE-REGISTER right now to make sure you get to enjoy the fun! Directions: Fields behind Moose "Hope" gym. For 0 to 11 years old. 15,000 eggs. Pre-register attheir website. What's an Egg Drop? It's like an Easter Egg hunt, only way cooler! In addition to tons of eggs on the field, we'll drop thousands of eggs from a helicopter. Your kids will have a blast listening to music, watching eggs fall from a helicopter, and collecting eggs. I it's FREE, but REGISTRATION is required. Parking will be reserved for handicapped only. Arrive at least 30 minutes before the drop to ensure you have enough time to park, find your age group location, register/check in and get in place. There will be over 30,000 eggs and separate drops for each age group.
Coosa County
Covington County
Crenshaw County
Dale County
Fort Rucker Children's Festival - Easter egg hunt
Fort Rucker, Alabama. Phone: (334) 255-1749. Event date and time: Saturday, March 24, 2018 from 1 pm to 4 pm. at the festival fields;Join us for the 14th annual Fort Rucker Children's Festival. This free Military Family event offers tons of activities, games, inflatables, crafts, kids karaoke, 7th annual Diaper Derby (open to all crawling babies no older than 15 months) and more! And don't miss one of the area's largest Easter egg hunts where you can win candy and prizes and even meet the Easter Bunny. This year's theme is "Come One, Come All: Step Right Up and Join the Fun!" This is a Military Family Event (not open to the general public). For more information, please call Special Events at (334)255-1749.
Dallas County
Elmore County
Geneva County
Henry County
Houston County
Bethel Baptist Church Easter Picnic - Easter picnic
Webb Recreational Park, Dothan, AL. Phone: 205-792-5908. Event date and time: Bethel's Family Easter Picnic at Webb Recreational Park
Lee County
Auburn Annual Easter Egg Hunt - Easter Egg Hunt
Kiesel Park, 20 Chadwick Ln, Auburn, AL 36832. Event date and time: Saturday, March 31, 2018 from 10 am. Celebrate Spring at the 37th Annual Easter Egg Hunt sponsored by Wells Fargo and Auburn Parks and Recreation, at beautiful Kiesel Park. This hunt is the largest Easter egg hunt in Auburn with more than 35,000 eggs hidden over a four-acre area. Four age groups are eligible to participate in hunting for eggs: 3 and under, 4-6, 7-9 and 10-12. These children have the chance to look for over 1,000 prize eggs in each category. Prizes include stuffed animals, Easter related toys and much more. Thanks to many local businesses, children also have the chance to hunt for golden eggs. These eggs contain special prizes from these businesses such as gift cards, birthday party packages and more. The schedule for this event is as follows:
3 and Under Age Group hunts at 10:30 a.m.
4-6 Age Group hunts at 10:45 a.m.
7-9 Age Group hunts at 11 a.m.
10-12 Age Group hunts at 11:15 a.m.
Each age group is able to collect their prizes immediately following their hunt. Throughout the event, guests are welcome to take pictures with the Easter Bunny, Sparky the Firefighter Dog, the Chick-fil-A cows and Aubie! After the Easter Egg Hunt, the park will remain open for guests to continue to enjoy their Easter weekend. Wells Fargo has sponsored this event for 35 years. Each year, they give away free balloons and soft drinks to the public. The Auburn Easter Egg Hunt began in 1981 at Auburn High School with only 500 eggs. It moved to Duck Samford Park to accommodate growing attendance until a surge in public participation caused the egg hunt to outgrow its second home in 1993. For the last 25 years, Kiesel Park has hosted the hunt and its continued growth.
Lowndes County
Macon County
Montgomery County
Pike County
Randolph County
Russell County
Auburn Heights Annual Easter Celebration - Easter egg hunts for children, The Easter bunny will make an appearance, Visits and photos with the Easter Rabbit, Held indoors in bad weather, FREE admission, Children's crafts, Children's music and storytelling, Other activities for children, Bring a basket to collect the eggs!, concessions / refreshment stand, restrooms, face painting,
4207 Auburn Rd, Phenix City, AL 36870. Phone: 706-326-4572. Alternate Phone: 334-614-0478. Email: knia@ctvea.net. Event date and time: Based on last year's date, it SHOULD be held the day before Easter, on Saturday, March 31, 2018 (but be sure to check on their website or call them first as may have changed) from 10am to 1pm. Directions: Click here for a map and directions. Payment: Cash, Free - no payments needed for anything. Click here for our Facebook page. Up to 12 years old will enjoy Easter egg hunt, games, prizes, face painting, story times and more. Families will enjoy lunch and goodies. Free event. The Easter bunny will be there. Restrooms are available. If rain, the event will take place in the gym. Can bring lawn chair or blanket and eat lunch outside or you can eat inside the gym. No Easter bunny or bounce house this year will return in 2018.
A visitor writes on March 05, 2013: "I have been to the event in prior years. I have also volunteered to help in prior years. "
Tallapoosa County