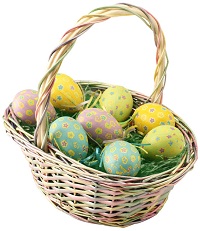 Looking for a local Easter egg hunt for your children? Or an Easter parage, Easter brunch or breakfast or other Easter events in Huntsville and northern Alabama? Scroll down this page and you will see all of thoses in Huntsville and northern Alabama, sorted by county. ALWAYS either see their website or call before you go to confirm the info, there are often last minute changes which they do not report to us!
If you know of one we missed and want to add it or correct the information, please let me know!
Updates for July 2019
July: Easter Sunday will be April 21, 2019. Most Easter egg hunts are being held on the Saturday a week before Easter, or the day before Easter Sunday. ALWAYS click the links to check date and time with the event's own website, as there are often last minute cancellations, postponements or changes to locations due to weather (like heavy rains in the northeast) or logistical problems, just click on the link to the event's website and (in most cases), you want to click on the "events" link or "calendar" link on their website. Or use their site search for "Easter". Do let them know you found them here, so they will update us next year. Since many egg hunts do not publish the current year's dates until the very last minute, or simply never respond to email, we may not get their current information, which is why we have links to their websites, facebook pages and calendars. Besides egg hunts, there are also Easter breakfasts and brunches and Easter parades to watch!
If you need to add your egg hunt or update your existing information, click on these links.
RELATED:
You may also want to
go to a local farm to
Pick Your Own fruit and vegetables
; strawberries start very soon in most areas!
And if you are looking for local
children's consignment sales, also often held by churches in the Spring and Fall, click here
!
Easter Egg Hunt, Parade and Event Listings
Click on Resources above, if you need a county map
Sadly, many organizations hold fun events but do a miserable job of communicating the details, like the date, time and location of the event. Please confirm on their website or phone before you go.
Colbert County
DeKalb County
Mentone Community Church Helicopter egg drop
90 Summerville Rd. Mentone, Ala 35984. Event date and time: Saturday, April 13, 2019, at 10 am. Join the Mentone Community for an Easter Celebration like never before! The Mentone Summer Camps, Mentone Churches and local businesses have come together once again to create a massive Egg Drop of over 20,000 eggs from a helicopter flying above. There will be carnival games,prizes, cotton candy, sno-cones, popcorn, clowns, music, inflatables, and lots of fun! Everyone is Welcome! Bring your family and friends out for a day to remember! No need to bring bags or baskets, all children will recieve a bag at check-in to use for picking up eggs! You are welcome to bring lawn chairs. Time: 10 AM- 1 PM. Fee: Free!
Franklin County
Jackson County
Lauderdale County
Joe Wheeler State Park's Easter Egg-Citement Egg Hunt - Easter egg hunt
4401 McLean Drive, Rogersville, AL 35652. Phone: 256-247-5461. Event date and time: Friday, April 19, 2019, at 5:30 pmm. Between the Lodge and Marina. For Ages 11 and UnderOak Mountain State Park's 11th Annual Easter Egg Hunt and Spring Market! Bring your basket! We have over 10,000 eggs! Located in the South Trail head Field. The Easter Bunny will be hopping around for pictures at no cost! The Alabama Wildlife Center will be there with their glove trained education birds! Stop by their tent and get to know our feathered friends! Hay Rides will be available and are complimentary! They will run from 10am until 4pm. Ride as many times as you like! Bounce houses will be on site and complimentary! There will be yard games on the lawn for families to enjoy including two corn hole games, two giant checkers sets, and two giant tic tac toe boards on hand for some friendly competition! The Rusted Roof Barn is bringing some of their ponies for pony rides! Pony rides will be $5 per ride. We will also have Cricket, the miniature Unicorn on site for pictures! Pictures will be $1 each and go to the Alabama Wildlife Center as a donation! This year, to help with lines, The Rusted Roof barn will have a "fast pass" option! Local craftsman, artisans, boutiques, bakeries, brand reps, and food trucks will be set-up and selling Easter and Spring themed goodies from 10am until 4pm! Swing by and pick out the perfect Easter basket items for the kiddos! Join us for breakfast or lunch! Food vendors and Food trucks will be serving tasty treats! We will have a food court set up for you to enjoy a meal with your family and friends! Egg Hunts will be hosted for children Ages 0-12
Regular Entrance Fees Apply. Parking is free and will be available in the South Trail head.
Lawrence County
Limestone County
Athens Sportplex All Kids Park - Easter Egg Hunt
Athens SportsPlex, US Highway 31 N, Athens, Alabama 35611. Event date and time: Based on last year's date, it SHOULD be held on Saturday, April 13, 2019 (but be sure to check on their website or call them first as we still (as of April 1, 2019) cannot confirm this year's date and time) at 2 pm. Athens Parks & Recreation will have an Easter Egg HuntS at the Athens Sportplex All Kids Park. Ages 0-10.
Marshall County
Morgan County
Central Baptist Easter Egg Hunt - Easter egg hunt
2801 Hwy 31 S, Decatur, AL 35603. Phone: 256-353-5912. Email:

[email protected]

. Event date and time: See their website or call for the date (this event was held in past years, but I have not been able to find any information about this year), at 10 AM. Central Baptist Church will have it's annual Community Easter Egg Hunt. $5 per child.
Laceys Spring United Methodist Church - Easter egg hunt, Held indoors in bad weather, FREE event, Bring a basket to collect the eggs, Other activities, restrooms
10380 Hwy 36 E, Laceys Spring, AL 35754. Phone: (256) 203-9016. Email:

[email protected]

. Event date and time: Saturday, April 13, 2019, from 11AM to 1:15PM, Free lunch starts at 11. Directions: Click here for a map and directions. Payment: FREE. Lacey's Spring United Methodist Church Presents: Lenten Laboratories: An Easter Experiment Where: Lacey's Spring United Methodist Church 10380 Hwy 36 E, Lacey's Spring AL 35754 When: April 13th, 11:00AM to 1:15PM Who: All Children and Parents are welcome Description: At 11AM we will be starting our journey with lunch and a trip through our time machine to the Holy Land where we will witness some of the events in the last week of Jesus Christ. After the journey we will have an enormous Easter Egg hunt and other Easter Games. Click here for our Facebook page. . (ADDED: March 26, 2019)
For more information, see the menu bar at the top of the page: Resources and Related Websites